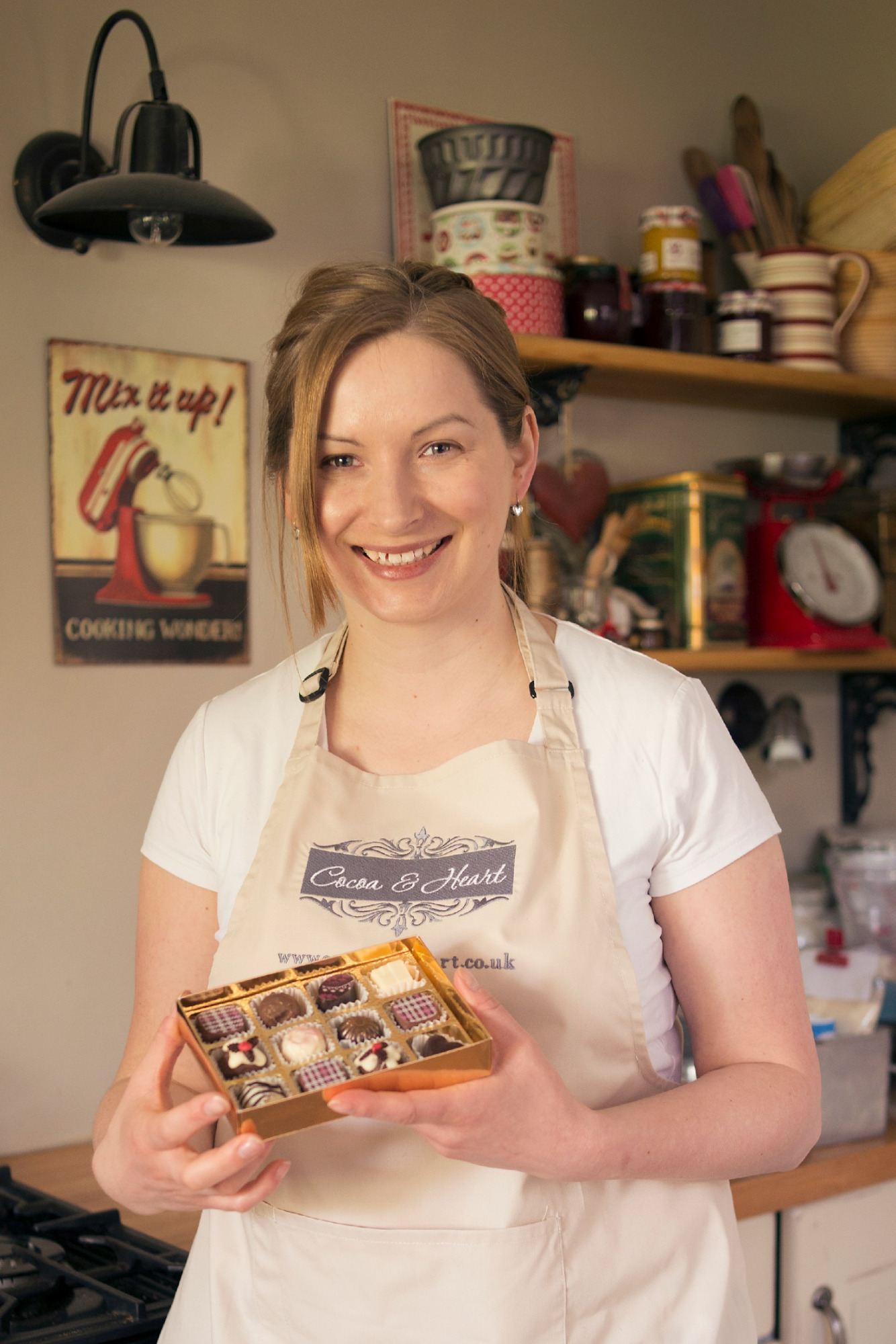 My chocolate journey started in autumn of 2000, when I was looking for a Christmas presents for my friends and family. I found a recipe for simple chocolate truffles, made a batch and gave them as gifts boxed in pretty boxes. They were a great success and since then I've been making chocolate truffles every festive season!
Cocoa & Heart was officially born in 2011, when I left my long (and stressful ) career as a Managing Director and decided to pursue a lifelong passion for chocolate making, traditional sweets and baking. The black suits, high heel shoes and posh bags stayed firmly locked in the attic and a few years later Cocoa & Heart is becoming established as a small independent chocolate business.
I love working with different types of chocolate, tasting it and deciding how best to use it. I'm a bit of a perfectionist and I never let my chocolate creations to leave my workshop until I'm perfectly happy with them. When I'm not working in my chocolate kitchen, I'm always dreaming about the next chocolate flavour!
All our chocolate is handmade in small batches, using the best quality chocolate and packed in pretty boxes.
I also love to share my passion for chocolate with other people and that is why I run chocolate parties and courses alongside my chocolate making. So, whether it's a chocolate treat you are after or to learn how to make your own chocolate I hope you enjoy your Cocoa & Heart experience!
Magdalena
The type of chocolate we use varies from product to product. Each flavour calls for a different type of chocolate to match. For our delicately flavoured chocolate ganache (the centres for our chocolate truffles) we use Origin Chocolates directly from Java, Madagascar, Tanzania and other countries. These are of the highest quality and their flavour comes directly from the ground where the cocoa tree has grown and from the environment. They also have high cocoa content - typically from 65% - 85% cocoa solids.
We also use good quality Milk German Chocolate with 33% cocoa solids (beautifully rounded and nicely milky) and white German Chocolate with 27% cocoa solids, which has a well balanced finish - not too sweet, just right!
But no matter what type of chocolate we use, it's always professional coverture and we don't add any sugar, vegetable fat, gluten or anything else that shouldn't be in the chocolate. Because all our chocolate contains pure cocoa butter, it's suitable for vegetarian diets and our dark chocolate is also vegan. All our chocolate is naturally gluten free, but since we work in a kitchen where we also use ingredients with gluten, we can't, unfortunately guarantee cross-contamination.
I also love to experiment with colour, as you can see, contemporary chocolate can be very colourful and sparkly!