Iced Coffee Recipe
Posted on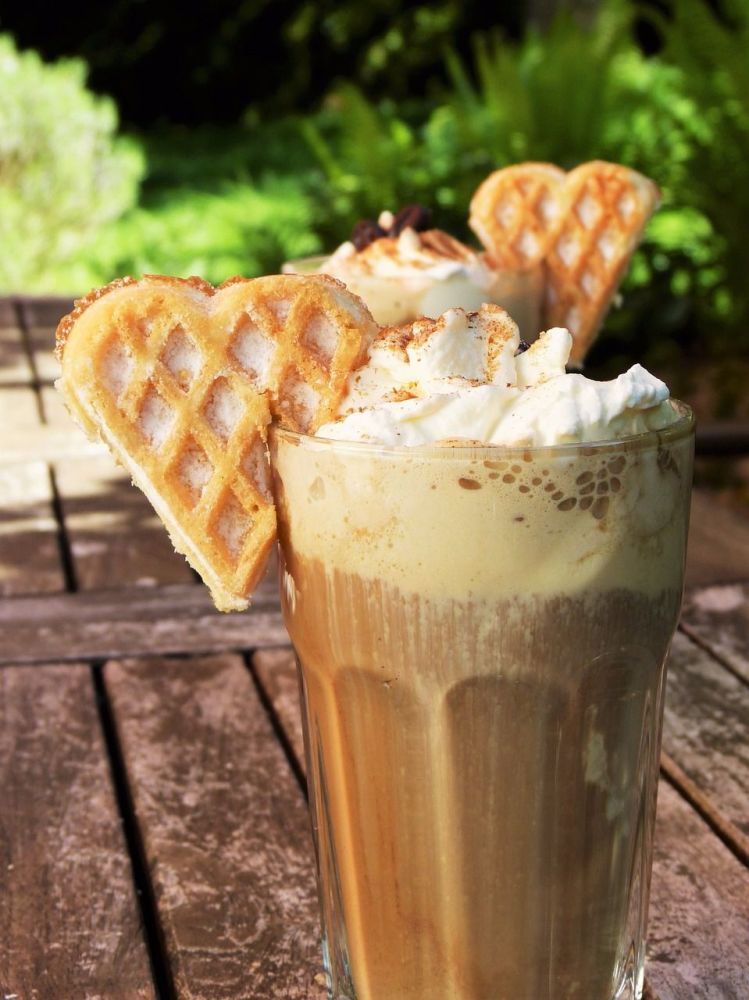 Iced coffee is one of my favourite ways of enjoying coffee in summer. Iced Coffee is very common drink on the continent, but not so much in the UK. Well, I think, it's time to change that!
Lot of people think, that you need to have a specialist coffee making equipment to make something fancy like an Iced Coffee, but the opposite is true! I'd recommend that you make your coffee the way you normally do and then turn it into an iced coffee. Whether you have an expresso machine, coffee maker with hot water dispenser, or just use an instant coffee, you can make a delicious iced coffee drink perfect for the summer.
I always offer refreshments, when I run my baking courses and this week, I decided to prepare my version of Iced Coffee. I was right that nobody really wanted a hot drink anyway and my iced coffee was a bit of a welcomed novelty.
So here what you need for this Quick & Simple Iced Coffee Recipe
Your favorite coffee

The best vanilla ice cream you can find

Milk (if you prefer it to ice cream)

Cinnamon (chocolate or similar delicious topping)

Ice cubes (if you made very strong coffee or don't have the time to wait around for it to cool down)
And this is what you do:
Make a strong coffee the way you normally do

Leave it until it cools down

Put in fridge until needed

When chilled pour in tall glass add scoop of vanilla ice cream (or milk) and sprinkle with cinnamon

Put your feet up and enjoy!
Few extra tips to make your iced coffee
How to make your iced coffee quicker
There are ways of making your iced coffee a bit quicker, but they all require a bit of preparation. If you drink iced coffee regularly, it's worth spending a bit of time (when you have the time), so that you can have your favourite coffee drink ready quicker when you want to.
Using ice cubes
Make sure you have plenty of ice cubes in the freezer. When you want your iced coffee, just prepare the hot coffee as normally, but add only about 1/3 of the water you would normally do.

This is so that you have a strong coffee base that you can dilute with the cold ice cubes. The quickest way to prepare your drink is to use a blender to crush the ice cubes and help them to melt quicker and to cooll down your coffee.
Using frozen coffee
This method needs a bit more planning, but essentially, you just need to make your coffee as you'd normally do, pour it to an ice cube tray and leave to cool down first and then freeze.
If you make your coffee strong, you can save some space in the freezer (or if you don't have that many ice cube trays), just remember that you'll need to add cold water or more ice cubes to create the correct strenght of coffee when you want to drink it.
Now, it's your turn! Let me know what's your favourite iced coffee recipe - for now I'm sticking with my quick and simple Iced Coffee Recipe, but I'd love to know more versions of this deliciously refreshing summer drink!
Until next time - keep cool in the shade!
Magdalena
Cake recipes to serve with your iced coffee
Chocolate Buttermilk Loaf Cake >>
Rum Truffle Recipe with Cake Crumbs >>