Czech Christmas Bread - Vanocka
Posted on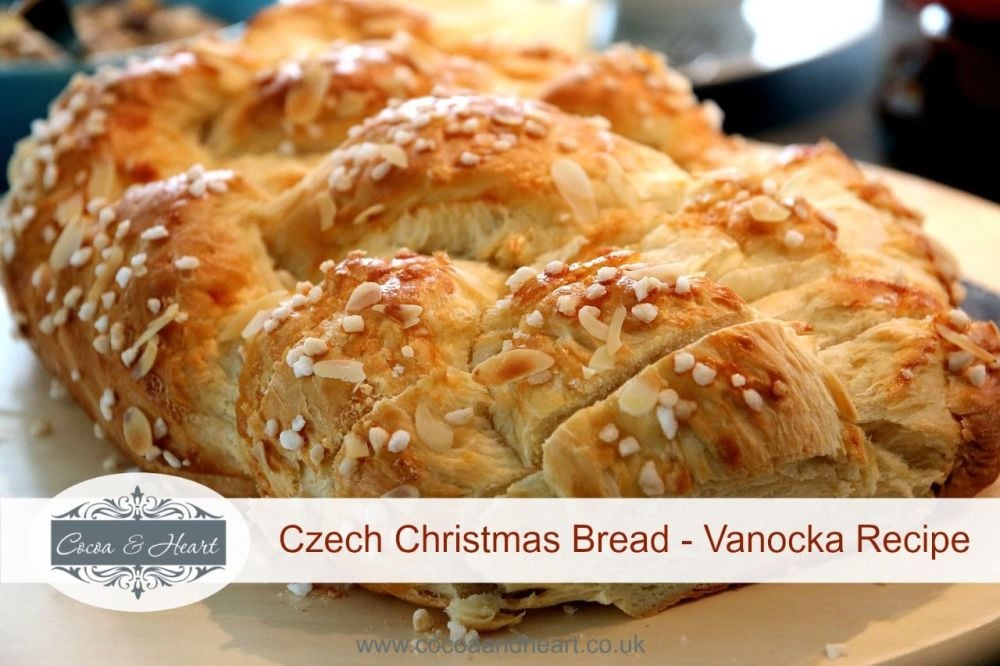 Recently I've been asked to come up with a traditional sweet bread recipe for Christmas. The challenge was to come up with a recipe for a special friend staying with my student's family over Christmas. Their friend is originally from Slovak Republic, which send me on search to find out the really traditional bakes from this particular country.
One Christmas bake is very similar to ours - Czech one, called 'Vanocka' (Christmas Bread). It's similar to a jewish challah as it's braided, but the dough is a lot more enriched then brioche or challah.
As it's been a fairly long time since I've baked one of these sweet breads, I really had to go back to basic and work through few old recipes. In our family, it was always my grandfather who would bake 'Vanocka' and as he was so good at it, nobody even tried to compete with him.
My search took me to the dark places of internet, few cookery books and in the end I've narrowed it down to two Vanocka recipes - one from 1925 and other from 1975 (particularly good year - I would say!).
The original Vanocka recipe is by Marie Janku-Sandnerova, who was basically a Czech Mrs. Beaton. She collected recipes and tried and tested all of them. My eyes were glazing dreamilly, when I found out that her house had two kitchens. One for domestic and day to day cooking and one was her 'laboratory' where she tested all her recipes. I also found out that she lived in the next village to where I was brought up and I her descendants know our family - what coincidence!
The Vanocka recipe itself is fairly simple and you can easily swap the dried fruits to different type or omit them altogether. What makes a real difference is the addition of cream instead of milk. This makes the sweet dough really rich, smooth and just soooo moorish. You really have to try it at least once before worrying about calories and your waist line. Interestingly enough, the recipe from 1975 swaps cream for milk, which does changes the taste a little.
This Czech Christmas Bread - Vanocka cake freezes really well, but you really won't need to worry about the sweet bread getting stale. It won't last that long!
Traditional Czech Christmas Bread - Vanocka Recipe
500 g plain flour (cake flour)
15 g quick action yeast
250 ml single or double cream (can be milk or water, but you will be missing out!)
3-4 egg yolks (this makes a real difference to the taste & colour)
5 g salt
120 g unsalted butter (melted, but only just warm)
120 g caster sugar
1 tsp vanilla extract
lemon zest from 1 whole lemon (make sure it's not vaxed and chemically treated lemon)
The original recipe has only 60g of all dry fruits and almonds, but I've more than doubled that and the cake (bread) tasted great.
40g almonds (whole)
50g lemon or orange peel
60g raisins
Begin by adding all the dry ingredients together - flour, yeast, sugar, salt, lemon zest (everything apart from the dry fruits). In a separate bowl or measuring jug add the cream, egg yolks, vanilla extract and melted butter. If the mixture is quite cold, warm it up a little in microwave or oven. This just gives your bread a bit of a 'kick start' and you won't need to wait for your bread to rise that long.
Now, mix the wet ingredients into the dry, tip on the work counter and start kneading. You really need to give it a good 10 minutes or so. The dough will be on the sticky site, but try to avoid adding any more flour if you can. The dough will also feel quite oily, but that's exactly how it should be. Half way through your kneading add all the dry fruits and almonds (you can add them in at the beginning, but they have a bad habit of popping out of the mixture as you are kneading).
When the sweet dough is nice and elastic and feels very smooth, leave it to rest in a bowl, covered by a plastic bag or damp tea towel. Leave it to double in size - this can take up to 2-3 hrs depending on how cold your kitchen is. Don't give up on it, if it doesn't rise as quickly as you think it should. All the sugar, butter and cream is slowing down the process of prooving, so just be patient.
The next stage is to divide your dough into several pieces. How many depends on how elaborate you want to be. Traditionally this Czech Christmas Bread - Vanocka is platted like a challah, the base is platted from 4 strands, then middle layer from 3 and the top from twisted 2 strands. For this you need to divide your dough into 8 equal parts.
Then roll out 7 seven of them to about 25-30 cm, first plat the 4 strand base ( I found that you tube videos are really helpful for this...), place it on oiled baking tray and make a slight indentation with rolling pin in the middle of the plat (long-ways). Then add the 3 strand plat on the top, brushing it a little with egg white to stick it down. Roll out the 8th piece of dough in to double the length and twist round. Make slight indentation on the top of the 3 strand plat, brush with egg white and add the twisted plat.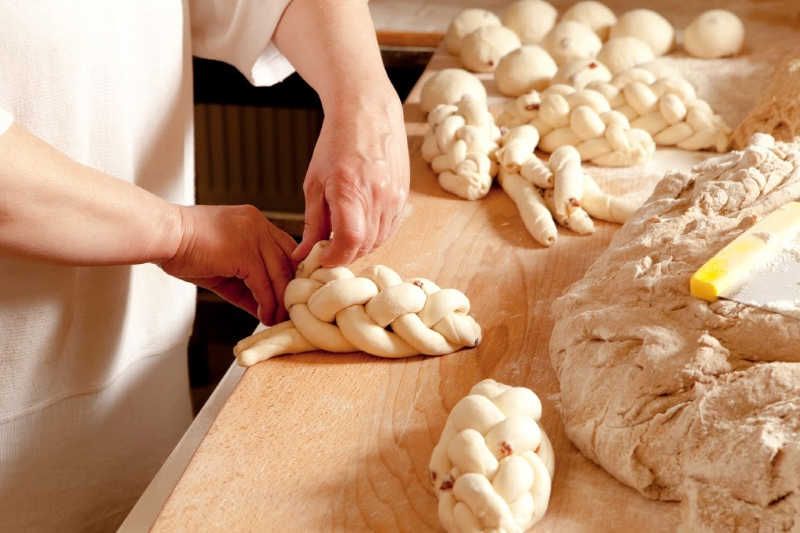 If this is your first attempt in making platted bread, I would suggest to secure the bread with wooden skewers - use about 3 and space them out. The dough is going to double in size and sometimes has a habit of sliding down - as you can see it's quite a tall structure.
My grandad always used the wooden skewers to keep the dough straight and afterwards masked the little holes from skewers with extra flaked almonds glued with a bit of egg white. I only know because I saw him once and made me promise I won't tell anyone! He was always feeling quite smug when all the family and friends praised him on beautifully turned out Vanocka! The trick is to use the browned flaked almonds that fell of the Vanocka as it baked, not a fresh ones...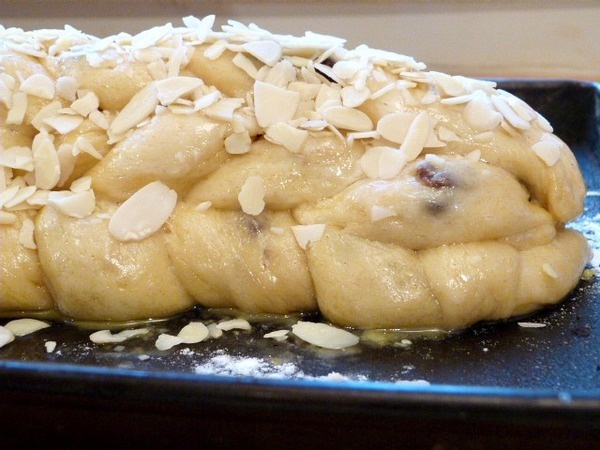 Leave the 'Vanocka' sweet bread to double in size. This can easily take few hours, but don't try to rush it by puting the sweet dough into too warm place. The cream, butter, eggs, sugar and everything else beyond the flour, water and yeast is 'weighting' the dough down and because of that it can take a very long time for the dough to even start rising.
When the dough has doubled in size, gently brush with egg white, add some extra almonds on the top (these can be flaked almonds) and bake at 200C for about 10-15 min and then lower the temperature to 180C (or even 160C if the dough looks like it's browning too quickly).
It takes a good 30-40 minutes to bake (or little longer depending on how wet your mixture originally was and how you oven works) - so after this time, check it as if it was a cake - with clean wooden skewer - if it comes out dry - the bread is ready.
Leave to cool on a cooling rack - sometimes it's easier to bake the 'Vanocka' on a tray lined with baking parchment. The bread is quite heavy and the parchment just helps you to lift the bread from the tray.
Once cool, freeze some if you like and share the rest with your friends and family over a cup of coffee! This Traditional Czech Christmas Bread - Vanocka is traditionally eaten on Christmas day and I remember we would always had it for breakfast (!) with chicory coffee.
Hope you've enjoyed my Vanocka recipe and as always, I'd love to know what you think - so leave me comments in the box bellow!
Happy festive season
Magdalena
P.S This recipe is now included in my bread baking e-book, which could be immediatelly downloaded just here.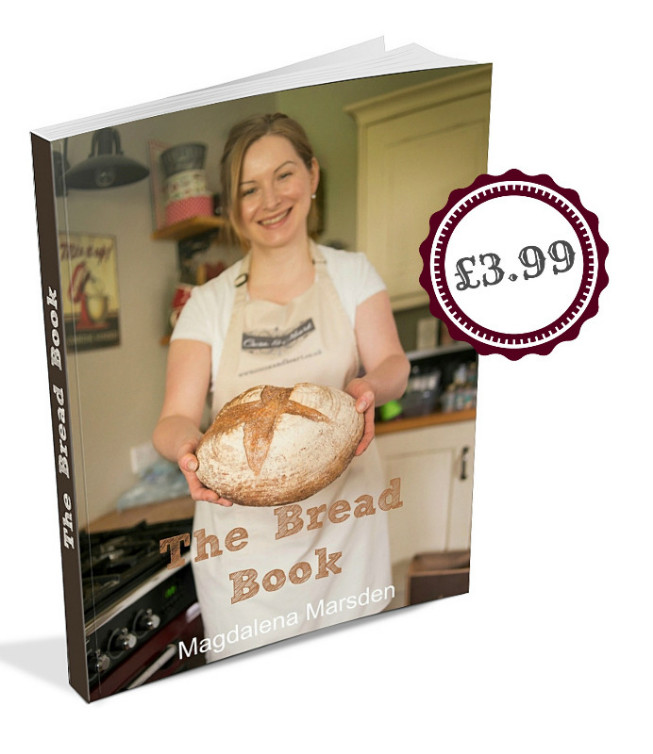 P.S.S. If you want to read more about my Czech adventures, you can find out more on my new blog called 'View from Prague'

MORE BREAD BAKING TIPS & RECIPES
What equipment you need to start bread baking at home >>
Quick sourdough bread recipe >>