Crispbread Recipe
Posted on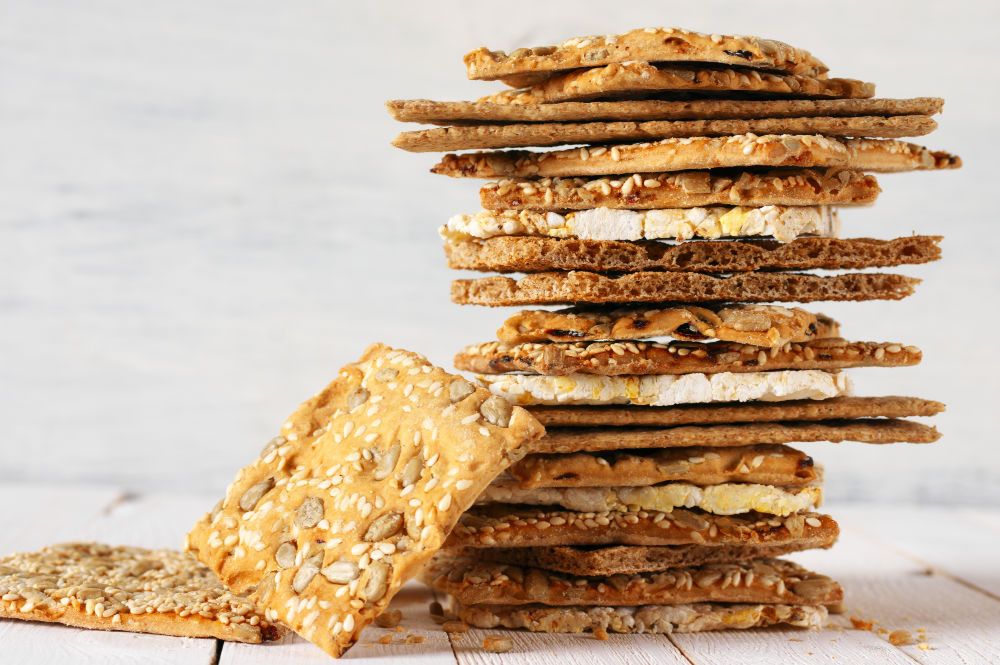 Do you think that healthy food is boring? Not very interesting? Or even bland?
That's what I thought and certainly back in the 80s when I was growing up, healthy food either wasn't available or when it was, it tasted like dry cardboard.
A lot of things have changed since then, so when I recently had the opportunity to work on a Healthy Business Retreat with my friend Claire, I was very happy to be introduced to a whole range of tasty treats. And I'm glad to say that healthy food can indeed be very tasty!
There was only one thing that slightly worried me, when I helped Claire to unpack the food shopping delivery. There was no bread!
'OK', I thought, perhaps we will bake it later. 'That's fine, I have all the ingredients' went through my mind as we were putting away all the cucumbers, salads and strangely sounding types of milk.
I think you have probably guessed it by now, it wasn't the computer gremlins that amended the shopping order, nor it was the forgetful Sainsburys staff picking the order, the plan WAS not to have any bread!!!
But by the time I got my head around the brutal reality of not having any bread for the next 4 days, lunch was being served with something resembling ryvita. Only it was not ryvita, it was the best crispbread ever!
And by the end of the meal I was the No1 crispbread fan! You can easily buy very good crispbread in health shops (and that's where ours came from), but it could be a little pricey.
RELATED
Healthy pear muffins recipe >>
That is why, once back at home, I baked a few batches of my own crispbread and the following recipe is my favourite one so far. And what's best, this recipe is really quick, in fact it takes longer to bake than it takes to prepare the dough.
P.S. Just in case you don't actually know how to use this fabulous alternative to bread, it's great with salad, cottage cheese or just on its own. In fact, you will probably just eat it straight from the baking tray! It keeps extremely well, in air tight container for up to a month.
Crispbread Recipe with Seeds
450 g of mixed seeds (sesame, pumpkin, sunflower, linseed or any others that you fancy)
115 g porridge oats (use gluten free if you like)
1 teaspoon of baking powder
1 1/2 teaspoon of salt (this makes the crispbread very moorish, but some people might find it too salty. I would recommend to start with 1 teaspoon for your first batch and then decide if you need more or less for the next one)
280 g flour (I used special wheat free sprouted flour for mine, but any flour that you have is fine. wholemeal, spelt or rye flour will make this recipe extra healthy. You can also use any gluten free flours both bread or plain flours)
250 ml water (if you want your crispbread to be extra delicious, this can be milk or buttermilk or any dairy free milk alternative)
125 ml oil (I used coconut oil, because that's what I had, but you can use just basic sunflower or vegetable oil)
Method:
Mix all the dry ingredients first, then mix in all the wet ingredients. Yes, it really is that simple!
It will form fairly stiff dough, but that exactly what you want. Don't over mix it. Divide into about three parts and roll each piece of dough between 2 sheets of non-stick baking parchment. This is the easiest way to roll out the dough, without the parchment you will really struggle and the dough is going to stick everywhere. Don't add any more flour, otherwise the crispbread will be quite tough.
Roll out to about £1 coin thickness and cut to shapes you like (squares or rectangles work well), leave the dough on the bottom baking parchment and prepare the rest of the dough in the same way.
Bake for about 20 minutes on 200C (or 180 fan) in preheated oven. This might look initially too long, but it's just about right! If you notice that your crispbread is browning too quickly lower the temperature a little.
Remove from the baking tray to cooling rack and enjoy when it's cool enough to handle...
As always I love to know what you think and what variations of this fabulous recipe you've been baking!
Leave me your comments in the section below and I look forward to reading them later on...
Happy Baking!
Magdalena
Extra Baking Tips & Notes for this recipe
This recipe makes quite a big batch. Perfect size for a family of 4 people, but if you are baking just for yourself I'd suggest to half the recipe quantities.
Making crispbread with sourdough starter
Using discarded sourdough bread starter is a great way to utilise what you already have and also ad an extra flavour to your crispbread. The amount of sourdough starter to use depends on how strong you want your crispbread flavour to be and how much sourdough starter you have to dispose of