Chocolate pudding in a mug
Posted on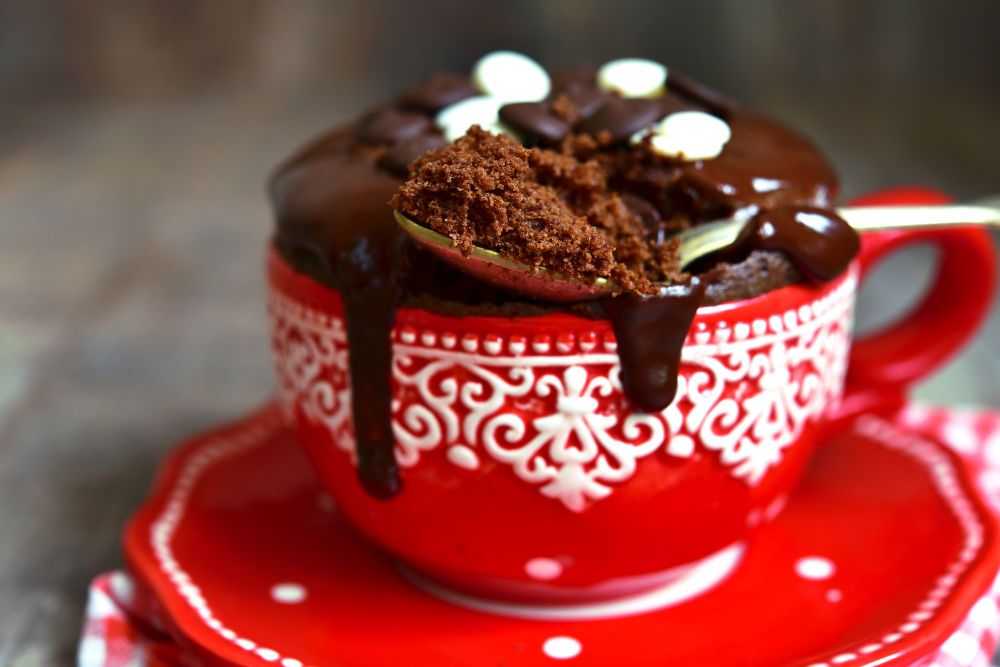 I was recently invited to demonstrate my cooking skills to new students at a local college.
I thought this was going to be easy and started to gather my favourite simple recipes. That was until I read all my instructions and to my dismay found out, that the new college accomodation didn't include ovens in their communal kitchen design. I suppose it makes sense - students are there just for a short time and most of their student's life probably won't include slaving over roast dinners on Sundays!
But, for me - with a 'normal' kitchen - I'm used to using my microwave only to melt chocolate for my chocolate making, but not actually to cook or bake!
So, anyway after a mini melt down, I've accepted the challenge and pulled together a simple meal cooked just on a hob or in a microwave. And for pudding, I made this chocolate pudding in a mug.
And of course, in the interests of research I had to try this recipe several times to make sure the recipe worked. I'm happy to report that this indeed is the perfect end to a good meal - quick, gooey, chocolatey and since it's only made in a mug, you don't need to do much washing up afterwards.
Oven, who needs one!
Chocolate pudding in a mug recipe
(makes 2 puddings - 2 mugs)
2½ tbsp cocoa powder
2 tbsp golden syrup (honey, maple or agave syrup)
6 tbsp self-raising flour
2½ tbsp caster sugar
1 medium egg
1½ tbsp sunflower oil (vegetable or coconut oil)
1½ tbsp milk
40g white chocolate, finely chopped
Divide 1tbsp cocoa equally between two standard mugs. Add 1tbsp golden syrup (or honey) to each; mix to a paste. Measure flour, caster sugar and remaining 1½tbsp cocoa into a medium bowl. Crack in egg, and add oil and milk. Mix well, then stir in white chocolate.
Divide mixture equally between mugs, then microwave on full power (800W) for 1min 10sec, one mug at a time. Serve in mugs, or turn on to a plate, adding cream or ice cream, if you like. You can leave out the white chocolate or swap it for different type of chocolate.
This simple chocolate pudding recipe is actually very handy, because you can make just a small amount at the time, rather than baking a whole cake. I found it particularly useful recently when I discovered that I suffer from IBS and can't tolerate very well gluten, dairy and certain types of sugar.
I've been adapting this recipe to suit my diet and since it makes two portions, my husband is more than happy to have the second serving.
Gluten free flours that work well with this recipe
Any ready made up self-raising plain gluten free flours
Any ready made up plain gluten free flours (just add a 1/4 teaspoon of baking soda and 1/4 teaspoon of baking powder)
Spelt Flour
Kamut Flour
Buckweat Flour
Coconut Flour
Any other gluten free flour that you like. You can also mix your flours to experiment with a flavour.
Unlike with gluten free cake baking, where you need to have xantham gum to replace the gluten to hold everything together, you don't need to worry about gluten replacement in this recipe. The cup will hold everything just fine!
Dairy free milks that work well with this recipe

Coconut Milk
Oats Milk
Rice Milk
Soya Milk
You can even use water for this recipe instead of milk as it's such a small quantity. Milk will make this recipe slightly more tasty, but it's a very small amount to make any big difference.
Hope you enjoy your chocolate pudding!
Magdalena
MY OTHER EASY BAKING RECIPES
Chocolate & Buttermilk Loaf Cake Recipe >>