Easy Plum Jam Recipe
Posted on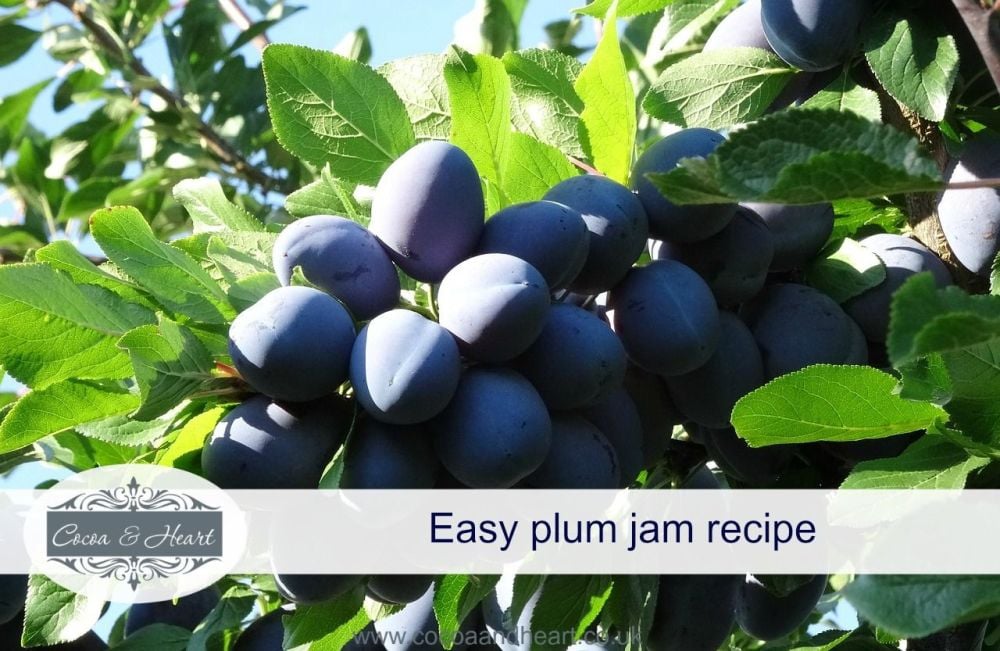 Autumn is always a happy season, since it's a harvest time and there is so much colour in the countryside. There is also plenty of fruit around and one of my favourite thing to make is a plum jam.
We used to make plum jam from plums from my grandmother's farmhouse garden and often mixed different varieties. The flavour was always a bit different and we sometimes added spices or alcohol to make the jam extra special.
I'd say that if you see a 'Pick your own' anywhere where you live, it's worth the efford to collect your own plums, as these will be perfectly ripe and sweet at the same time. You can, of course use a shop bought ones, but I'm often dissapointed with the flavour unless you buy a good quality and then it becomes expensive.
So, today I wanted to share with you my easy plum jam recipe, which I've tried and tested over the years.
Easy Plum Jam Recipe
Ingredients:
1 kg plums
1 kg sugar
a bit of butter
Equipment:
Large pan
Jam thermometer (optional)
Small plates (kept in the fridge for testing the jam later)
3-4 sterilised jam jars
Here is what you do:
Clean the fruit and remove the stones. You can slightly crush the stones and put them to a muslin bag to add to the jam as you are making it. The plum kernels and stone help with the jam flavour and also contain pectin. Just make sure you remove the bag from the jam before potting
First of all put all the fruit in a preserving pan (or pan large enough to handle about 2-3 ltr of volume), add 350 ml of water, cover with a lid and simmer over low to medium heat until the fruit becomes soft. This can take about 20 minutes.
Remove the lid and increase the heat and boil for about 10-15 minutes or until the volume has reduced by about 2/3. At this stage the plum jam might start sticking, so gently stir the mixture to prevent this.
Now add the sugar and plum kernels (if using) and heat gently to dissolve the sugar. Add the butter and bring to boil. Keep the jam as a 'rolling boil' for 10-15 minutes, stiring occassionally. If you are using jam thermometer (you don't need to have one, but it's sometimes helpful) the temperature should reach about 105 C.
Take the pan off the heat.
To make sure that your plum jam is done do the 'cold saucer test'. Before you start your jam making put at least 2 small plates to fridge. When you are ready to test the jam, take one plate out pour a little of the jam on the plate and put back to fridge. If in 5 minutes, the jam is wrinkling as you are pushing it with your finger, then you know the rest of the jam will set too. If the jam didn't set, just put the pan back on to the stove and boil for another 5 minutes. Test again.
If you, like me, sometimes forget to put enough plates to the fridge, just quickly stick one to freezer before you do the test.
Leave the jam to cool a little and then pot.
This is really easy plum jam recipe, but if you wanted to add some extra flair to it, here is what you can do.
If you find the flavour of your jam too sweet and one dimensional (which sometimes fruit with just sugar can be) add juice from 1/2 lemon (or as little or as much as you like). This will add wonderful sharpness to the flavour.
If you are thinking of making these for a special occasion (and I definitely applaud you for that...) add a bit of alcohol just before you pot the jam. 2-3 table spoons of sloe gin, brandy or whisky would compliment the flavour of the plum jam perfectly. The alcohol mostly evaporates as you pour it in (...what a shame...I know!), but the flavour will stay.
You can also add raisins (soaked in gin - optional), walnuts, cinnamon, vanilla or any other warming spice. Always add the flavouring right at the end.
So, here you are my favourite easy plum jam recipe, which I make every single year. The plum jam officially ment to last good 12 months, but in our household never does...
Enjoy and let me know in the comments bellow what are your favourite recipes for your plum jam.
Until the next blog
Magdalena
More recipes & jam making resources
Traditional Orange Marmalade >>
Marmalade Fruit Cake Recipe >>