Pistachio Biscotti Recipe
Posted on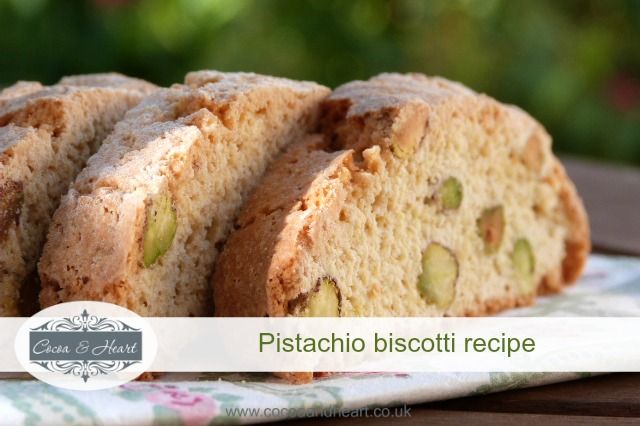 No matter which coffee shop you favour, the chances are that as you are paying for your daily shot of caffeine, you'll notice biscotti of various flavours beautifully arranged in a glass jar on top of the counter.
To me, they always looked like something that's tricky to make, because lets face it why else they would be relatively expensive to buy? Because of that I've never really looked up the recipe or tried them until few years ago. Now, I wish I've looked up the recipe long time ago!
Despite to what I originally thought, they were easy to bake and they tasted exactly like the ones in the shop. The first batch of this Pistachio Biscotti Recipe turned out perfectly, which if I'm being honest, it doesn't always happen when you are testing a new recipe.
So far, this Pistachio Biscotti Recipe is my favourite combination of flavour and colour, but you can make them with any other combination of dried fruit, chocolate or nuts.
The name 'Biscotti' comes from latin and means 'twice baked'. It is because, these biscuits are baked twice to get their crunchy, dry texture, which is perfect for dunking into coffee.
The biscotti were favourite food of roman soldiers, who took them on their travels to conquests half the Europe. The reason is that once baked, the biscotti keeps well for a long time and there is not much, ingredients wise, that can make them to go off.
Biscotti were traditionally served in Italy with a glass of fortified wine and they ment to be dunked in. They would be originally served as a desert. These days we are more likely to dunk them into a coffee than a wine, but the delicious taste of the biscotti is still the same.
But enough of introduction, here is the recipe itself:
Pistachio Biscotti Recipe
Ingredients
110g plain flour
¾ level teaspoon baking powder
pinch of salt
25g ground almonds (or hazelnuts or any other ground nuts if you wish)
50g pistachios (can be swapped for other dry fruit or nuts)
75g golden caster sugar
1 large egg, lightly beaten
a few drops vanilla extract (use a flavour that compliments your choice of fruit or nuts or leave plain)
Pre-heat the oven to 170°C, gas mark 3
Method
First sift the flour, baking powder and salt into a large bowl, then add the ground and whole pistachios and sugar. Give it a good mix, then add the egg and the almond extract, and mix it together first with a wooden spoon and then using your hands to bring the mixture together to form a smooth dough. It will be fairly tough dough, but that's fine.

Now place the dough on a lightly floured surface and, using your hands, roll it into a log about 28cm long. Put it on the lined baking sheet and bake it near the centre of the oven for 30 minutes. After that, transfer it to a cooling tray and leave until completely cold. Don't be tempted to cut the biscotti before they are completely cool otherwise they will look squished and lose their shape.

Then reduce the oven temperature to 150°C, gas mark 2.

Use a serrated knife to cut the biscotti into slightly diagonal slices about 1cm wide. Then place them back on the lined baking tray - this time flat - and bake for another 30 minutes until pale gold and crisp. At this point you are really just drying them out.

Transfer them to the cooling tray and when cold, store in an airtight container for up to week (or more). I've successfully stored my biscotti for about 4 weeks, but they are usually gone by week three.
If you want to, you can freeze biscotti on the day when you bake them and should be fine in freezer up to 1-2 months.
I'll be baking these Pistachio Biscotti again this Sunday to take to friends with afternoon coffee. If you bake your batch, do let me know how you get on in the comments below. I'd love to know what flavour is your favourite - I'm still going through my list!
Happy Baking!
Magdalena
MORE BISCUITS & OTHER TREATS RECIPES
Hot Chocolate with Nutella Recipe >>