Winter Berry Jelly with Egg Nog Recipe
Posted on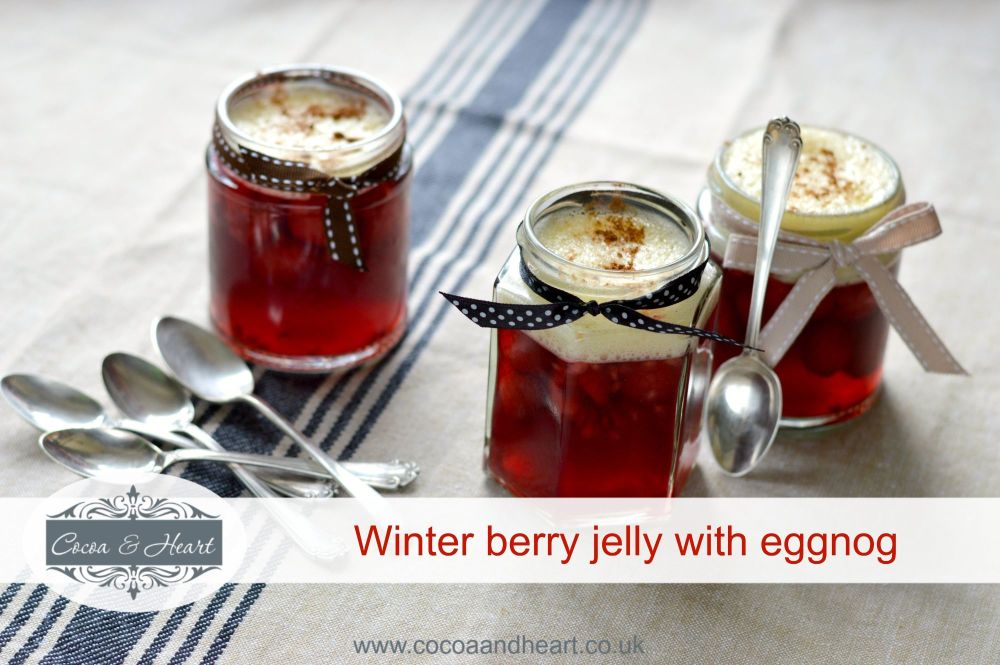 Author:Magdalena Marsden
A great pudding to end a posh homemade dinner when you don't want to have a heavy pudding. I particularly like to use creme de cassis in this recipe, because it has such a lovely sharp fruity flavour, but you could easily use madeira wine or pudding wine. The pudding looks very rustic in a different sizes jam jars, but normal glasses (like a whisky tumblers) would be perfectly fine too.
Winter Berry Jelly with Egg Nog Recipe
Ingredients
5 gelatine leaves
75 caster sugar
150 ml creme de cassis (or madeira wine or pudding wine)
300g raspberries, blackberries, blueberries or any other berries
150 ml elderflower cordial
For the eggnog topping
2 egg yolks
50g caster sugar
100ml desert wine
1/4 tsp mixed spice
First of all soak the gelatine leaves in a bowl of cold water for 5 minutes. This softens them up and it's important if you are using dry gelatine leaves. Pour 300ml water into a pan with the caster sugar and cassis, then gently heat for a few minutes to dissolve. Make sure it doesn't start boiling.
Squeeze excess water from the gelatine and add the leaves to the pan, carefully stirring until dissolved. Then turn off the heat, tip in the berries and elderflower cordial and leave it to cool for a few minutes. (If you try to pour it too quickly the fruit is very likely to sing to bottom of the jars). Ladle into pretty jars, mugs or glasses and chill for 1-2 hrs to set, or over night. Make sure you leave at least 1.5 cm gap at the top of each glass to leave space for the eggnog topping.
To make the eggnog topping, put the yolks, sugar and wine in a heatproof bowl, resting over a pan of simmering water. Whisk until thick and foamy. Spoon on tip of the jellies and sprinkle with mixed spice and serve. I normally don't make the eggnog topping until I want to serve the jellies, because the eggnog topping seems to go flat if you keep it for few hours or overnight.
This winter berry jelly with egg nog recipe is the perfect ending to a home cooked dinner and it's always well received as it's light, fruity and just the perfect combination of sweetness and spice. Hope you enjoy this recipe and if you it, do let me know how you get on in the comments below.
Magdalena

Save