Bugs & Butterflies Iced Biscuits Recipe
Posted on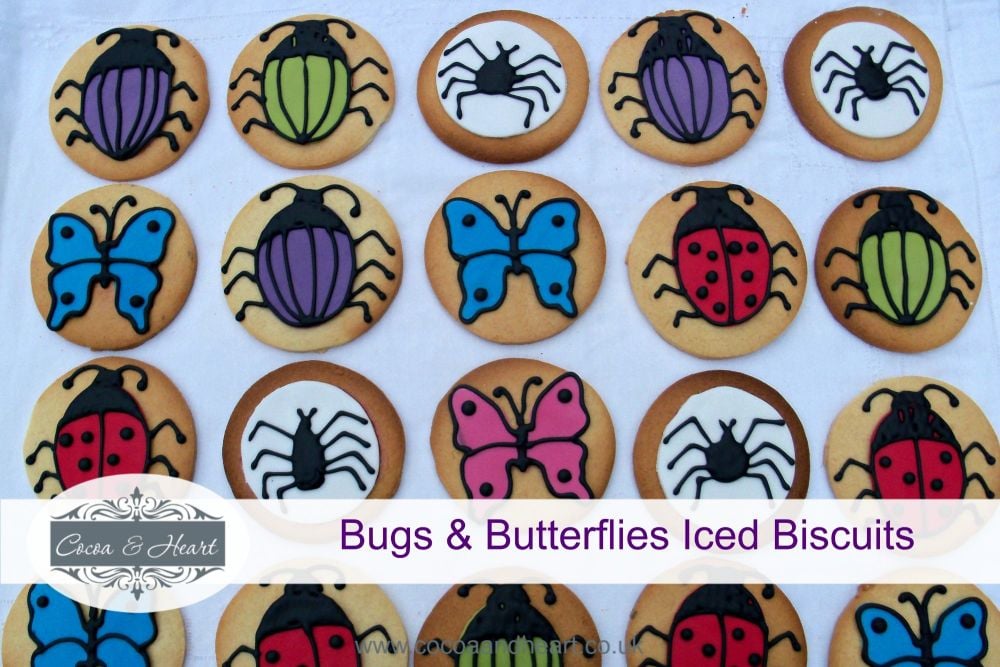 I used to make these Bugs & Butterflies Iced Biscuits for Down House tearooms, when we had 'Bugs week' which used to be mainly at half-term holidays. The house had a special programme prepared for children which often involved discovering and identifying bugs around the house and gardens.
We thought it was rather good fun (and many little visitors agreed with us wholeheartedly!) to leave some 'bug discovering' for tearoom too and that's how these slightly sinister biscuits appeared at Down House Tea rooms menu.
I used to make these really large and quite thick, so they were much bigger then any biscuits the children usually seen before.
This Bugs & Butterflies Iced Biscuits Recipe is really easy to make, but of course the decorating takes a bit of time. You can let your imagination go wild here and have just butterflies or something else altogether.
If you want to give them away or share them, it's best to make them the day before (or at least 24 hrs in advance) because the icing does need time to dry and harden. You could speed up the process by drying them in oven on very, very low temperature, but I always find it dries the biscuits at the same time, which is not what you want.
Bugs & Butterflies Iced Biscuits Recipe
Ingredients
250g unsalted butter
250g cater sugar
1-2 medium eggs
1 teaspoon vanilla extract
500g plain flour
This makes about 15 large or 30 medium biscuits, so if you don't need that many, just half the recipe ingredients.
First of all - either in a mixer or with a handheld whisk, beat the butter and sugar together until creamy and fluffy. Add the eggs and vanilla extract and mix until they are well combined.
Add flour to the bowl and mix until all the ingredients just come together. The dough is going go be fairly firm at this stage, but that's fine. The dough needs to rest before you roll it out and bake it, so tip it out and wrap in a clingfilm and refrigerate for at least 30 minutes.
The next step is to roll out the dough into about 5 mm (or thicker - I used to make these biscuits at least 8 mm). Take two large greaseproof papers and roll out half (or third) of the dough between them.
You can try to roll the dough out without the greaseproof papers, but I found that this is much easier (the dough can be quite sticky) and I always use the papers to line the baking trays, so that there is no waste. It will also prevent you from adding extra flour for dusting (which can make the biscuits quite dry).
If you have the time, you can put the rolled out dough back to fridge before you cut out your biscuit shapes. This makes the dough much easier to handle and your biscuits are not going to expand too much when you get to bake them.
When you are ready, use biscuits cutters to cut out your shapes and place (with plenty of space between) on a baking tray.
Bake the biscuits in a preheated oven at 180C (gas mark 4) for about 7-10 minutes. The timing depends on the size and thickness of your biscuits, but the final colour should be golden brown. Leave them to cool on a cooling rack and store in airtight container until you are ready to decorate them.
To decorate my bugs & butterflies biscuits, I used several icing techniques. The simples way to decorate the biscuit is to roll out a fondant to a thin layer and cut out the same shape as your biscuits. Then use apricot or other lightly coloured jam to brush the biscut and stick the fontant on the top. The next step is to mix some icing and then pipe, in my case, a simple spider or a spiders net on to the top of the fondant.
To mix the icing, just use either water (or lemon juice) and icing sugar mixed to a thinner paste. If you are using 'flood' icing technique (some of the butterflies and ladybugs were done in this way) you need to have even runnier icing.
If I want my icing to be quite strong, I sometimes add egg white, but since the egg white is raw, you need to be careful if you are thinking of these biscuits for children.
Depending on how much icing you need, mix smaller amount of your liquid with icing sugar and continue to add more icing sugar as you stir. I tend to just use mixing bowl and large soup spoon to mix the icing, but you could put all this in a mixer of you wish.
Once you've mixed your icing, colour them to your desired shade. To get really vibrant colours, you really need to use proper fondant colours like Wilton or Sugarflair. They come in a small pots and are so concentrated that you only need a tiny amount to colour a whole batch of icing.
Use a piping bag with a number 1.5 or 2 nozzle (or large if you want) or if you don't have piping nozzle, just cut your piping bag with a very small hole.
I first pipe all my outlines and when dry I fill them with the flood icing. Once you've finished your icing, leave the biscuits to dry. This can take anything up to 24 hrs (they look dry after 2 hours, but that's just the top crust forming and the layer underneath is still soft). Our kitchen is nice and cold, which means that the biscuits soften over night and dry at the same time.
After that, they biscuits are ready to be packed, eaten or given away as a little treats and presents.
I hope you've enjoyed my Bugs & Butterflies Iced Biscuits Recipe and if you try them, please let me know how you get on in the comments bellow - I'd love to know!
Until the next time - Happy Baking!
Magdalena
MY OTHER RECIPES
Double Chocolate Chips Cookies Recipe >>
Banana & Butterscotch Loaf Cake Recipe >>
Unicorn Hot Chocolate Recipe >>

Save
Save