Christmas mince pies with marzipan topping recipe
Posted on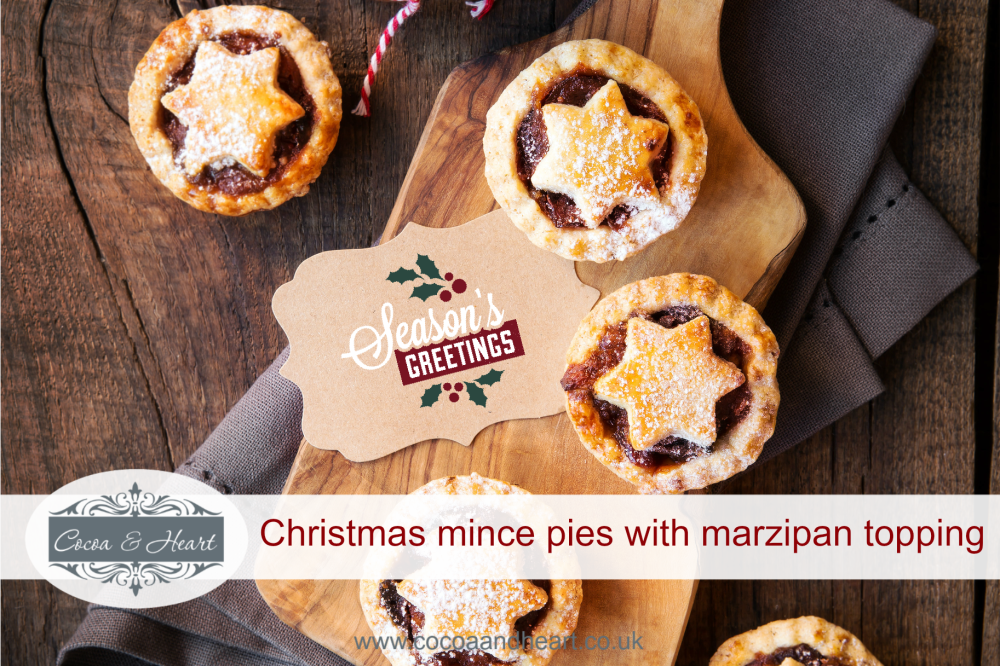 There are so many wonderful mince pies recipes, but this one with a marzipan topping is one of my favourite. It's probably because most of the shop bought variety is little too sweet for me and this one doesn't have that much pastry or sugar in. The best thing is that you can choose your own mincemeat and even mix it with some freshly chopped up apples to give if bit more lightness.
If you want to you can easily buy the brandy marzipan, but I prefer to make my own. So, here is what you do:
For the pastry:
250g plain flour
100g self-raising flour
200g unsalted butter
150g caster sugar
1 egg
400-500g mincemeat
For the star topping
75g white marzipan
1-3 tsp brandy (or rum)
50g caster sugar
First of all pre-heat the oven to 190C, Gas Mark 5.
Next make the pastry, byt putting all the flours, butter and caster sugar into a food processor and whizz until the mixture resembles fresh breadcrumbs. You can do this by hand, but the advantage of using mixer is that the dough doesn't get warm too quickly. Add the egg and when mixed together, take out from the mixer and gently knead into a dough.
Roll the pastry out quite thickly between two sheets of greaseproof paper. Using a large round cutter (or a upside down jam jar) and cut out 12-18 circles and line your mince pie baking tray. Fill each cavity with mincemeat up to about two third.
To make the star topping mix the marzipan and brandy together in a bowl. Roll out thickly and cut out star shapes with a cutter slightly smaller than your mince pies.
Bake for about 20-25 minutes or until golden brown. Store in a tin for upto a week or two (maximum).
Easy Christmas Mincemeat Recipe (if you don't have one or don't want to use a shop bought mincemeat)
The benefit of using a shop bought mincemeat is that you can use is straightaway. With homemade mincemeat you need to plan ahead as the flavour develops the longer you leave it.
Here is a simple recipe that you can amend as you wish - you are welcome to swap around the fruit or dried fruit, add in nuts or change the type of alcohol (or omit it altogether). As long as you roughly use the right proportions you should always end up with a great tasting mincemeat.
250g seedless raisins
100g dried cranberries
100g apples (peeled and roughly chopped into smaller pieces or grated)
200g sugar
90g beef or vegetable suet
1/2 teaspoon of mixed spice
1/2 teaspoon of ground cinnamon
150 ml whisky
1/2 lemon (zest & juice)
1/2 orange (zest & juice)
The process of making mincemeat is very simple. Add everything together ( I usually start with all dry ingredients first and then add all 'wet' ingredients) in a big plastic bowl. Leave it covered for at least 24 hrs or better for 48 hrs and stir every time you remember it.
Add your mincemeat to sterilised jam jars, seal carefully and store in cold place out of the sun (e.g. kitchen cupboard is best). Leave for 2-4 weeks before you use it, to allow the flavour to develop.
Few questions you might be asking about making your Christmas Mince Pies:
Does mincemeat need to be refrigerated?
No, it doesn't, but you need to keep it in a airtight container, preferably glass jam jar. Make sure you store your jars in a cold place out of the sunlight. The alcohol and sugar in the mincemeat works as a preservative.
How long can you keep homemade mincemeat?
This really depends on how well you store your mincemeat, but generally speaking you can keep it safely for at least 12 months. I usually make smaller quantities (see the recipe above) which can be used during one festive season, so that I don't need to keep it for the next year.
How long do homemade mince pies keep?
The chances are that your homemade mince pies don't contain any of the chemical preservatives that the commercial ones do, which also means that they won't last as long as the shop bought ones. I usually keep them for about 7-10 days, but to be honest they seem to disappear pretty quickly after I bake them...
Hope you enjoy this Christmas mince pies with marzipan topping recipe and if you bake it, do let me know how you get on in the comments below.
Happy Baking!
Magdalena
MORE CHRISTMAS RECIPES
Traditional Czech Christmas Cake - Vanocka >>
Christmas Fudge with Pistachios & Cranberries >>
Christmas Chocolate Truffles >>

Save
Save