Our favourite chocolate party
Posted on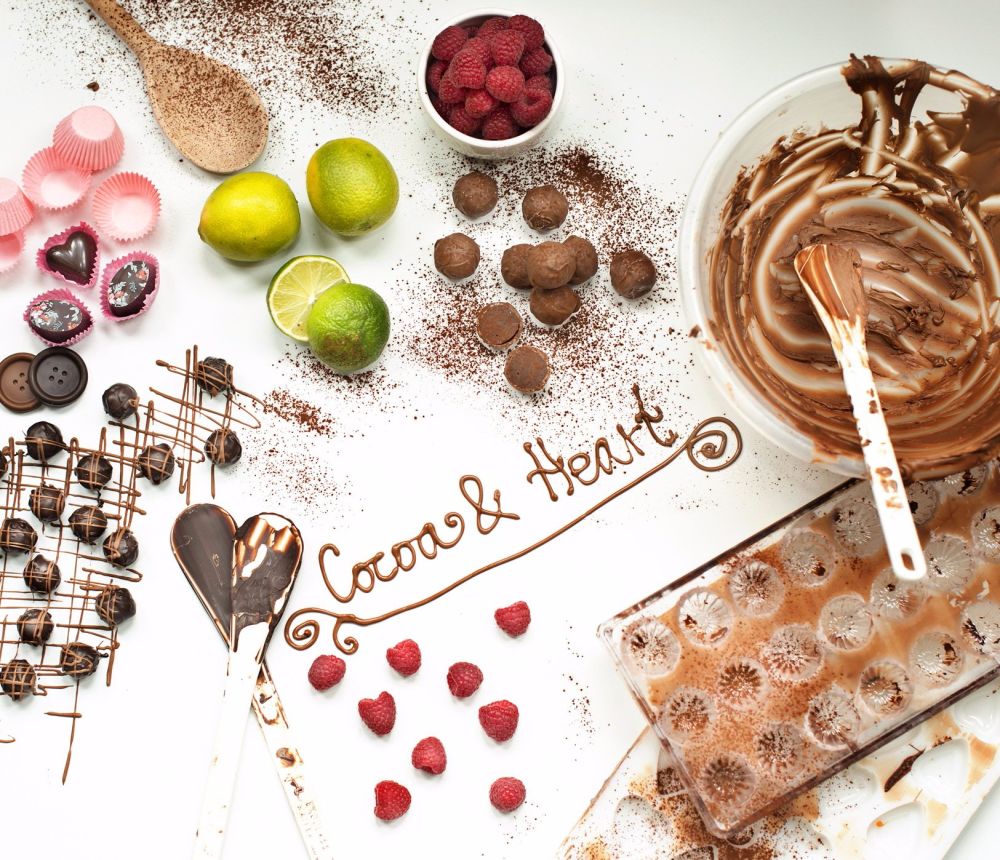 We are often asked, what was our most favourite chocolate party we run and since it's nearly impossible to answer that, we decided that in today's blog post we let you in on what normally happends at our chocolate parties.
It's always a pleasure, here at Cocoa & Heart, when we're asked to run a Chocolate Hen Party for the bride to be and her special guests.
For a start, it's a chance to build the right atmosphere in the run up to the big day. It's also an ideal opportunity for different guests to come together and get to know each other better, while making gorgeous chocolate creations. Everyone gets to have fun learn a thing or two at the same time.
We always work closely with the person booking the Hen Party to ensure that everything goes smoothly and according to plan. To help set the right tone, we like to ensure that our special party bags and gift wrapping matches the colour themes of the wedding, floral displays and the bride's choice/ bridemaids dresses.
We carefully select the chocolate flavours and essences with you beforehand to ensure that your favourites are included and also offer some friendly advice about the best chocolate combinations and what works best together.
Over the last six years or so, we've run Chocolate Hen Parties in a whole range of different venues. Being close to Kent, Oast Houses are often a popular choice for invited guests from different parts of the country to meet up for a long weekend and learn chocolate making skills for themselves in a friendly environment.
Other popular locations for Chocolate Hen Parties are Community centres, church rooms, scout huts and function rooms in pubs and clubs. Of course, Chocolate Hen Parties can work equally well in people's own house and front room or kitchen. All we ask for is a bit of space for each guest to work in; either individually or in small groups; a demonstration area for ourselves, space for our microwave where we can melt chocolate and, most importantly of all, access to a fridge where we can store the chocolate while it cools down.
We fondly recall one Chocolate Hen Party in a private club in West London where the fridge was in the walk in kitchen to the restaurant – two floors down. It certainly kept us busy and fit!
The good thing about learning how to make chocolate truffles is that no experience is required. Only a lot of enthusiasm about the subject matter and the willingness to get your hands, if not dirty then at least covered round the edges with lovely dark, milk and white chocolate.
As well as choosing the different flavours from the range provided, guests get to enrobe and dip their truffles in large bowls of freshly made chocolate with special chocolate forks. Sometimes the secret is knowing how much chocolate to leave off as well as how much to leave on, as several layers are added to enhance the flavour.
Chocolate strawberries are a special favourite of many Chocolate Party guests.
Then there's the chance to add a little bit of sparkle and make your own chocolate creations unique by sprinkling on a selection of toppings.
Of course, there's always plenty of time to try not just the chocolates on offer but also become a bit of a chocolate connoisseur by tasting our Origins chocolates from around the world. These are specialist chocolates straight from single plantations in Central and South America, West Africa and Indonesia – where the cocoa plant is grown and harvested. Think single malt Whiskies and you won't be far wrong.
While we're waiting for the chocolate truffles to cool down, we usually run a fun picture based quiz designed to test your knowledge of what else but chocolates, of course. And guess what? Yes, there is a special chocolate prize to the winning team. As well as bragging rights for the rest of the night, of course!
We provide special attractive matching chocolate boxes with silver or gold individual wrappers and guests can decide which of their mouth-watering chocolate creations make it into the final selection. Together with colourful ribbons, the finished chocolate boxes would grace any boutique shop window display.
It's always great to see so many smiling faces at the end of a Chocolate Party as guest pose excitedly for photos with their own box of beautifully looking and tasting chocolate truffles and more besides!
If you're looking for an activity or a theme for a Hen Party that all the guests can enjoy, then we can recommend holding a Chocolate Party. And the best thing is that we'll do all the clearing and tidying up afterwards!
Nick