Candy Cane Recipe
Posted on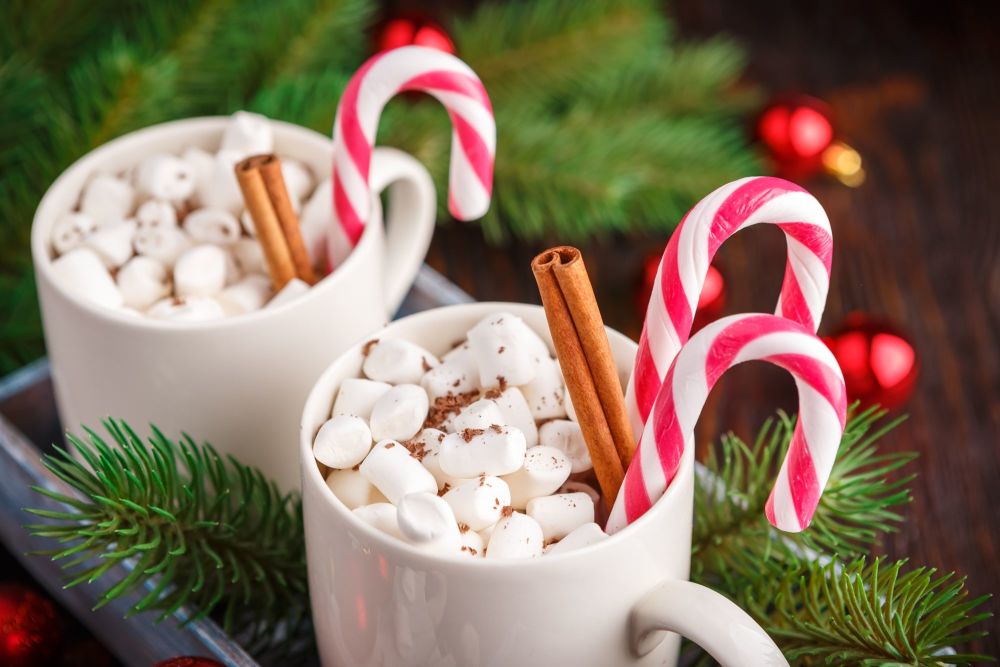 Here is my favourite recipe for traditional Christmas candy cane sweets and since I made these during Christmas holidays, it gave me the chance to take some detailed photos to show you how relatively simple this recipe is. This recipe is a version with UK measurements. <blog_break>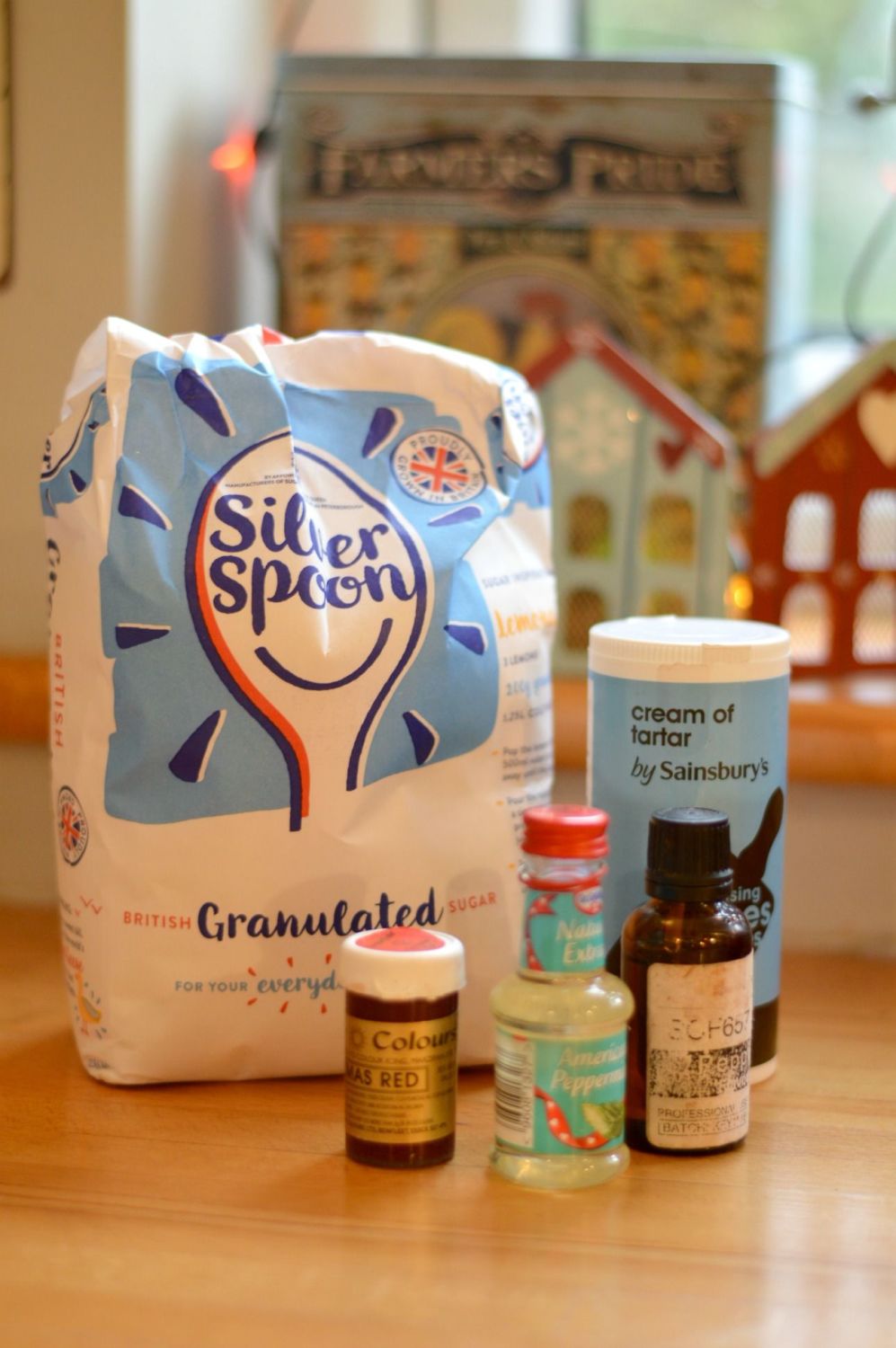 Candy Cane Recipe - Ingredients
To make about 12 candy canes you'll need:
225g sugar
50g liquid glucose
75 ml water
1/2 teaspoon of cream of tartar
1-2 teaspoon of peppermint extract
Red gel food colouring paste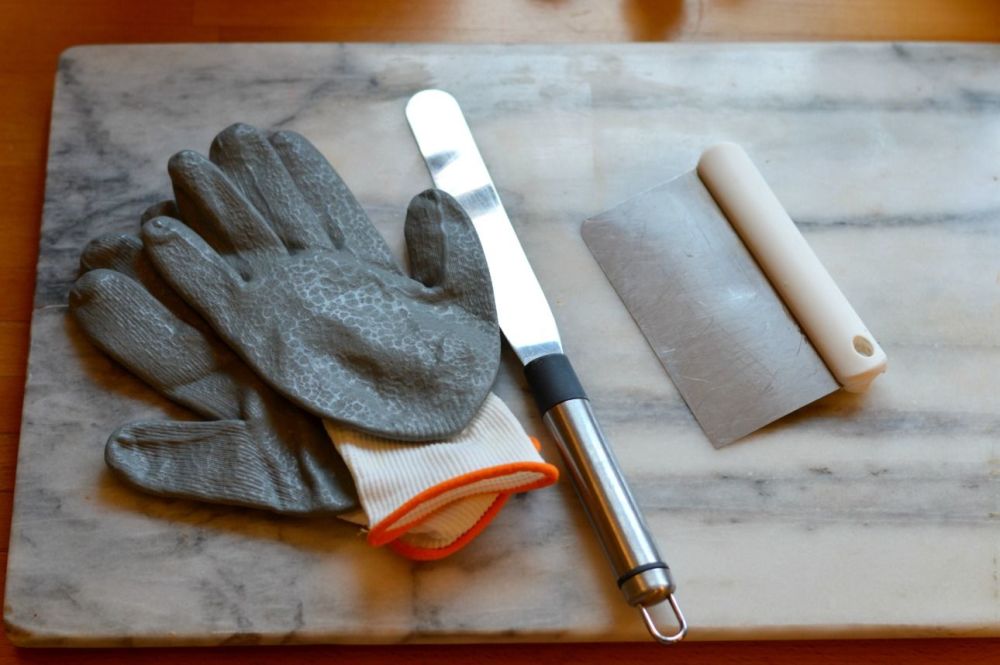 Candy Cane Recipe Making Equipment
To make this candy cane recipe, you'll need:
medium size pan
non-stick mat or marble (with oil on top)
palet knife (or dinner knife, that you don't normally use) - oiled
stainless steel scraper (can come in handy, when things get sticky)
heat-proof gloves (or at least latex gloves with another pair of winter gloves underneath or just your bare hands oiled)
wooden skewer to mix in the colour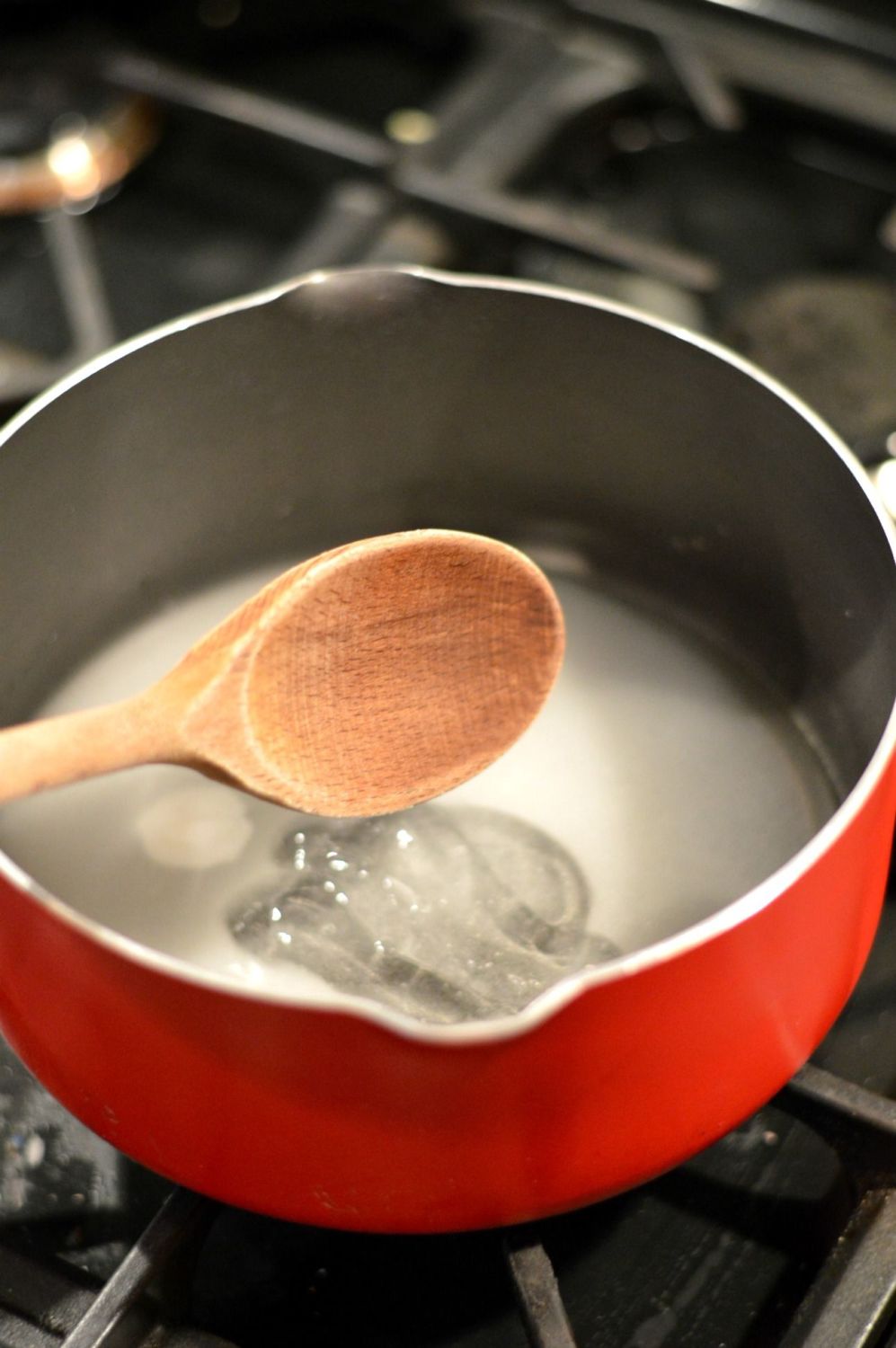 First of all mix all the ingredients (apart from the colour and peppermint extract) in to a medium size pan and put on a very low heat.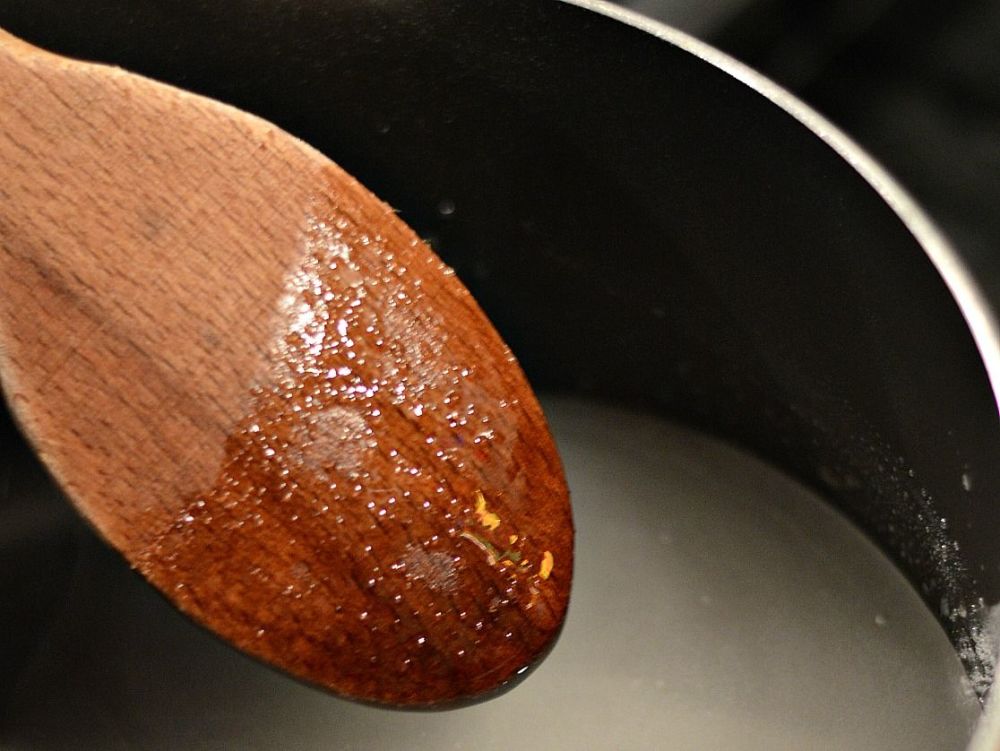 After few minutes the sugar starts to dissolve, but if you test it with a wooden spoon, you can still see sugar crystals that are not fully dissolved. Keep it on very low heat and wait a little longer until all dissolved.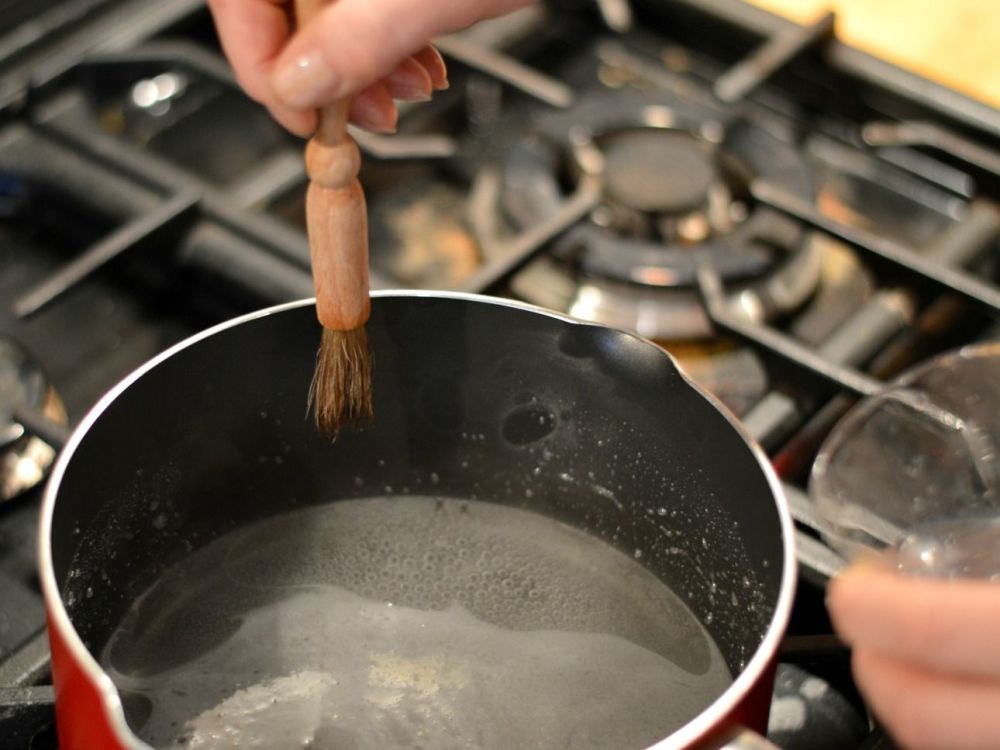 Make sure that they are no sugar crystals on the side of the pan, by brushing them down with pastry brush dipped into hot water.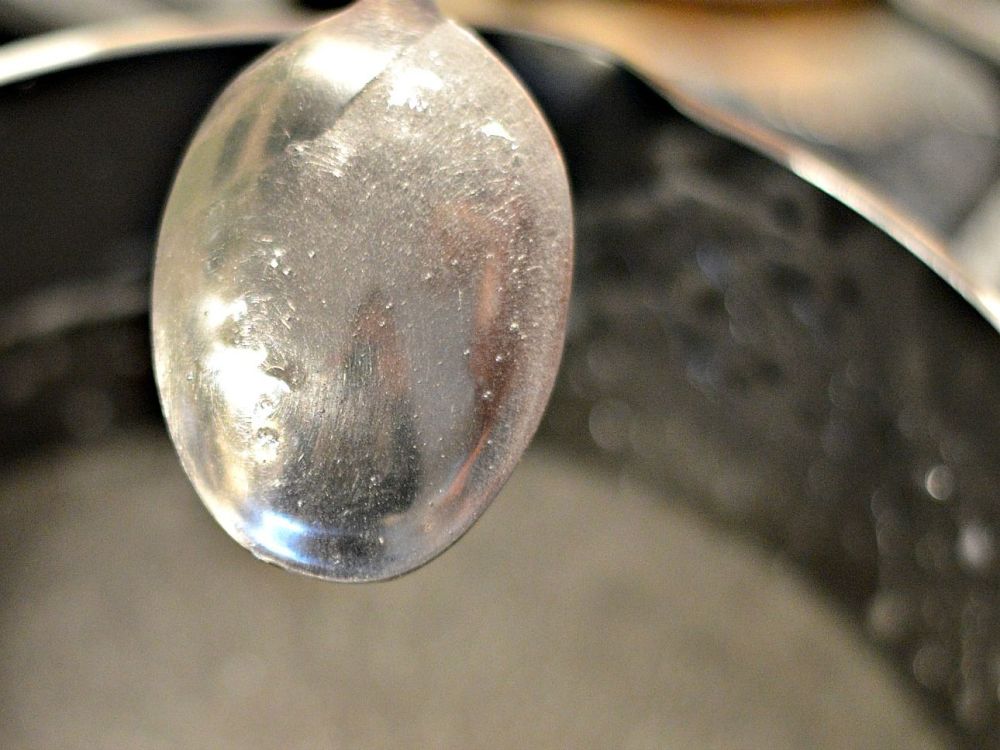 Test the sugar again - this time the spoon is much clearer and the sugar liquid is fairly transparent. Leave it for couple more minutes and then bring the mixture to the boil and carry on boiling on a medium heat. Don't be tempted to steer the mixture, it would crystallise it.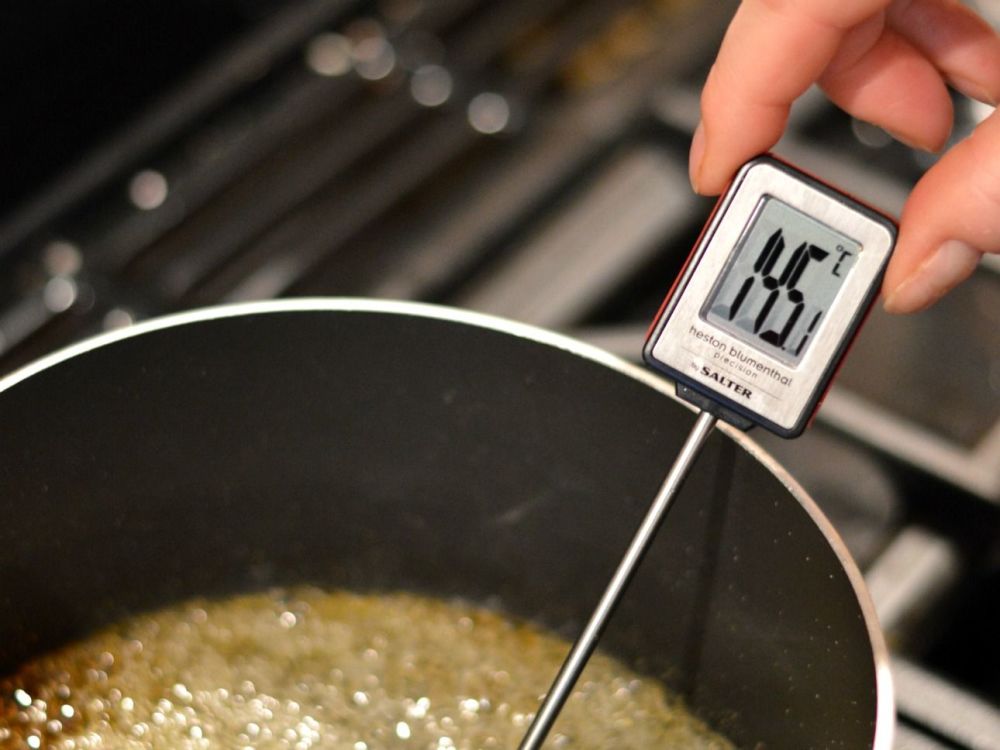 Bring the mixture to about 150 C (145-150 depending on the humidity in your kitchen), take off the heat and add your flavour. In this case, since we are making candy cane recipe, I've used traditional peppermint flavour. Depending on the type of your peppermint flavour you might need to add 1-2 teaspoons of the extract. I've added 2 teaspoons and the flavour was fairly minty, but not overpowering.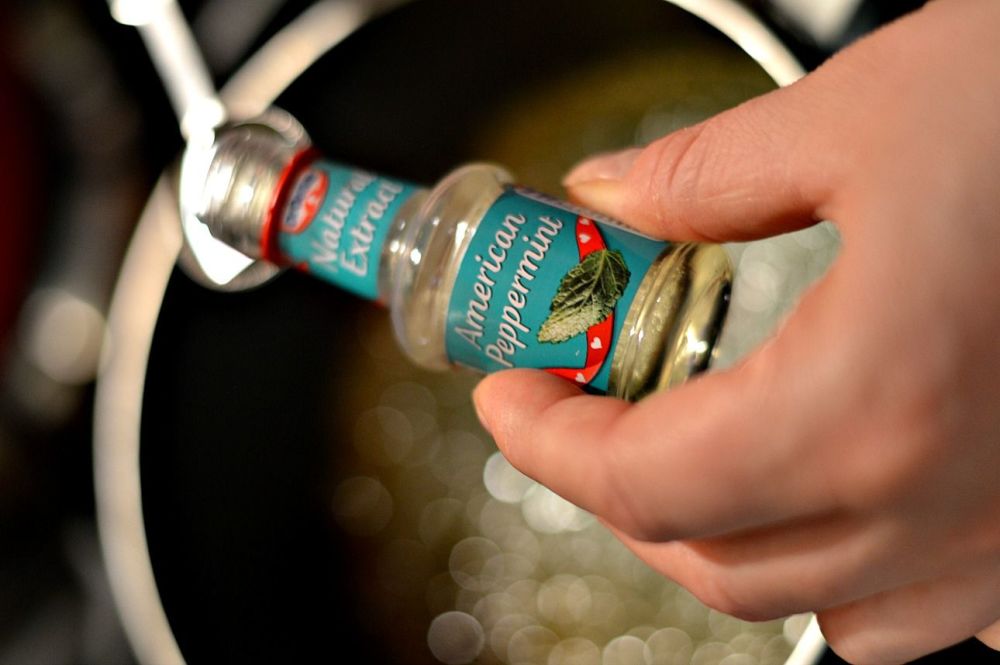 Now pour the mixture on to a marble slab (or other non-stick, heat resistant surface), which has been covered with oil, to prevent the mixture sticking.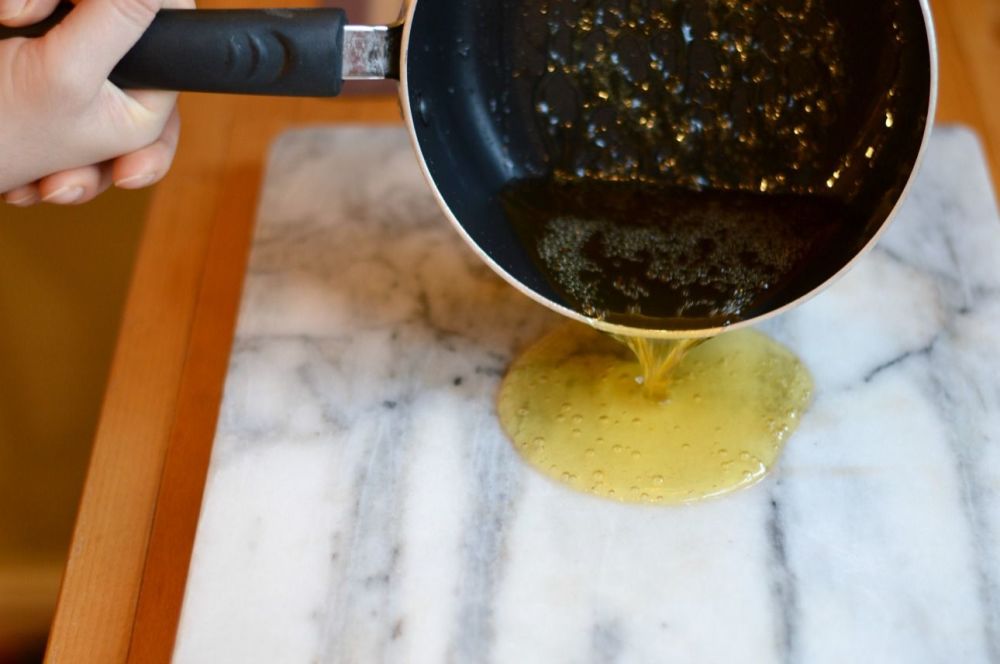 I've divided the mixture into two parts - one - large one for the white element of the candy cane and smaller one for the red stripes.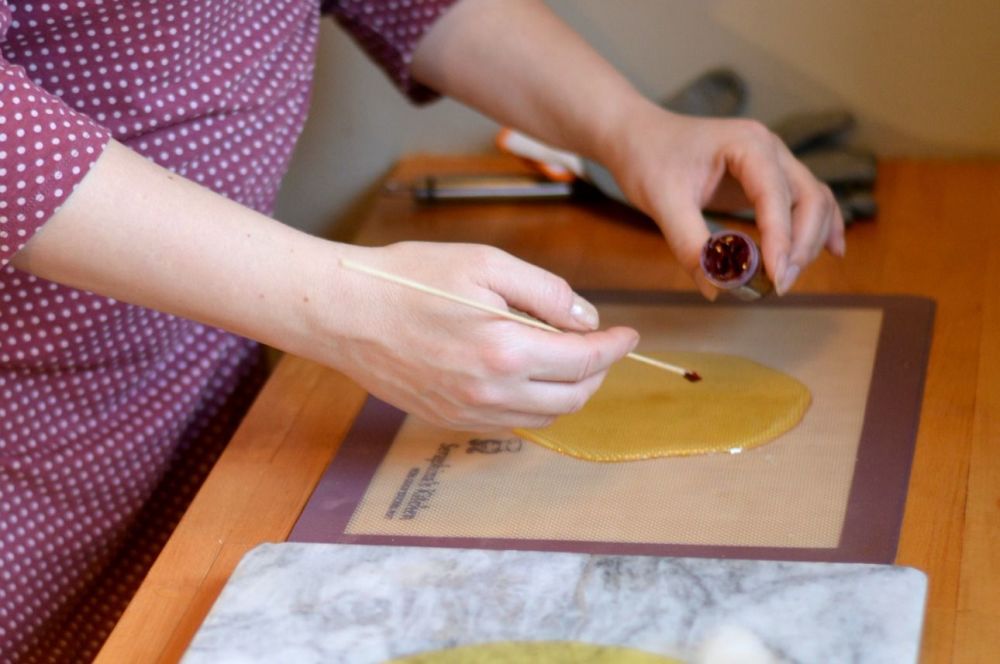 The smaller puddle of the sugar mixture needs to be coloured with red gel colouring. You only need tiny amount, which still gives you strong red colour. The large puddle of the sugar mixture is not being coloured, but if you have white gel colour, you can use that.
You can see that the mixture is not quite white and whilst it gets lighter as you pull it, it doesn't get brightly white. This is mainly because, whilst trying to take all the photos and make the recipe at the same time, my sugar syrup has been slightly caught by the heat and started to caramelise. Make sure that when you make yours, the sugar doesn't get to the stage where it starts to turn yellow in colour.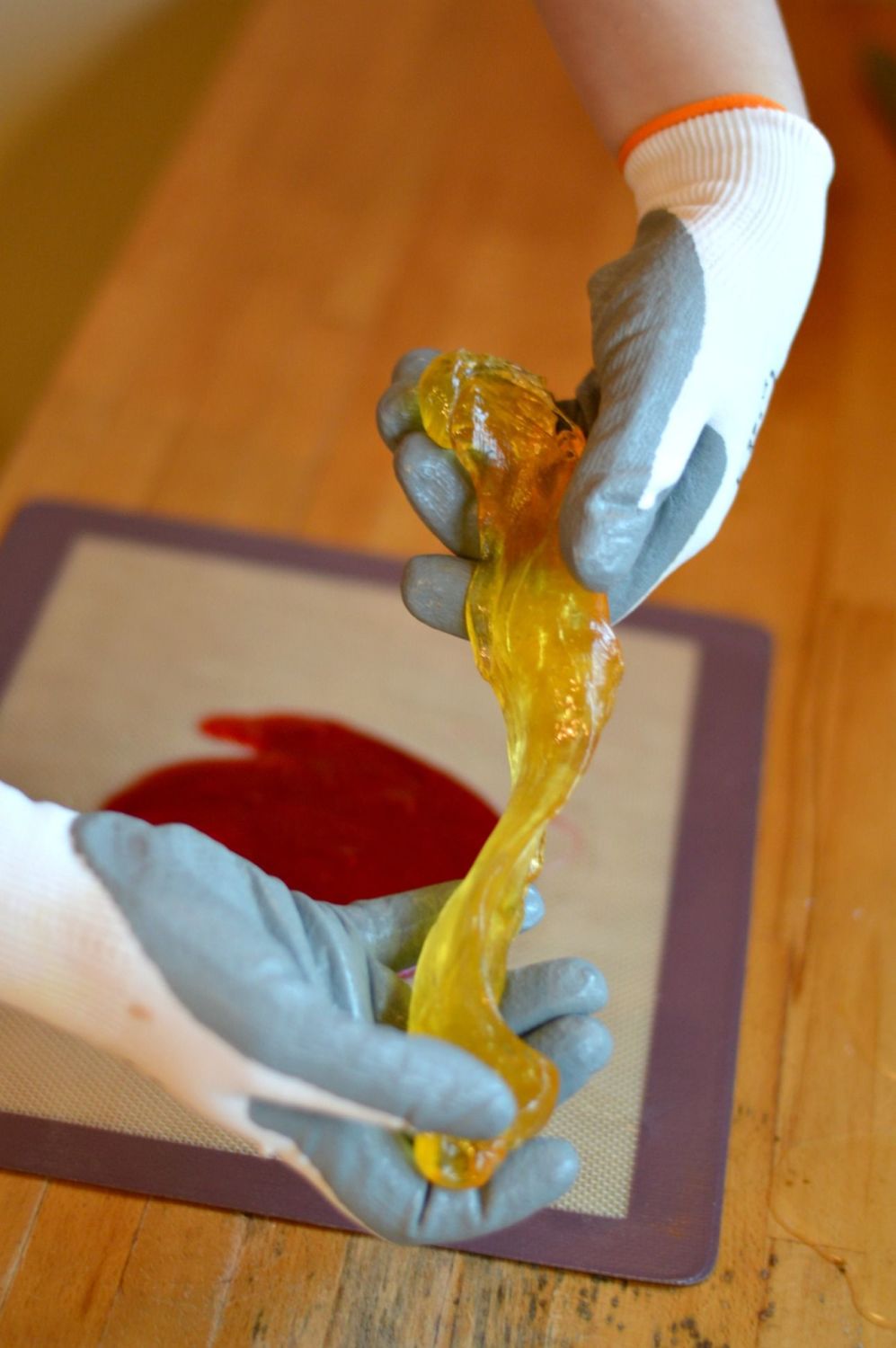 Start by pulling the lighter sugar mixture. You can see that at the beginning the mixture is see-through, but as you carry on pulling and twisting the rope, it gets more and more opaque.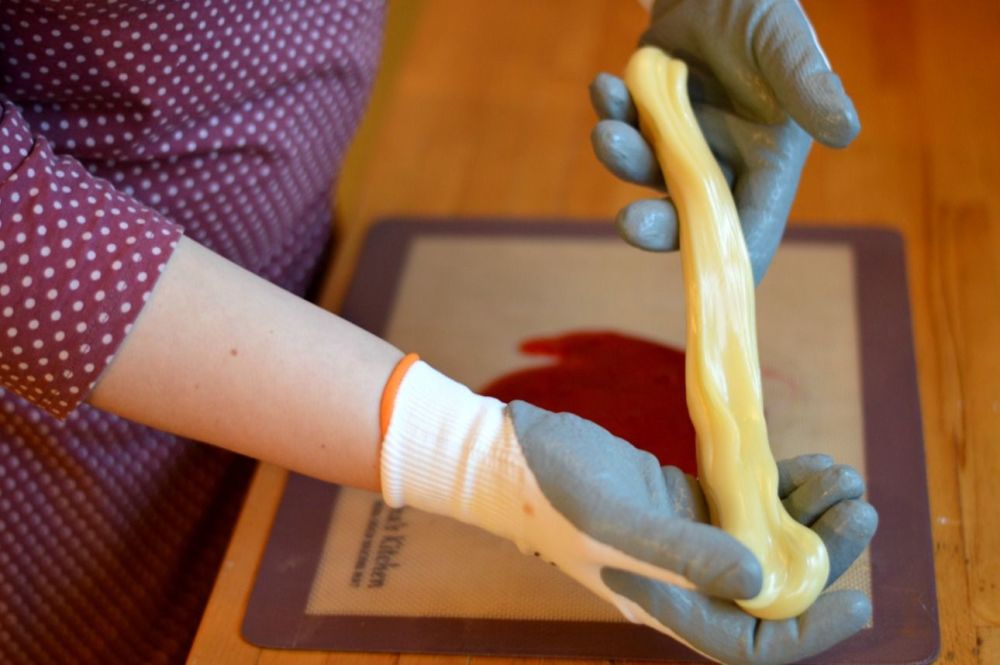 If at any point the mixture becomes too hard to handle, put it in a microwave for few seconds or to a preheated oven (about 200C) for about 30 sec at a time. Make sure that you oil the microwave plate a little with an sunflower or vegetable oil, otherwise it sticks!
Repeat the same with the red mixture, only this time don't pull for so long, otherwise the red becomes too opague and gets little too light in colour.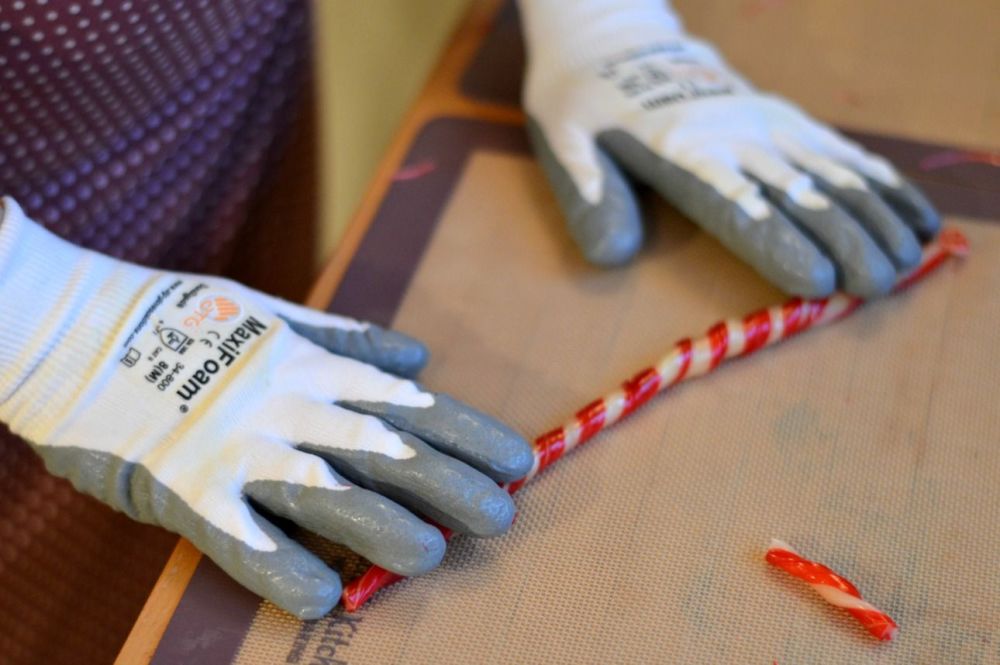 Now comes the fidley bit - pull both sugar syrup mixtures to a rope of a same length and start gently rolling and twisting at the same time. Decide on a thickness of your candy cane (about 0.7 cm) and cut to length (about 10-15cm).
If you want to keep them for a short while, wrap them in a cellophane first, twist the ends of cellophane to seal and then gently bend the ends to create the hook. If you don't wrap your candy cane sweets straightaway, the moisture from the air will start to make them sticky.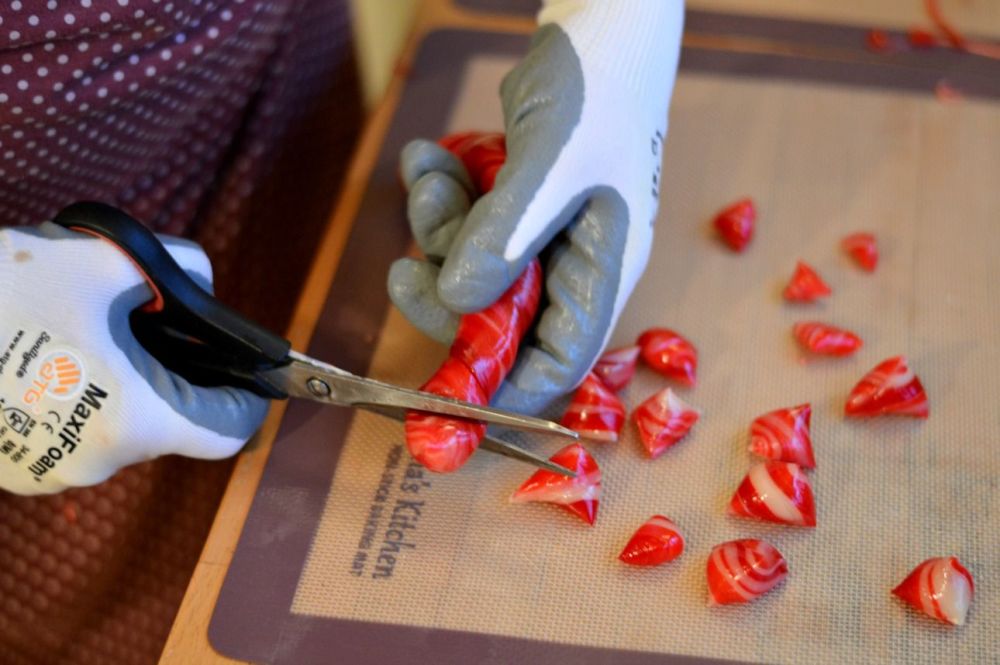 If you get bored with making candy canes (like I did...) you can also turn them into a little strippey pillow sweets. The trick here is to make a thicker rope (about 1.5 cm in diameter) and then cut them (about 1.5 cm) whilst turning the rope. This makes them into 3 dimensional pointy pillows and I think they look pretty impressive!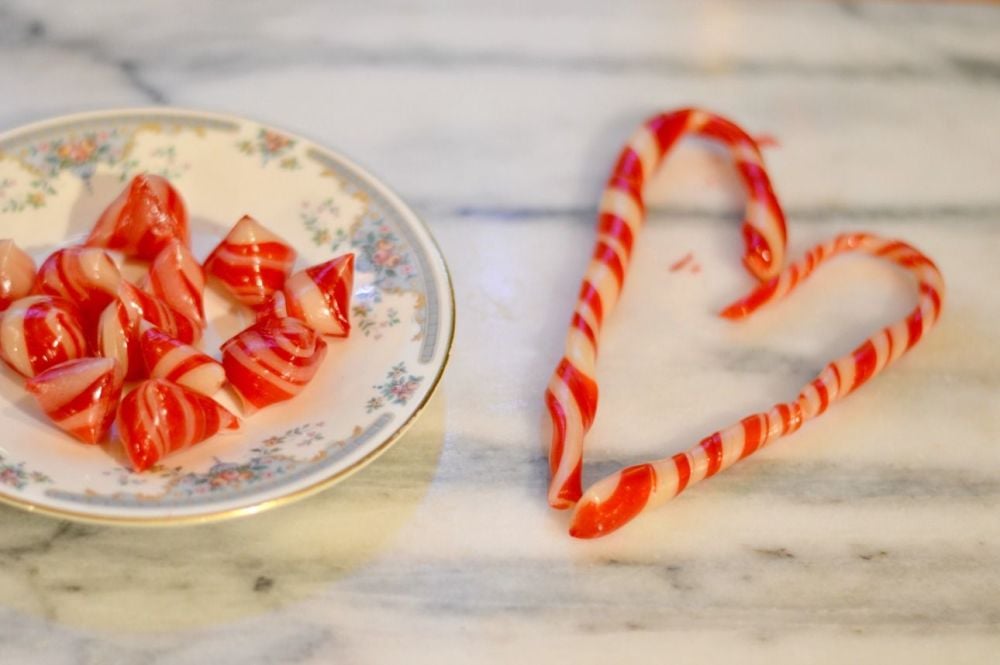 And here is the final peppermint candy cane and peppermint candy pillow sweets. By the time we got to this bit, the natural light was pretty non-existent, so it's not the best picture, but hopefully it gives you idea how cool these sweets can look like.
And if you fancy trying other hard boiled sweets recipes you can follow my tried and tested recipe for traditional sweets right here on my blog.
As ever do let me know, how you get on with your own batch in the comments below...
Until next time
Magdalena
MORE CHRISTMAS SWEETS & TREATS RECIPES
Christmas Chocolate Fudge with Cherries, Pistachios & Coconut >>
Easy Christmas Chocolate Truffles >>
Czech Christmas Cake - Vanocka Recipe >>
Winter Berry Jelly with Egg Nog Recipe >>
Rich Christmas Fruit Cake Recipe >>
Christmas Mince Pies with Marzipan Topping >>