How to make vegan chocolate
Posted on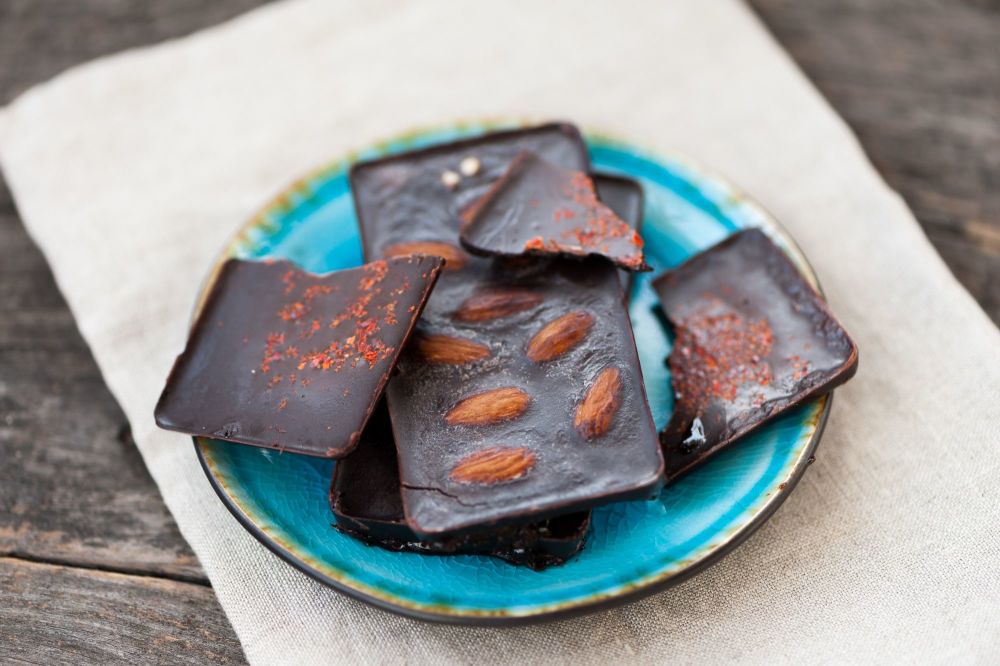 I've always been fascinated by the process of making chocolate and whilst in my day job, I usually use already prepared chocolate covertiture, for this recipe I've decided to explore the world of actual chocolate making.
So, here is how to make a simple vegan chocolate bar with only three basic ingredients. This recipe is of course suitable for vegetarian and vegan diets, but it's also gluten and wheat free and doesn't contain any lactose (milk). So, this is as healthy as chocolate can get!
The basic vegan chocolate recipe
170g cacao butter, melted
65g agave nectar
60g cacao powder
Optional
1/4 tsp vanilla powder
pinch of salt, finely ground
Here is what you do:
Melt cacao butter very gently in a bowl set over a saucepan with simmering water. Once the cacao butter has melted, take the bowl from the heat and add cacao powder. The best way to incorporate both ingredients is to use a whisk and just keep stirring until smooth. After that just add your sweetener and any flavourings you choose to use.
To temper the chocolate (at least a little bit...) keep whisking the chocolate mixture until it thickens a little and the temperature goes down to about 30 -32 C.
After that pour your chocolate into moulds or shallow tray. If you are adding any toppings, add them now and gently tap the tray to sink them in a little.
Place into fridge for 30 min or until the chocolate is set.
Looks simple, doesn't it? But just in case if you are making your vegan chocolate recipe for the first time, here are few troubleshooting tips, you might like to know.
Making Vegan Chocolate Notes & Troubleshooting Tips
How do I make vegan chocolate without cocoa butter?
You can replace the cocoa butter with almond, coconut or similar plant based butter. Bear in mind that the flavour of chocolate will slightly change, depending on what type of butter you use. This might not be a bad thing, especially if you are thinking of adding other flavours in to compliment the chocolate, for instance whole almonds or other nuts or dried fruits.
Magdalena