Rhubarb Cake Recipe
Posted on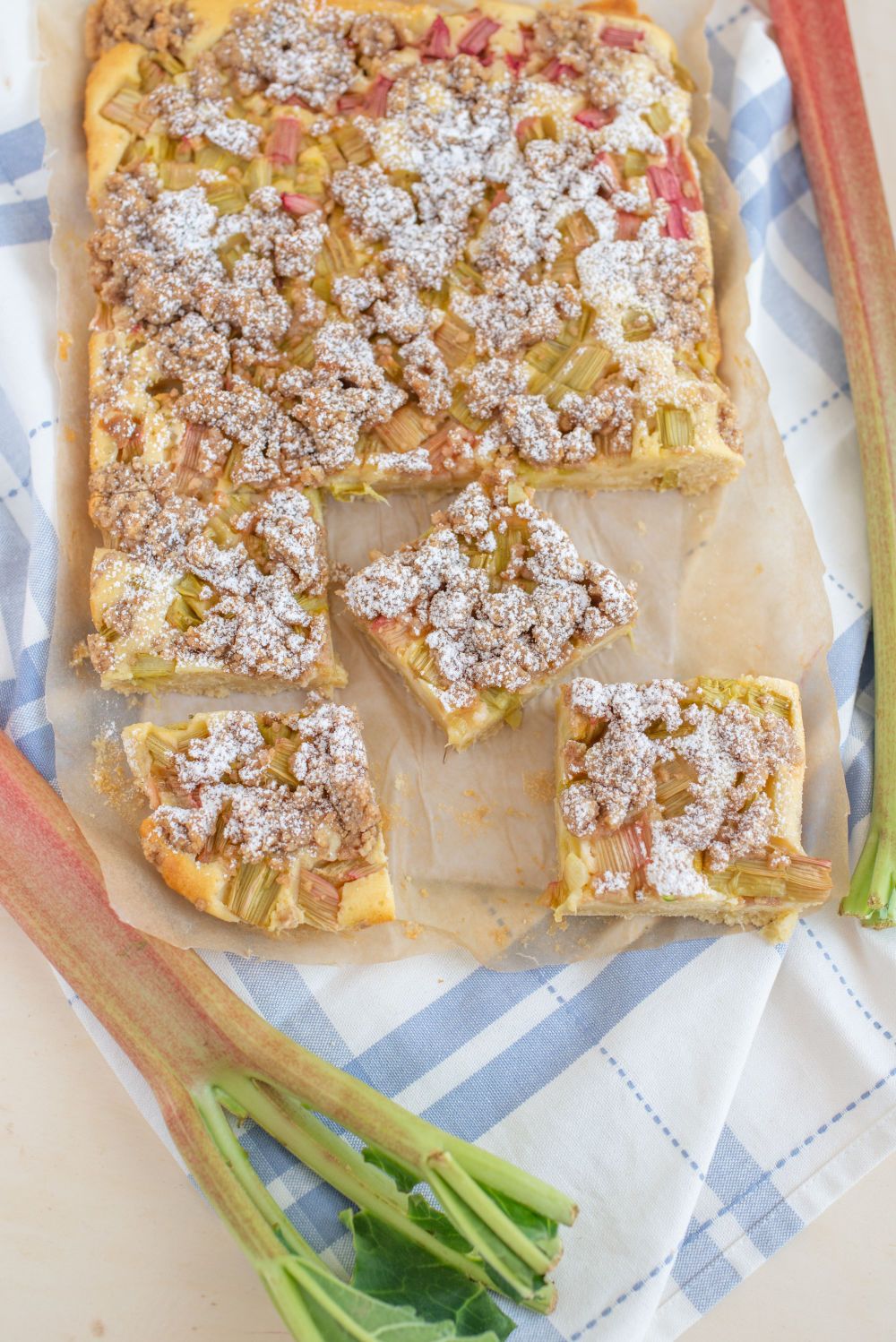 I've developed this recipe for rhubarb cake when I was working at Down House - a historic house in Kent where Charles Darwin lived for most of his life. We had an amazing garden kitchen which also had a large patch of heritage rhubarb. I wanted to create a recipe that would use the rhubarb as the main ingredients, as we had a bounty of rhubarb every year.
Each day during the rhubarb season, I would walk down to the end of the garden after I finished my work and cut few stems of rhubarb. I was under strict instructions to make it look like 'nothing was missing', so I would spend a lot of time working out how to cut the best stems that were ready from each cluster. Fortunately the head gardener was a great fan of the rhubarb cake!
The rhubarb cake was always a great hit with our tearoom customers, not just because of the rhubarb origins (it only came from a garden few yards away), but also because it tasted absolutely divine! I had people happily telling me, how they hate rhubarb, but they loved my version of the rhubarb cake.
The key to success with this cake is definitely the fresh garden rhubarb. If you get a limp flavourless rhubarb from basic supermarket, it won't taste as amazing as if you manage to get your hands on home grown rhubarb or buy it at local farmer's market. If you see something you like, buy several bunches, as you can easily prepare the rhubarb in to chunks and freeze it.
This recipe is 'all in one method' which means that it's suitable for the beginner baker as well as busy mums! It means that all the ingredients are combined without the need to prepare the rhubarb first.
I bake this as a tray bake, but you can easily bake it in a large round baking tin.
Simple Rhubarb & Yoghurt Cake Recipe
50g salted butter, at room temperature (or use unsalted butter, but add about 1/2 teaspoon of salt)
300g golden caster sugar (or normal caster sugar or for extra deep flavour dark brown sugar)
1 egg
300g plain flour
1 teaspoon of bicarbonate of soda
1 teaspoon of vanilla essence or extract
500g fresh rhubarb, trimmed and cut into 1cm chunks
250g soured cream or greek yoghurt or white yoghurt (always use full-fat)
Topping:
5 tablespoons of caster sugar
1/2 teaspoon of ground nutmeg or cinnamon (or mixture of both)
Preheat the oven 180°C, fan 160°C, gas 4. Grease a brownie baking tin (about 33 x 22 cm) and line the base and sides with baking paper.
Put the butter and sugar in a bowl and cream together with an electric whisk until pale and fluffy. Whisk in the egg and vanilla extract. Add the flour, salt (if using) and soda and mix well.
Mix together the soured cream and rhubarb and fold it into the rest of the mixture. Spoon into the tin and sprinkle with sugar and cinnamon (and nutmeg)
Bake for about 40 minutes until golden brown. Leave in the tin to cool before transferring to a wire rack. If not serving warm, allow to cool completely.
The cake itself freezes well, providing that you've used fresh rhubarb and not a frozen one.
I hope you enjoy this rhubarb cake recipe - do let me know your favourite one in the comments below!
Happy Baking
Magdalena
MORE CAKE BAKING RECIPES
Blackberry & Apple Crumble Recipe >>