Raspberry Maltesers, Chocolate Hen Parties and Amazing Cakes
Posted on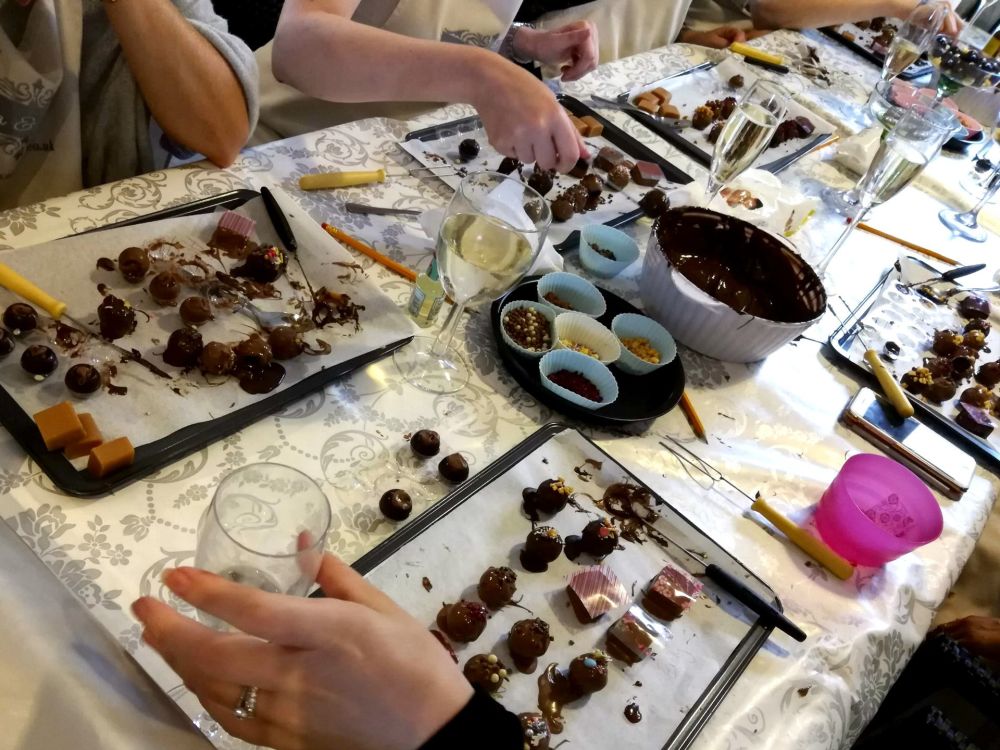 - THE CHOCOLATE EDIT -
Preparation is everything. That's the oft quoted mantra. And it's never truer than when it comes to preparing for one of Cocoa & Heart's chocolate parties. It takes the same time to prepare for a shorter party as it does for a longer one. The most important thing to do is first print out the checklist. It's in table form and divided into sections, such as equipment, ingredients, sundries and the like.
I usually start with the tablecloths which need wiping and cleaning. Trays need to be sorted out and aprons ironed. Again, I take the clean in that area. I find that there's something comforting about ironing aprons; although when you're ironed up to twenty aprons, all with the same Cocoa & Heart logo, yes it can get a big repetitive.
Oh yes, that assumes that they're all clean in the first place. If not, the washing machine gets a spin. Washing – whether by hand or using the machine is a big part of preparing for a chocolate party. It goes without saying that everything needs to be spic and span. Not everything can go in the dishwasher so plastic bowls and spatulas and dipping forks and prongs are often washed by hand. My hand! And rinsed several times as chocolate and cocoa butter can leave tell tale smears and fat deposits if not carefully cleaned first. As Magdalena has reminded me more than once!
Chocolate boxes need to be folded into shape. It's amazing how Magdalena can fold a flat pack box without even looking at the folds. It's like being able to touch type. Inserts then need to be added. And the chocolate shells need to be cut up to size depending on how many each person is going to use. Decorative ribbons also need to be cut up for the presentation boxes and goody bags need to be arranged. We have so many different sizes of small clear bags and anything that carries anything usually has one of several Cocoa & Heart logos on it. So, adding sticking labels and logos to the list of duties.
Of course, if it's a themed party, then we need to do a bit of research and there's always copies of our quiz to bring along. One of these days, I think we'll forget to include the answer sheet but I think I just about know them all by now!
I'm getting tired just typing out all the work that goes into the prep and I haven't even added weighing out how much chocolate to take! Yes, it wouldn't be much of a chocolate party without the essential ingredient. Not to mention, a whole array of flavourings, essences and edible decorations. Over the years, we've forgotten the odd piece of equipment or two, but nothing major, like the chocolate itself!
So preparation is everything and sometimes it feels like that. But it's all about ensuring the chocolate party goes according to plan and every guest has a good time and goes away with a beautiful box of chocolate truffles and more besides.
Sometimes being prepared is all about going that extra mile. Like last Saturday when the bride to be found that the village hall for our chocolate Hen party was locked and the key or the caretaker couldn't be found. Plan B and we all relocated to one of the caravan holiday homes that they guests were staying in. With a bit of re-arranging we had a cosy party set up in no time. That's why we always carry around our own microwave and bring a spare table just in case.
Well, I'm all exhausted writing about what's happened at Cocoa & Heart this week, so lets have a look at the rest of the world!
Chocolate Cakes Prices
We have a sliding price range depending on the number of party guests but how much would you pay for a single Chocolate cake. A tenner or twenty perhaps depending on the size or the occasion? Up to Fifty quid then – after all, you're inviting guests and you want it to look good. No-one wants to be accused of being a cheapskate.
So, what price a personalised Chocolate cake? A bit more then. Would you shed out a ton for a tenner a slice?
Choccywoccydoodah is a chocolate shop in London and Brighton.They make custom chocolates and cakes. We've actually been to their Brighton shop. It was the day after I'd ran the Brighton marathon and my bones ached somewhat. We went round the elaborate displays marvelling at each creation. They ought to have been in a museum. But not a crusty old one with fading exhibits. This was definitely chocolate porn for the masses to gaze and ogle at longingly.
Each cake is available in a range of flavours, from red velvet to Sicilian lemon. Every part of their decoration is made from chocolate.
To decorate each cake it is first completely coated in white chocolate. Hearts and letters are made out of moulded chocolate. Coloured modelling chocolate is warmed and used to sculpt details and other details are piped on.
The flower decorations are made out of modelling chocolate. Each petal is made by hand and then pushed together. The team also use edible paints and glitter for colour.
The custom cakes start from around £450 and go up to £2,000. Does that make your mouth water or does your throat go dry?
Playing around with traditional flavours can be a dangerous game. Many a food and drink company has had to hurriedly re-introduce a much loved brand after underestimating the public's stomach or thirst for change. It's usually safer to introduce a variation on a theme as an alternative with a twist than stop producing a family favourite.
New flavours for Maltesers
Some flavours are synonymous with particular products. Take cider for example. For years, the range was basically – dry, medium or sweet. Then suddenly it burst into colour - quite literally – raspberry and any other berry you care to think of – was added to the apple core – to enhance the taste and just as importantly – the image.
More recently, Gin is the latest drink to get a multi-coloured makeover. No longer 'Mother's Ruin' it's successfully shed it's under the kitchen sink image to take pride of place alongside the most glamorous of cocktails. Ryan Reynolds, US Marvel movie star was even bought his own Aviation Gin company. Flavour of the month or the year?
So how does this apply to chocolates?
Maltesers, are a traditional brand, and up there with popcorn as the go to sweet with your cinema ticket.
So does Raspberry Maltesers make the right crunching sound for you or would you happily stick to with original milk chocolate? By the way, the malt in the middle is unchanged, it's the purple coated chocolate around the outside that gives the Malteser its raspberry flavour.
Launched only in Australia at the moment, it remains to be seen, if Aussie consumers give this particular chocolate treat the Raspberry or not?
Happy chocolate eating and let us know what tickles your chocolate fancy this week.
Nick