Women's Institute, Chocolate Tasting and Stocking up for Brexit
Posted on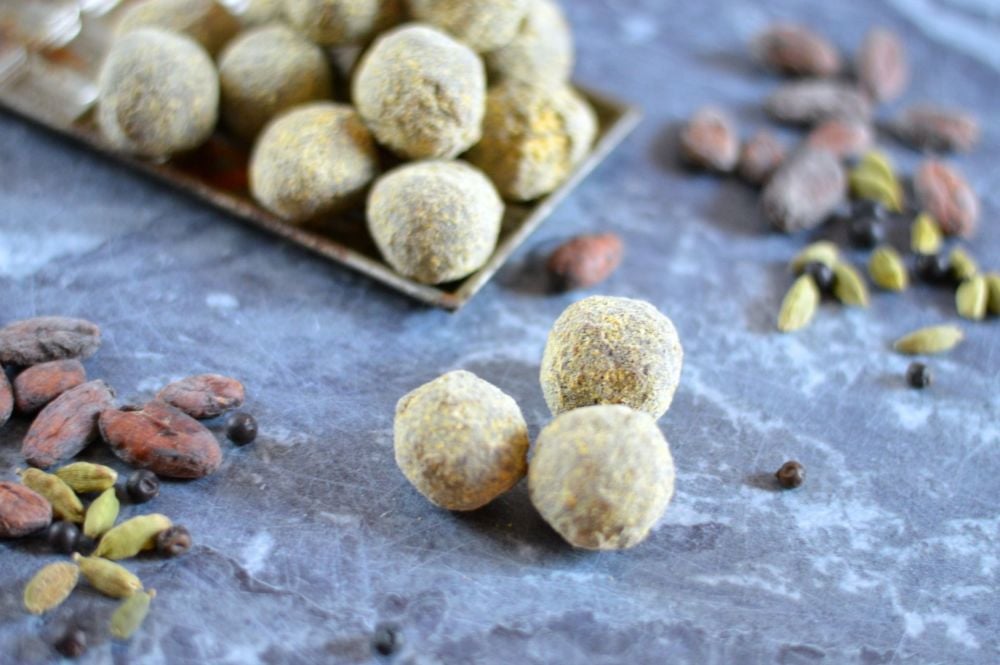 - THE CHOCOLATE EDIT -
This week at Cocoa & Heart...
I was looking through Magdalena's booking calendar recently and noticed that we've been invited to give a chocolate truffle making demonstration to a WI in Essex next week.
We all probably have our own idea of the WI. It's one of those rare organisations known universally by its abbreviation. Like the BBC. WI - does anyone ever call it the Women's Institute? Most people's image of the WI is of well-meaning middle class do-gooders, upholding public morals and flying the flag for royal occasions.
Hang on, isn't that the BBC? Anyway, chances are we still associate the WI with activities such as baking cakes, holding coffee mornings and organising flower arranging. For every picture of Jam and Jerusalem there's also a Calendar Girls moment to conjure with. Remember Helen Mirren and the girls, throwing off more than their inhibitions and daring to bare all to raise money in the fight against cancer?
Men's image of the WI is probably even more skewed since we don't go to their meetings. We've been luckily enough to have given several chocolate making demonstrations to WIs across London, Kent, Sussex and Essex.
So, if the good ladies of the WI have learnt more about the art of making ganache and how to transfer colours and patterns onto their truffles, what did I learn?
Well, that the WI's are a lot more representative of 50% of the population than I had imagined. And in many cases, a lot younger than I had anticipated, as well. It goes without saying that members of the WI are more active than most of us. Certainly, if they attend only half of the events booked every month. All tastes seem to be catered for whether culinary or otherwise.
On one occasion, the members started respectfully seated at their tables. Half way through the demonstration, we invited someone to come up to help with dipping and by the end, all of the group had left their seats and were gathered around our table in curiosity as Magdalena took them through chocolate making techniques in detail. With more than a little help from the eager onlookers.
It was a good example of how even a demonstration can be active and hands on. Ask for a volunteer and WI members will never let you down!
Of course, handing round samples of good quality milk and dark single origin chocolate from around the world is another sure proof way of making sure the members are fully engaged and kept occupied. It's also a great talking point. Taking and making notes of the intense and richly vibrant flavours and aromas of chocolate from a single plantation in parts of the globe as diverse as Latin and Central America, West Africa and South Asia can be an all-consuming business.
Taste testing is always fun. Which flavours and notes stand out most for members? And in what combinations? Will they like the dark chocolate drops with the highest cocoa percentage in them – or does there come a point when the taste becomes too bitter? And there's a serious point, too. The chocolate we use has no added sugar. So there's a different starting point from anything members have ever tasted on the High Street.
Which is a cue for more questions from interested WI members. But not with their mouth full. They are still respectful and well brought up in some ways!
So, I'm looking forward to our next WI demonstration and carefully selecting more chocolate samples for members to taste. But not before I've sampled a few, first. All in the aid of research, you understand? I like to be properly prepared.
This week in the rest of the chocolate world...
Another part of being prepared is to check what's happening in the wonderful world of chocolate – whether buying, selling, manufacturing or exhibiting. With over 2 billions pounds of chocolate consumed worldwide every year, its big business from the smallest drop to the largest bar.
While Cocoa & Heart is piping hand made chocolate to order, big business is busy preparing contingency plans for dealing with a Brexit no-deal scenario. And it seems that involves pilling up the stock and stacking up the warehouses with ingredients.
Cadbury owner Mondelez International has reportedly revealed it is stockpiling ingredients, chocolates and biscuits in case of a no-deal Brexit.
Hubert Weber, the European boss of Mondelez, said the UK was "not self-sufficient in terms of food ingredients" and confirmed the stockpiling as part of contingency plans for a hard Brexit, according to The Times.
''We are also preparing for a hard Brexit and, from a buffering perspective for Mondelez, we are stocking higher levels of ingredients and finished products, although you can only do so much because of the shelf life of our products," he said.
All of which will leave many chocoholics frantically googling how long chocolate lasts for – a subject most of them have rarely had to consider before.
I'm off to taste some more chocolate, so until next time!
Nick