The Chocolate Brownie Badge, Harry Potter and New Chocolate Friends!
Posted on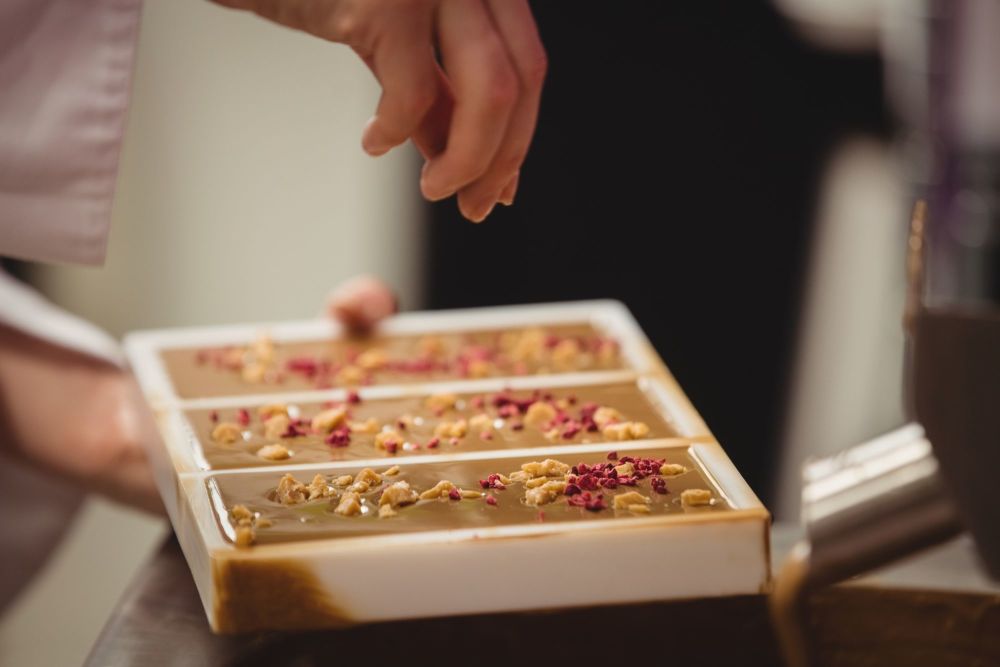 - THE CHOCOLATE EDIT -
I always enjoy when we are booked for chocolate children's parties. It gives me a chance to be front of house and engage with the youngsters while Magdalena concentrates on the all important task of melting the chocolates from large bowls into piping bags and setting up the chocolate challenges on offer. I also like seeing the sheer joy on the children's faces when they first see the bowls of liquid chocolate in front of them, as well as piping the chocolate into moulds and deciding on what type of edible decoration to use. The children are so innovative in their choice of colours, shapes and patterns that no two designs are ever the same.
So, when Magdalana said we were booked to give a chocolate party for a group of Girl Guides in nearby New Eltham, I was looking forward to it. Fast forward nearly six months to the week before the actual event and I realised that the group of Girl Guides was actually three packs coming together and amounted to no less than 42 Girl Guides in total. We had been booked as a Chocolate Adventure challenge so the Guides could be awarded their Chocolate Brownie badges.
We gave three chocolate workshops to Girl Guides between the ages of 10-14. Each session lasted about 2 hrs with about half an hour to tidy and clean up and set up again ready for the next group. As the Guides were there as an adventure activity we decided to start by telling them a little bit about the cocoa plant and where chocolate comes from and how it is made. A replica cocoa pod served as a suitable prop together with a box containing compartments of cocoa beans and nibs, which set out the various stages of the chocolate making production process.
From there, the Guides made their very own chocolate bars and demonstrated their piping skills by writing their names on the bars they'd just made. Unicorns are very popular amongst the young, especially when they are full of Chocolate and can be eaten as lollipops. We hold chocolate truffle courses for adults and decided to adapt this for the Guides so they could experience the thrill of a little bit of dipping and dunking as well as rolling and dusting the ganache in cocoa powder.
All the groups were very enthusiastic and totally engaged as one of the organisers commented afterwards. It was a bit of a challenge for us as well, to make sure we were one step ahead and ready with all the equipment for the next exercise as the previous one came to an end.
As ever, there was also some friendly completion between the individual groups to see which team got the most right answers in the chocolate quiz. Some of the adults were on hand to help, although whether the Guides actually needed much assistance is another matter!
I hope the Guides came away with a little bit of knowledge about different types of chocolate itself and the fact that chocolate melts at body temperature which helps to make it such a sensual experience. What they definitely did come away with was a whole bag of handmade chocolate goodies and a fun time with their friends making, designing and decorating their very own chocolate creations.
Oh, and of course, their own Chocolate Brownie Badge. Awarded First Class with Honours.
Elswhere in the chocolate world...
I'm sure some of the knowledgeable Girl Guides are Harry Potter fans. And JKK Rowling's fantastic creations, beasts or otherwise, continue to make the news. Actors Jude Law and Eddie Redmayne paid a surprise visit to a Back to Hogwarts promotion day recently and Law declared that he'd love to visit to buy chocolate frogs.
Now there are even more chocolates and confectionery coming off the Honeydukes production line to satisfy even Jude Law's sweet tooth.
Jelly Belly Candy has introduced an expanded and redesigned Harry Potter inspired collection, through a partnership with Warner Bros. Consumer Products.
Designed with Harry Potter enthusiasts in mind, seven new series-inspired chocolate and gummi sweets join the popular line. The new additions include – Chocolate Wands (42g), replicas of those of the main characters; Chocolate House Crests (4x28g), chocolates with crisped rice, moulded in the shape of each Hogwarts House Crest; Chocolate Creatures package, containing one of six exclusive collectible stickers and a 15g chocolate with crisped rice, moulded in the shape of one of six creatures or pets inspired by the Wizarding World; Gummi Creatures (42g) in one of four flavour combinations, in the form of five magical creatures or pets.
The line also includes the new Bertie Bott's Every-Flavour Beans Gift Box (125g), which offers only unusual jelly bean flavours such as Black Pepper and Earwax. It also includes a 35g Flip Top Box and 54g Grab & Go Bag.
As a new generation gets to grips with the magical world of wizards, there's plenty to feed both the stomach and the imagination.
I like to think that the 42 Girl Guides who attended the Chocolate Challenge went through their own finishing school and many of the chocolate creations had a touch of magic to them with a sprinkle of stardust added for good measure.
Until the next blog, good luck in finding your own piece of chocolate heaven.
Nick