What's new for the festive season & other chocolate news
Posted on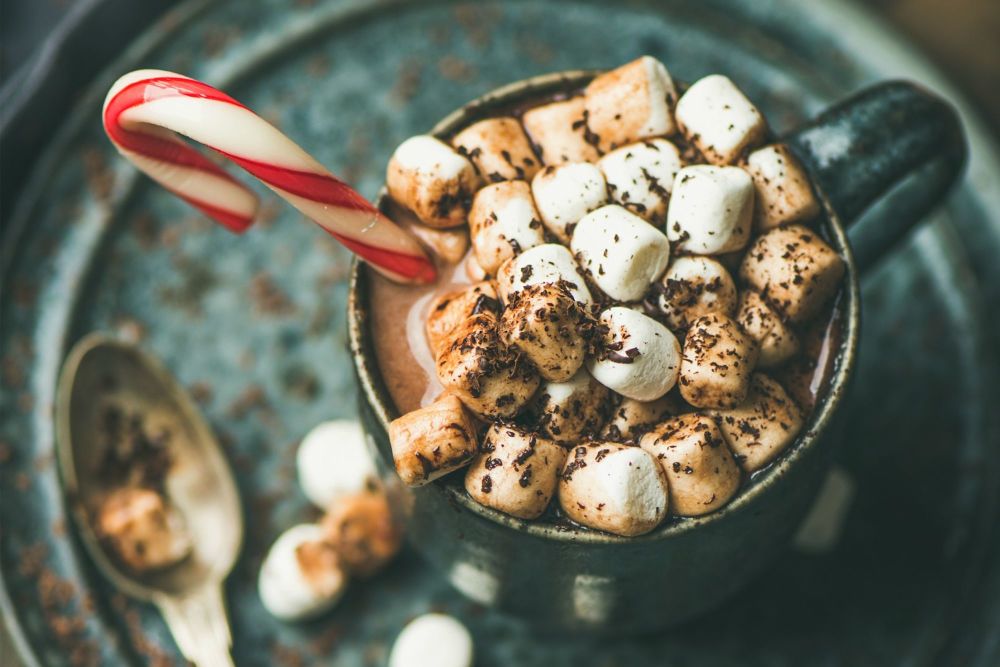 - THE CHOCOLATE EDIT -
As the orange glow from pumpkins starts to fade and the crackle from fireworks fizzles into the autumnal night, we're left with the long run up to Christmas. For some, particularly the young, it's a magical time of amazement and excitement. For others, especially parents, the old tricks have all been seen before and it'll take more than a sleight of Santa's hand to convince us that there's anything new to look forward to this year.
Therein lies the perennial Christmas conundrum. So much of our memories hark back to a Victorian imagined past. One of stockings being hung by the fire, chestnuts roasting beneath while it's snowing outside. Most of us don't have fires, don't eat chestnuts and how much money have the bookies made taking bets every year on a White Christmas?
Before I start sounding too much like Uncle Ebenezer, (and not enough like St.Nicholas), the real trick is probably to be able to balance the old with the new. And raise a glass to both at the same time. Whether it's a whisky warmer or a red bull energiser.
How does this affect Cocoa & Heart? Well, giving and receiving chocolates is very much a part of the Christmas tradition. In many households, chocolate decorations even get hung on the Christmas tree.
This Christmas, we've decided to keep with the old but also bring in some of the new. As a small business, we make and create for our own enjoyment first and foremost. If any piece or flavour combination doesn't pass the test of our taste buds then it's back to the chocolate drawing board.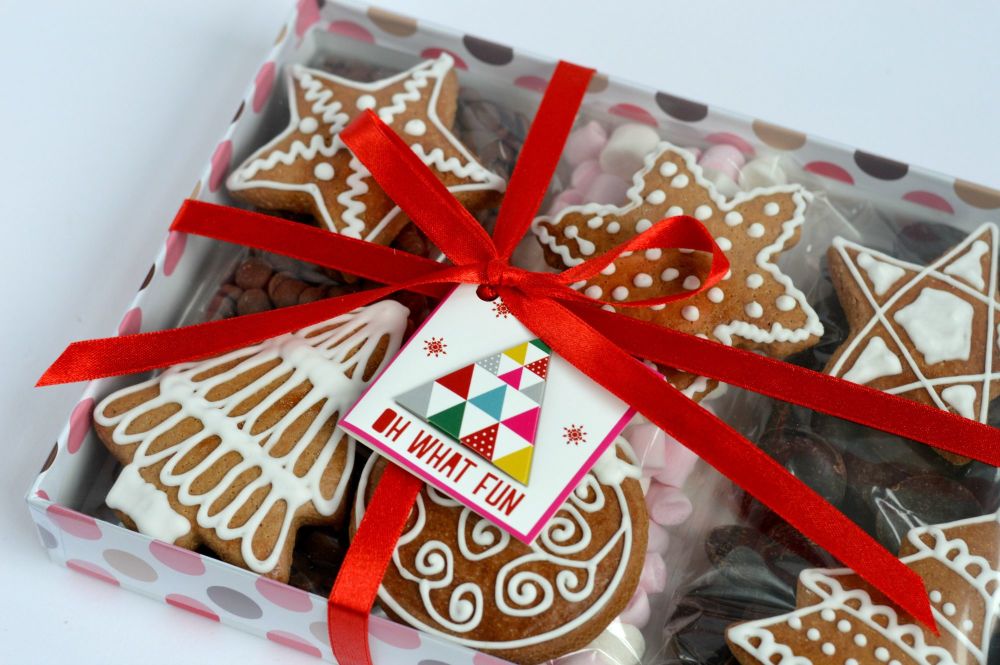 So, what's in the online Christmas shop this year? We have old favourites such as Hot Chocolate spoons complete with news designs; Gingerbread Men, Santa, Holly Leaf & Berry and Red Bauble colour motifs. No need to mess around with powder and sachets. Get a real luxury chocolate drink once you've finished admiring the decorations.
Scandi style red and white ribbons are ever popular and we've added these to our chocolate lollipops in the style of Father Christmas, Christmas Trees and Snowmen.
If it's a gift set you're after, we now have a Christmas Hot Chocolate Mug with mini marshmallows and chocolate, adorned by a red bell, scandi ribbon and a red and white striped candy cane. It even comes with an exquisite greeting card for that special message. And there are other specially themed chocolate inspired gift sets for all the family. As well as Novelty chocolate gifts to amaze and amuse.
We have a box of 50 Chocolate Pudding Truffles surrounded by white cream and chocolate holly leaves and topped with a red berry. That should satisfy most guests and provide a perfect post party accompaniment. Although some people tell us that they use the truffles as place markers when they're setting the table for Christmas lunch.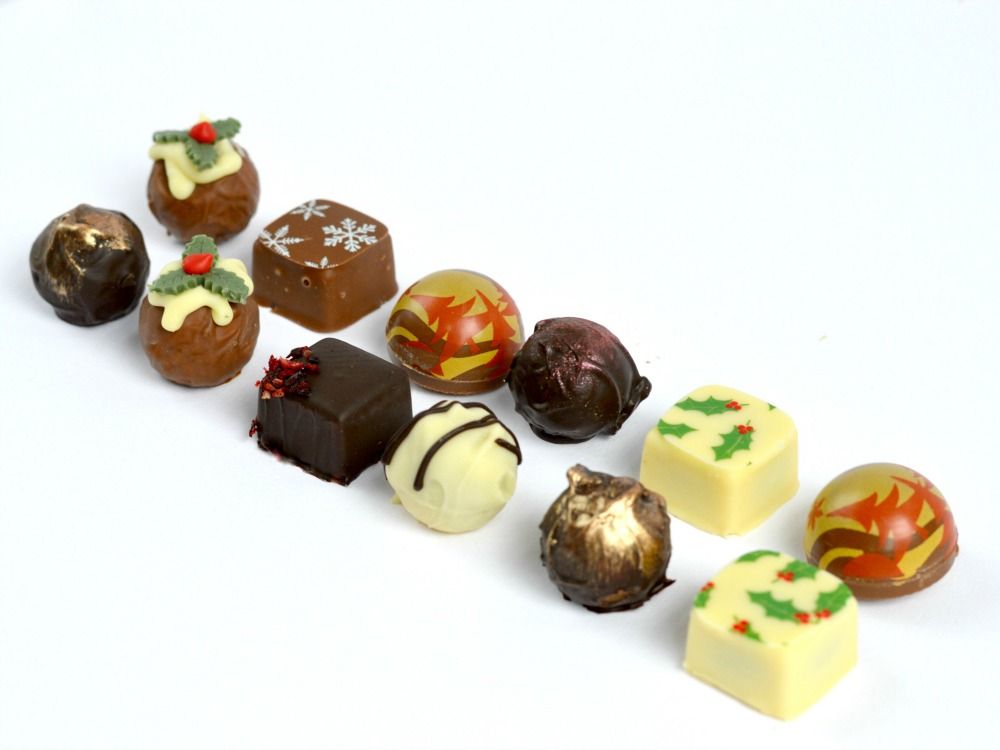 Our box selection of Christmas chocolate truffles always goes down well. There are so many flavours to choose from. And we're always introducing new combinations. Why not try Raspberry or Mint Chocolate Truffle? How about Bergamont Tea & Lemon or Sea Salted Caramel? Winter Spice Chocolate Truffle is guaranteed to get anyone in the festive spirit or else treat yourself to a Marc de Champagne or Bailey's Truffle.
Most flavours can be made in white, milk or plain chocolate, but some flavours work better than others. We're happy to recommend the perfect combination when you order.
Another new addition this Yuletide is Christmas decorations on our Chocolate Stilettoes. Elegant and sleek, have a ball and then dare yourself to have a taste afterwards. The party's just begun. Chocolate stilettoes come in a range of seasonal designs and make a great, eye catching centrepiece to the Christmas table.
For the little ones, if they've been good this year, why not get them away with a Chocolate Angel complete with brass style burnished finish.
Recently we've launched a whole brand-new line of our unique chocolate bars with some exciting new flavours which we've been busy experimenting with (that means tasting!). There's Lime and Pink Pepper White Chocolate, Orange and Spice Dark Chocolate and Peanut Butter Milk Chocolate. All the bars have wonderful cover designs on the wrappers. I'll leave you to check out the full set but my favourite is Raspberry Dark Chocolate. That definitely passes my taste bud test every time.
Stop Press! In the making as I write are three new chocolate bars to add to our collection. More details to follow but all I can say for now is that it's all about celebrating the dark arts of chocolate. I'm sure you'll find at least one bar to your liking – perhaps even all three!
Once you've sampled our lovely range of chocolates, some of you might wonder how it's all made. Great! We'd love to talk and make chocolate with you at the same time. Why not book yourself and friends on one of our chocolate making courses. We run them throughout the year – whether its an Introduction to chocolate making or a Masterclass, you're sure to have fun and learn all the special tips and techniques. We're been running chocolate courses for small groups and giving 1-1 tuition for over seven years now. Please check out our reviews on Trip Advisor.
Finally, if it's all too much and you don't know quite what to get and you're pressed for time, why not consider buying one of our stylish Gift Vouchers? It's a great way to become even more popular. The lucky recipient has a whole year to decide which course and skills they'd like to learn. Maybe you'd like to join them!
What's been happening elswhere in a chocolate world
As we mull over memories and even the meaning of Christmas itself, there's news that we've been making chocolate for far longer than we had previously thought.
Researchers at a dig in Ecuador have found remains of cocoa pods and seeds in burnt drinking vessels dating back to around 5,000 BC. That's over 700 years before the building of the Great Pyramid at Giza. The study backs up earlier evidence that the cocoa pulp and seeds were ground and fermented to make a mild chocolate drink which was then flavoured with local herbs and chillies to give it a more bitter taste.
So, whether you're drinking hot chocolate or eating it this Christmas, bear a thought or raise a glass to those first Mayan South American cocao pioneers; as they began to cultivate the cocao tree and blend the beans from its pods which we now roast to enjoy the special treat of chocolate at Christmas.
Happy chocolate eating and drinking!