Orange Flummery Recipe
Posted on
This Orange Flummery Recipe is based on a very old fashioned dessert, which was originally popular in Scotland and England in the 18 Century. This pudding is quite a luxury version of the humble flummery which was made from rolled oats.
It's quick to make, but it needs to be set in the fridge overnight. You can serve it as it is, for a light after-dinner treat or add a spoonful of lemon curd or orange sauce to the top and sprinkle with sugar and decorate with chocolate curls or similar.
It's best eaten within 24 hrs, but I'm sure if you really needed to keep it for 2 days it would be fine too. Anytime I make this orange flummery recipe, it disappears very quickly!
I'm also including second version of this recipe, which varies in ingredients and taste. I wanted to include a budget friendly recipe that could be easily made with any store cupboard essentials.
Unlike other recipes for flummery, I'm not using gelatine. This is partly because I want to keep things simple and party because the recipe can be made for anyone who follows vegan or vegetarian diet.
Orange Flummery Recipe – The Posh Dinner Pudding Version
Ingredients

2 table spoons of orange marmalade
The rind of ½ orange (non-treated organic variety) - optional
½ teaspoon of orange essence – optional depends on your taste
225g mascarpone cream
150g thick Greek yoghurt
1-2 tablespoons orange liqueur
2 table spoons of caster sugar (or brown sugar for darker flavour)
1 tablespoon of cornflour
Pinch of salt
Pinch of cinnamon or mixed spice
I have included few optional ingredients in this recipe and depending on your taste you might like to adapt this recipe to suit you.
The best thing to do is to mix the yoghurt, mascarpone cheese, cornflour, tiny pinch of salt, sugar and the 2 tablespoons of orange marmalade and gently warm them up, but don't heat completely at this stage.
Taste the pudding mixture and decide whether it needs more orange essence, orange grind, spice and how much of orange liqueur you want to add.
The orange flavouring very much depends on the flavour of your orange marmalade. If you don't have any orange essence, just add an extra spoon of marmalade.
Once you are happy with the flavour, carry on heating everything on medium heat, making sure that everything is well blended. I use a balloon whisk to get rid of any lumps (especially the cornflour can leave lumps if not properly mixed in).
Don't let the mixture to boil; otherwise it might curdle, but bring it to the point where it starts to bubble.
Pour the mixture into ramekins, ice cream bowls or small glasses. Leave to cool down and when completely cold, place into the fridge and leave to chill for several hours until set.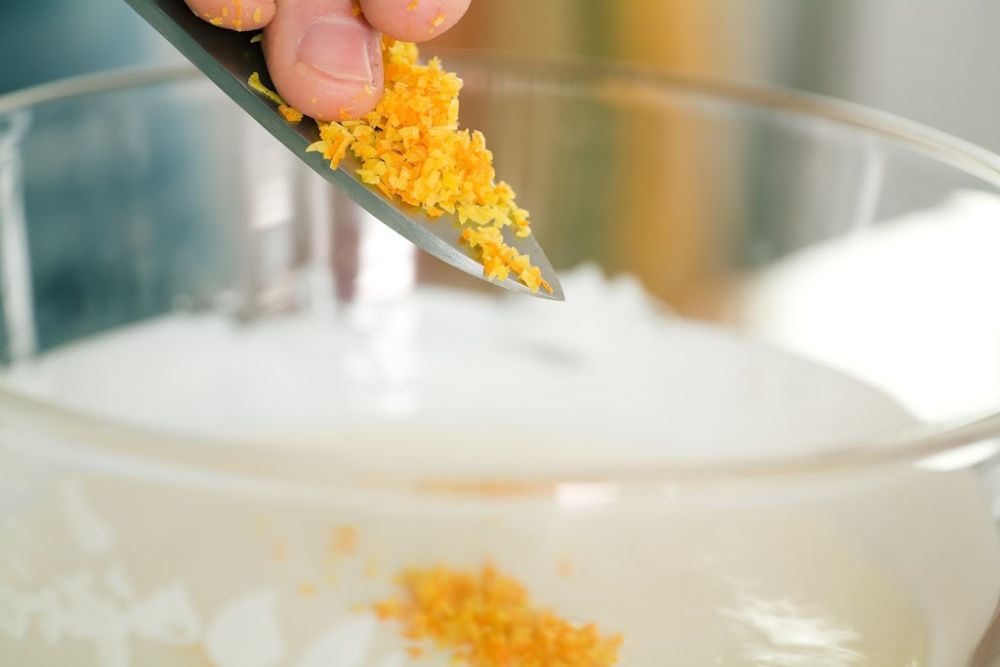 Orange Flummery Recipe – The Budget-Friendly Version
Ingredients
4 tablespoons of orange marmalade or 1 teaspoon of orange essence
500 ml of milk (any milk, including any non-dairy milk can be used)
3 table spoons of caster sugar (or brown sugar for darker flavour)
2 tablespoons of cornflour
Pinch of salt
Pinch of cinnamon or mixed spice
Follow the same process as for the previous recipe, but this time leave the mixture to bubble (boil) for little bit longer, whilst stirring constantly.
Note: You can use any milk you have for this recipe, even mix them together. The type of milk you use will influence the flavour of the pudding. The creamier (full-fat) the milk is, the creamier the pudding is going to be.
Non-dairy kinds of milk are fine to use, but I find that coconut milk has a particularly strong taste, so if you want to avoid the coconut overpowering the orange, I would use rice, soya or other non-dairy kinds of milk.
Hope you enjoy making this recipe!
Magdalena
MORE PUDDING RECIPES
Berry & Eggnog Jelly Recipe >>
Blackberry, Apple & Pear Crumble Recipe >>
PIN THIS FOR LATER