The Traditional Flummery Recipe
Posted on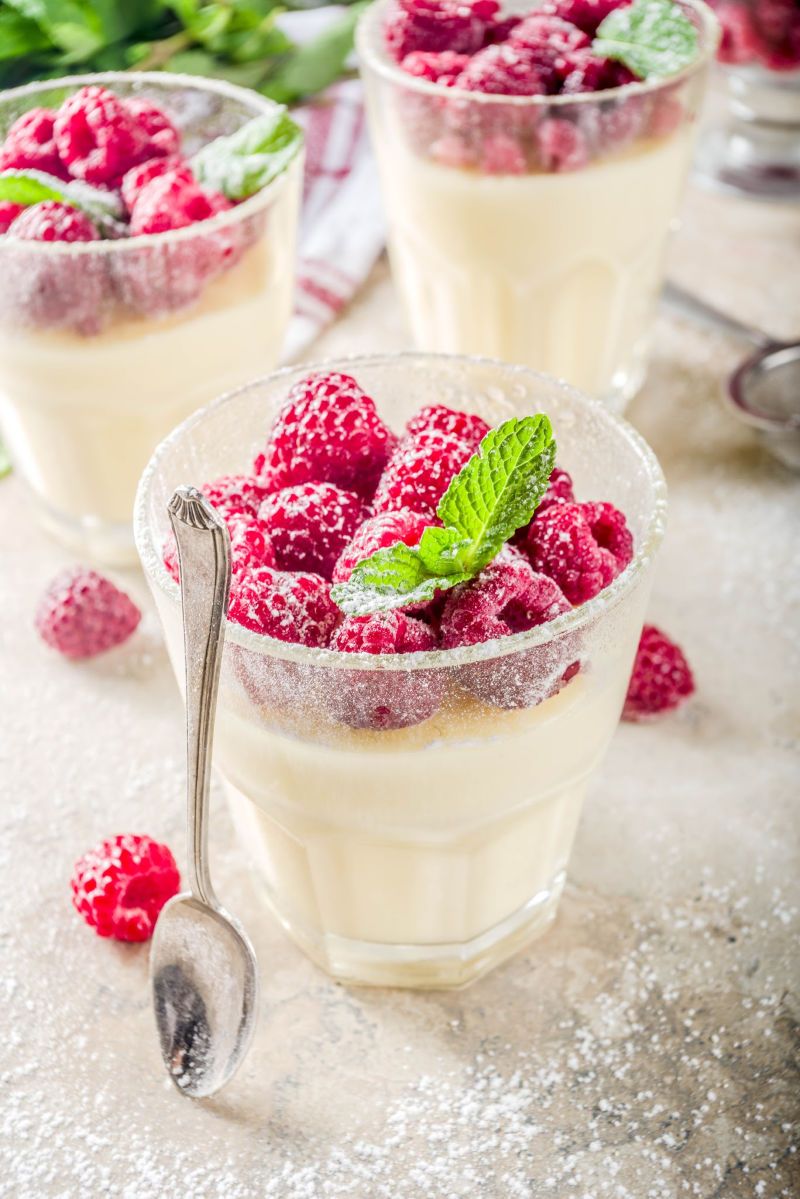 I was recently re-watching Miss Fisher's Murder Mysteries when in one episode Aunt Prudence gets served a vanilla flummery with passion fruit sauce. It is made as a test dish by Mary (one of the 'wayward girls') who want to be considered for a permanent position at Mrs Stanley's residence.
One should also mention that Mary is heavily pregnant with a child, which complicates matters a bit, but at the end, she does get the job, and Aunt Prudence begrudgingly admits that her flummery was rather good!

I have to say, I didn't know what flummery was, so I thought I'd look it up! There are several different versions of the original recipe, and over the years people made their own variations of this versatile pudding.
As I was researching the variations of this recipe, I realised that my favourite milk pudding that we used to make a lot when I was growing up is very similar to the more basic versions.
History of Flummery Pudding
Flummery became popular in Britain in 17 century and continued well into 19 century.
The word flummery is believed to come from the Welsh name for a similar pudding called llymru. In 17th and 18th century the pudding was also called thlummery or flamery.
The original flummery recipe involved soaking oatmeal oats in water overnight, straining it and then boiling the oats water with sugar until it thickened. The flummery was then poured in a jelly mould and left to set in the fridge.
As you can see, this original recipe is completely different from the modern recipes. This is because over the years, people needed to make the recipe faster, which is why most modern recipes include gelatine and milk rather than overnight soaked oats.
There are also lots of different flavours that this pudding can be made with. My favourite includes strawberry, banana or vanilla, but coffee, pineapple or raspberries work brilliantly too.

The recipe travelled to Australia, where in the middle of 20th century the local cooks turned the original recipe into completely different version including evaporated milk, sugar and gelatine which would be boiled and then whipped to a light mousse.
I'm not entirely sure where the flummery meets milk pudding, panna cotta, milk jelly and blancmange, but a lot of recipes seems to be interchangeable.
I like to go back to the original recipe first, which is why I'm including the first version with oatmeal. The original recipe is measured by 'hands', which is actually very easy to follow.
I've converted the recipe to grams and litres, but if you want to follow the original recipe you'd start with 3 handfuls of oats and the same amount of water. The second day day you add the same amount of water to the rest of the mixture (e.g. doubling the size with cold water)
The original recipe doesn't include salt, but I think a tiny pinch of salt brings all the flavours nicely together. Since the original recipe includes very subtle flavours, a tiny pinch of salt prevents the pudding from becoming too bland.
I have also tried this recipe with the addition of a tiny pinch of cinnamon, which goes brilliantly well with the orange and honey.
You can also serve this traditional flummery with any fruit you like, rasbperries are my favourite!
The traditional flummery recipe
100g of fine oatmeal
100 ml cold water for the first soaking and
200 ml cold water for the second day soaking
1-2 table spoon of white sugar (depends on your taste)
Tiny pinch of salt
Juice of one orange ( or 1-2 teaspoons of orange water or essence)
Serve with cream, honey and dash of whisky or orange liqueur

Here is what to do:


Soak the oatmeal oats in cold water for 24 hours.

After this time, add an equal quantity of water (another 200 ml) and leave another 24 hours.

Then strain the oatmeal mixture through a fine sieve, add a heaped tablespoon (or two) of caster sugar and the strained juice of an orange.

Bring to a boil and carry on boiling until the oatmeal mixture is very thick.

Pour into glass dishes and leave to cool down in room temperature before moving it to a fridge to set properly.

When you are ready to serve this dessert, add cream, honey and if you like a dash of something stronger like whisky or orange liqueur to complement the flavour.
Hope you enjoy making this recipe & do let me know how you get on in the comments below!
Magdalena
MORE PUDDING RECIPES
Berry & Eggnog Jelly Recipe >>
Chocolate Pudding in a Mug Recipe >>