How to bake a No knead bread without a dutch oven
Posted on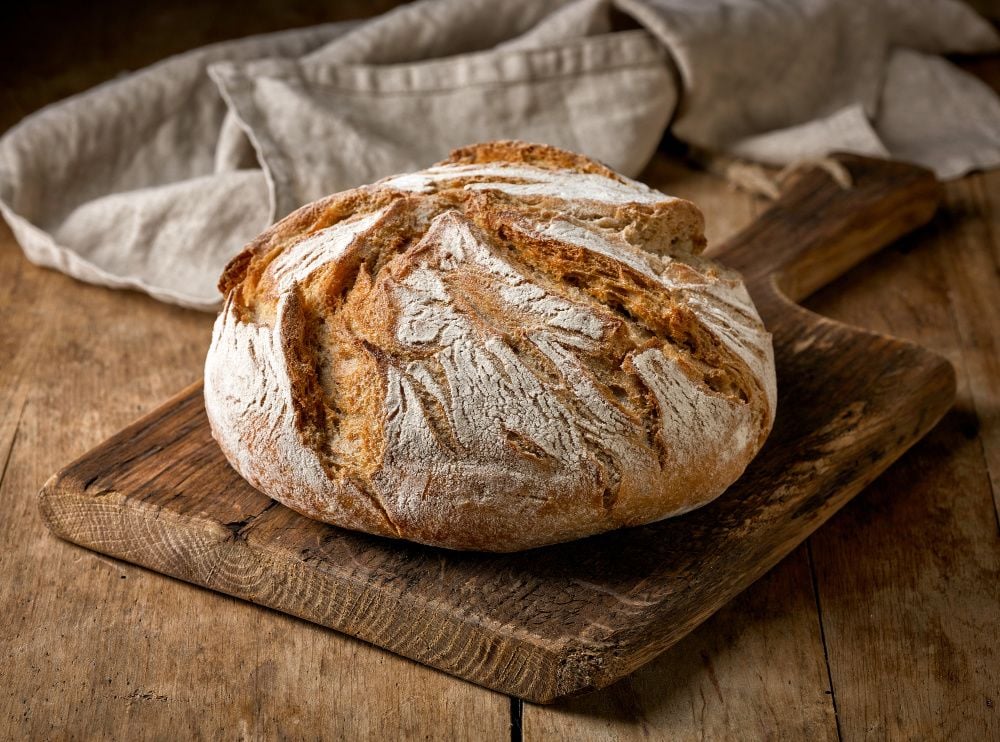 For the last twenty years, I've been baking my bread using the traditional method of kneading bread dough, leaving to prove twice, shaping it and finally baking it in a standard domestic oven.
But until recently, I've never tried the 'no knead' bread. I have to say, I was a bit sceptical, thinking to myself that if not kneading your dough was the way to go, why would anyone even knead bread dough anymore?
Surely 'no knead' bread can't be as good as the traditional bread? The kneading is essential as it awakens the gluten in bread flour, which is what makes the dough so elastic and holds its shape when your bake it.
If you read my other bread recipes on this blog, you already know that there is a bit of science behind bread baking and every element of the bread baking method has its purpose and reason.
With this in mind, let me finally let you on a little secret!
The magic of 'no kneading'
The reason why 'no knead' bread recipe actually works is because of a much higher amount of water and much longer proving time. The water has the same impact as physical kneading on the dough, but it needs to do its magic over a much longer period than kneading.
So, usually, you'd knead your bread for about 10 minutes, which wakes up the gluten and makes the bread nice and strong. It takes the water about 12 hrs to do the same job.
This is pretty mind-blowing stuff, isn't it? So, why even bother kneading bread, if it works so well?
There are of course, good reasons why you can't use this bread baking method every time. The 'no knead' bread takes a considerably longer time. The increased water amount means that the bread is not as easy to shape as your 'normal – kneaded' bread, so you can't make bread rolls, baguettes or any other fancy shapes.
Reasons for using dutch oven for baking
And where does the dutch oven come into all of this?
Dutch ovens, aka large cast-iron casserole dishes, are great for baking any kind of bread. The idea is that you leave your dutch oven to heat up in the oven, then place your bread in, put it back in the oven with a lid on and bake the bread as normally (taking off the lid halfway through the baking to get a nice crust on your bread).
The reason why so many people rave about using dutch ovens is because our domestic ovens can only go up to 250C (more or less), whereas commercial ovens are more like 320-350C.
The difference in temperature is also, unfortunately, the difference in the bread rise. The hotter the temperature, the higher the bread rise.
The dutch oven iron absorbs the heat from the oven and makes the temperature inside slightly higher than your highest oven temperature.
Still with me?
Great….
So, not using a dutch oven will only result in slightly lower bread rise, but to be honest, your bread baking technique is probably more important than using a fairly pricey piece of bread baking equipment. Your bread will still be amazing and much better than anything you can buy from supermarket.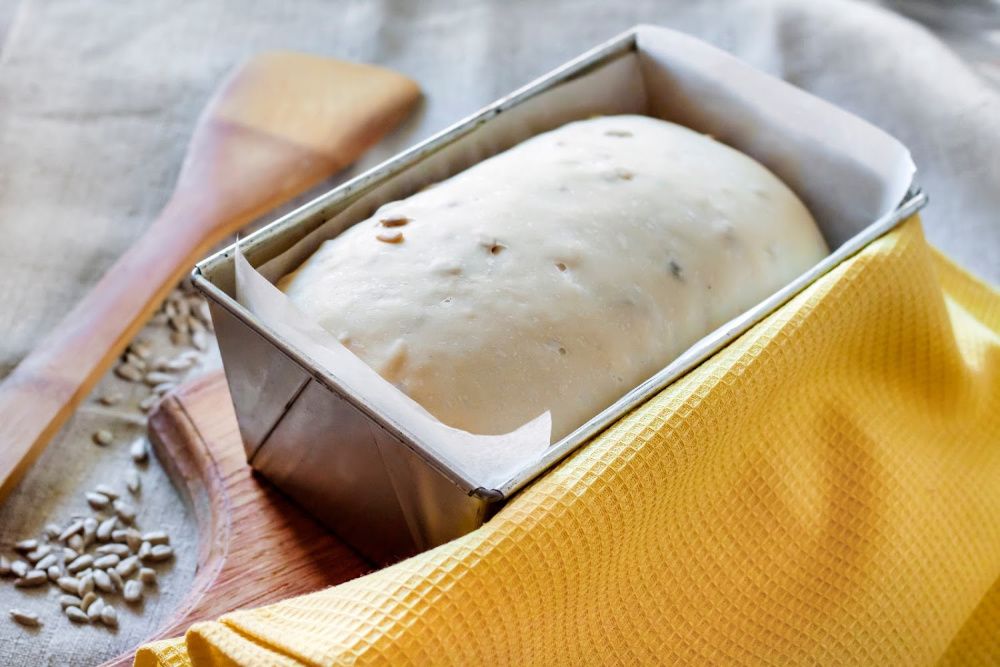 What to do if you don't have a dutch oven?
I don't own a dutch oven, so I bake my 'no knead' bread in an oven proof glass pyrex dish. I pre-heat it as if it was a dutch oven and use it with a pyrex dish lid. It works perfectly fine, but it's obviously not as thick as cast iron, so the temperature is slightly lower than if it was a dutch oven., so the
No matter what, you will need some sort of receptacle that's suitable for oven baking. This bread has a lot of water in, and it won't hold its shape very well, so it needs something to contain it!
What else can you use?
Cast iron casserole dish

Deep roast tin

Ovenproof pyrex dish

Large cake baking tin (for round bread)

Bread Tin (for sandwich bread style)
BREAD BAKING RESOURCES
Bread Baking Q&A for Beginners >>
Quick Sourdough Bread without Starter >>
No knead Bread Recipe (Overnight recipe)
500 g bread flour (any flour mix that you like)
1/2 teaspoon active dry yeast
1½ teaspoon salt
1 teaspoon of sugar (optional)
380 ml water
Extra flour for dusting
Vegetable or Sunflower Oil for shapping
First of all, decide on your bread flour.
You can use any bread flour you like with this recipe; it really depends on what bread you like to eat. The flour/water ratio in this recipe is based on white bread flour, so if you are using a mix of wholemeal flour, just add more water. The wholemeal grains soak up more water, and you don't want your bread to be dry.
Good bread flour combinations are
500g white bread flour for rustic white loaf

250g white bread flour & 250g wholemealwholemeal flour for more wholemeal bread with the lightness of white flour.

400g white bread flour, 100g rye bread flour, 2 teaspoons of caraway seeds, brown sugar for dark, earthy bread full of flavour.

400g white bread flour & 100g wholemeal flour, 2 tablespoons of mixed seeds for light seeded bread.
The method
In a large bowl, mix together flour, yeast, and salt.
Stir in water and mix with a wooden spoon until it forms a very wet dough. Make sure that all flour is incorporated and there is no dry flour in your mix.
Cover the bowl loosely with plastic wrap or a towel and let it rise at room temperature for 8 -10 hours. The bread can be easily left for longer, but don't overproof it.
After the first rise, spread a little vegetable oil on to the work counter and turn the dough out onto your work surface. Oil your hands and fold the dough over itself a few times to shape it into a ball. It will be very sticky, so use a bread scraper to help you.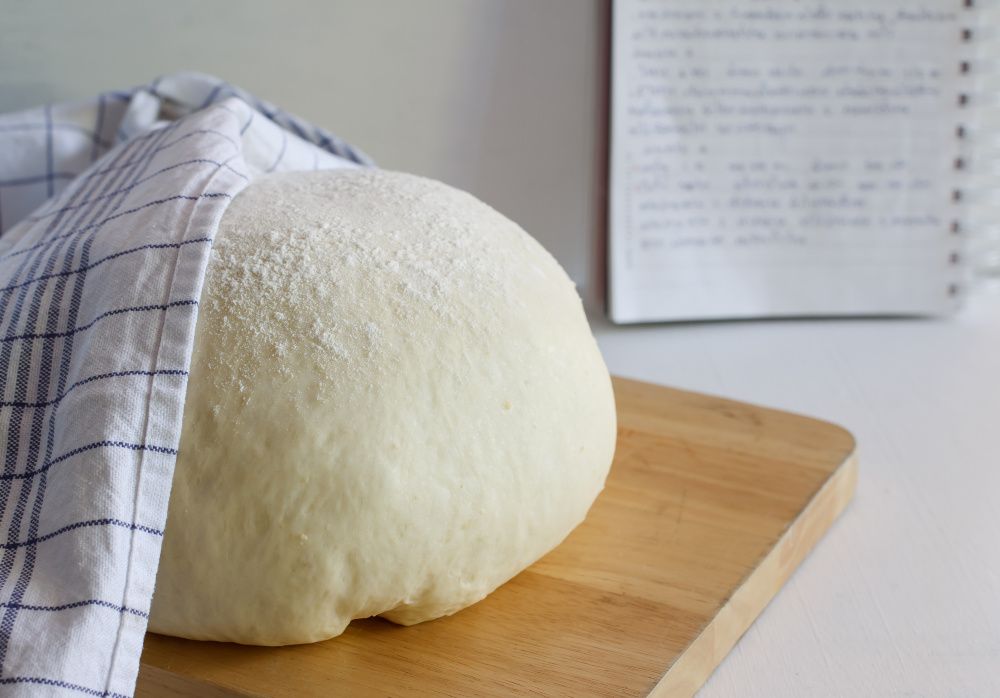 Now you have two options.
You can shape your loaf and place it directly to your final baking receptacle or you can leave the dough to proof on the work counter whilst you heat up your baking receptacle and then transfer the bread to it when it rises for the second time.
If I'm perfectly honest, I would only choose the second version if I have something really thick to heat up (cast iron dish or similar). For anything else (e.g. bread tin or cake tin) the difference in rise is going to be negligible, but the faff of trying to move the risen bread to a very hot bread tin, whilst trying not to deflated is going to be real...! Pain…that is!
If you decide to leave the bread to rise for the second time on the work counter, oil the work counter and place the bread closer to the edge and cover with a plastic bowl. That way, it's easier to slide it into the hot casserole dish or whatever you are using. Ask for help at this stage, because it's really tricky to hold a very heavy & hot dish and manoeuvre the bread in at the same time.
You can also leave the bread to rise on an oiled non-stick baking paper and then transfer it to the casserole dish by lifting the bread in.
Whatever you decide to do, shape your bread and leave to rise for the second time until it doubles in size. This could take an hour, but it could be much longer. The lenght of time depends on what type of flour you've used and how warm your kitchen is.
If you are heating your cast iron casserole or pyrex dish (in my case), make sure that your oven is on the hottest setting and the dish is in the oven for about 30 minutes for anything with thick walls (cast iron casserole dish) or at least 10 minutes for thinner things like pyrex dish or a baking tin.
When your bread is ready, place it in your chosen receptacle, cover with a lid (if you have one) and bake for 20-25 minutes. After this time remove the casserole lid and bake until the crust is a nice brown colour. This could take another 10-15 minutes.
Carefully remove your bread loaf from the baking tin or whatever you are using and cool on a wire rack for at least 30 minutes before slicing.
Notes on oven temperature
I always try to heat up the oven as high as I can. Mine goes up to 250C. If you already have something in the oven, say you are roasting potatoes on 220C, stick the bread in at the same time, it will be just fine! Obviously the higher temperature the better, but equally if you are baking bread you want to utilise your oven and save energy at the same time.
No knead bread – the same day version
How to make 'no knead' bread faster
If you follow my basic recipe, you'll need about 24 hrs to complete the bread baking process. This includes everything from the innitial mixing, proving, shaping and then baking.
If you want to speed up the process and still make 'no knead' bread, here is what to do.

Separate 200g of flour from your 500g of bread flour mix. Put the flour in a heatproof bowl and pour 300 ml of freshly boiled water over it. Stir everything together, it will be a consistency of a thick porridge, but that's exactly what it should look like.
Cover and leave for at least 60 minutes. You can leave it for longer, the dough only improves in time.
I know that this steps sounds pretty crazy from a baking point of view. Why pour boiling water over flour? What's actually happening right now, is that the boiling water is awakening the gluten in the flour and basically supercharging it. Sounds like a sci-fi film, doesn't it? But if you know your baking, you'll know that when the bread goes in the oven, the first 5-10 minutes the bread rises and grows. This is caused by the expanding gluten reacting to the heat of the oven.
What we are doing right now with our boiling water is making the gluten to expand at the beginning of our baking process. Clever, right?
Now, once you are ready (and the flour & boiling water had at least 60 minutes rest), add the rest of the flour (300g), 1 ½ teaspoon of dry yeast (yes, we are increasing the amount here), 1 ½ teaspoon of salt, teaspoon of sugar (if you want to) and about another 100 ml of water.
Note about the extra water for the second mix.
The final mix should be still very much sticky dough, much stickier than normal bread dough. This means that if you add 100 ml and it's still not sticky enough add a bit more.
Cover and leave for another hour or until it doubles in size. Then follow the recipe above for shaping, final dough rise and baking.
I hope I didn't confuse you too much with this recipe and as ever if you have any questions, let me know and I'll do my best to answer it.
Happy Bread Baking
Magdalena
PIN THIS FOR LATER