How to set up your own micro bakery
Posted on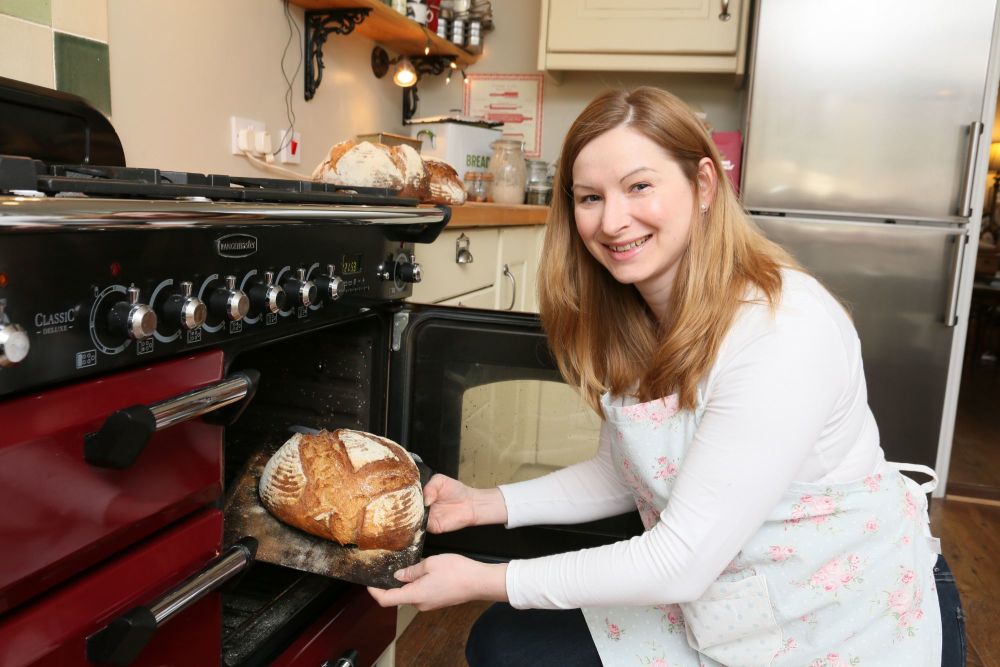 I have just finished designing my latest workshop - 'How to set up your own microbakery'. I know that loads of people have been waiting for this, but I wanted to make sure that the course was comprehensive, practical and super useful, so it took me little longer then I originally anticipated. You can find out more about the course here and book your place.
If you have a passion for bread and baking and there is no artisan baker living near by, you might be thinking of setting up your own little venture.
When I set up my microbakery about 9 years ago, I was scrambling for information - trying to workout what I actually needed and what was just a fancy stuff to have. Over the next few years I learned what works and what doesn't (for me!), what equipment is absolutely essential and what sort of insurance to have.
So, this year, I decided to share my knowledge with others and if you are just about to set up your own micro bakery or community bakery my workshop will set you up nicely for this venture and save you loads of sleepless nights, money and time in a long run.
A word about the 'microbakery' bit. My workshop is for people who want to start small (and perhaps build up in the future) - few loaves at weekend for a local market to see how they get on. So, my understanding of microbakery is providing local bread for local people - baking for your neighbour's, local farmers markets and perhaps taking it a bit further in supplying to few local shops.
So, why am I the best person to show you how to set up your own micro bakery?

I have been where you are right now, nine years ago!
But, don't get me wrong I didn't started from just 'nothing'. I'm really proud to say, that in the last 18 years I have never bought a mass produced loaf of bread! Yes, you heard it right - ever since my first loaf of bread (which incidentally was like a brick!!!) I have always baked my own bread and took it as a personal challenge never to run out of bread!
And my other credentials? I used to work in a small bakery as a student and more recently 'volunteered' myself to work in an artisan bakery to get the experience of making large amount of bread and to get used to working nights. By the way, do don't actually need to get up at midnight to be a baker! Over the years, I have also supplied local tea rooms with my bread and cakes and did regular farmer's markets. Our bread was a bit hit and we nearly always sold out.
And the final credentials, why I think I can help you to set up your own micro bakery? I have tons of business experience, which time to time comes in handy. In my previous life I was a Managing Director and I'm used to manage 6 million pound turnover business (don't worry we won't get that far just yet!). I now work as business strategist and mentor and help business owners with the practical side of running their businesses. This includes business plans, action plans and marketting strategies. I also specialise in SEO (search engines optimasation) and online marketing.
But, when I started my baking business I started from beginning - no IT department to help me there or my lovely PA to sort out excel spread sheets! As I'm very stubborn I wanted to learn everything myself, so I got stuck in website development, battled through first tax return and struggled through the legal stuff.
I have learned tons by doing this, but I also know that it was very time consuming. If I accepted help at the beginning I'm sure I could save myself few months of my time. As much as I like baking bread I love all the business side of things too.
Anyway, going back to the course - if want to turn your bread baking passion into business and you want to concentrate on baking rather than worrying whether you have the right business set up - let me help you!
I'm running this course on demand, so just check out all the details directly here and contact me by e-mail to book a date that suits you.
Magdalena
P.S Not quite ready to set up a microbakery, but would like to know how to get that loaf right every time? My bread baking book is now out and is available as a immediate pdf download or kindle version. You are welcome to download it on my website here
BREAD BAKING RESOURCES
The Bread Book (Recipes & Step by Step Techniques) >>
Bread Making Equipment you Need to Start Baking at Home >>