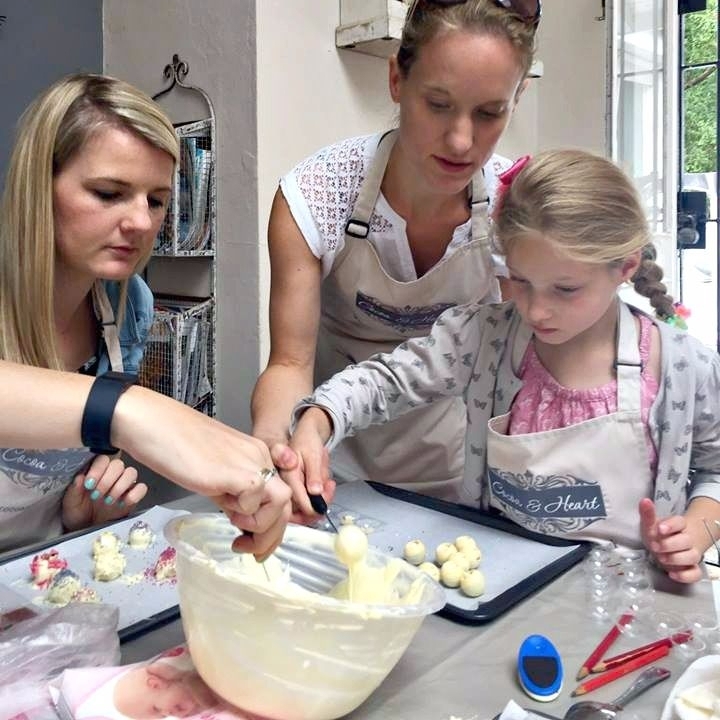 children chocolate parties
We run our children chocolate parties like a mini workshops. We know that children love chocolate, so there is always plenty to taste, make and experiment with!
Choose the party you like and let us take care of the rest. We come to your venue - anywhere in South East London, Central London, Kent, East Sussex, Essex and Cambridge.
Our children chocolate parties are suitable for children from around 6 years and older.
We use the best Belqium chocolate with no added sugar to make sure the sugar rush is kept at bay (well as much as it can be with a chocolate party!)
All children chocolate parties (like all our classes) are run by the owner of Cocoa & Heart and experienced chocolatier Magdalena Marsden and fully trained chocolate helpers.
1.5 -2 hrs chocolate workshop
Professional chocolate techniques demonstration
Learn how to make your own chocolate truffles, roll your truffles and finally dip and decorate with delicious toppings or make your own chocolate bar
Make your own large chocolate lollipop topped with sweets & chocolate or make your own unicorn lollipops, chocolate frogs or other lollipops
Chocolate tasting
Recipe card
Chocolate Quiz
Chocolate Party Games
Beautiful packaging
Bag of 10-12 chocolate truffles, large lollipop plus plenty of other chocolate treats (depending on what you choose, we normally make 2-3 types of chocolates)
Everything you make during the party to take home in pretty gift bag