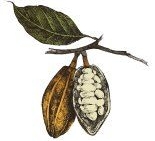 DO YOU HAVE A MINIMUM BOOKING CHARGE?
Yes, we have a minimum number of participants for each party:
Chocolate, Sweets or Bread workshops at Cocoa & Heart HQ (Bexleyheath, Kent) - groups of 3
Adult and Hen and Children chocolate parties - minimum booking 6 or 8 depending on the package
We can run parties for less then the minimum group number, but the charge/cost would remain the same as for the minimum booking.
HOW MUCH SHALL I BUDGET FOR MY CHOCOLATE PARTY?
We cost each party separately based on the group size, type of chocolate party you like and the lenght you like and the distance to the venue. As a guide our chocolate parties for children start from £25 per person and our Hen parties from £35. We don't tend to charge milleage for local parties (Bexley Borough - South East London).
This is just a guide and we are very happy to work with your budget and tailor made the chocolate party for your group.
WHAT LOCATIONS DO YOU COVER?
We cover mainly South East London, Central London, Kent, East Sussex, Essex and Cambridgeshire.
We are happy to travel further field, but we might need to charge extra for milleage, depending on size of your group.
CAN WE COME TO YOUR VENUE?
We are only able to cater for very small groups (3-4), so if you would like to come to our venue (Bexleyheath, Kent/London) you are welcome to book on any of our chocolate workshops. If you are thinking of booking as a group, we are able to tailor made the workshop to your taste and style and you can pick any date that suits you.
For large groups, we can help you to arrange a local venue (at extra cost). The majority of our chocolate parties are held at customer's own homes, hired venues (church halls or tearooms or hotels).
HOW FAR IN ADVANCE CAN I BOOK MY PARTY?
We are happy to take booking for up to 12 months in advance. We only need £50 deposit to reserve your date with balance payable about 2-3 weeks before the party.
WHAT DAYS CAN I BOOK MY PARTY FOR?
You are welcome to book for any day of the week. We are happy to run your chocolate making party on any date that we have available, including weekends, bank holidays and children school holiday. Weekends (both Saturday and Sunday) are always the most popular dates, so book well in advance to avoid disapointment.
WHO WILL RUN MY CHOCOLATE PARTY?
Each party is run by Magdalena - the Cocoa & Heart owner, who has been making chocolate on regular basis since 2000. She is very knowleable, so ask her any chocolate related question you like.
We want to make sure that your party runs smoothly, so appart from Magdalena, you will also meet Nick. Nick is normally in charge of running our chocolate stall at markets and craft fairs, so he knows his chocolate! He's also been helping with running chocolate parties for the last 5 years or so.
DO I TAKE ANYTHING HOME WITH ME AFTER THE PARTY?
Yes, of course! We like to run our chocolate parties as a mini chocolate workshops, so you will be busy making your own chocolate which you'll take home.
Depending on the party package you choose, you'll work on your own set of chocolate (whether these are chocolate truffles, chocolate bars, fruit & nut medions etc), which you'll wrapp in a beautiful chocolate packaging and take home in a party bag together with our recipe on how to make simple chocolate truffles at home.
DO I GET TO TASTE THE CHOCOLATE?
How could we possibly run chocolate parties and not get you to taste some delicious chocolate. Depending on which party package you choose, we have flavoured chocolate, belgium chocolate or different types of Origin chocolates to share with you. For our luxury chocolate parties, we also bring our own chocolate truffle samples and other chocolate treats that we are just working on.