Chocolate Parties
We've been running mobile chocolate parties in Kent and South East London since 2011. Our chocolate parties are professionally run by an established chocolate business owner - Magdalena Marsden, who created Cocoa & Heart in 2010.
We bring our chocolate making parties to your home or venue of your choice and take care of everything! We are happy to tailor your party to your budget - from group chocolate demonstration for your friends or a social club (from £100 per group), children chocolate parties (from £25 per person), tasting parties (from £20 per person) to luxurious birthday or hen parties (from £35 per person).
We are happy to travel and bring your chocolate making party to you! We travel within Kent, London, South East London, East Sussex and Essex.
- CHOCOLATE PARTY OPTIONS -
Chocolate parties for any occassion - perfect for birthdays, families and friends getting together. Great for smaller groups and can be run as small chocolate workshops.
Perfect way to spend time with your friends, getting all excited about your big day! Lots of chocolate to make, taste and take home.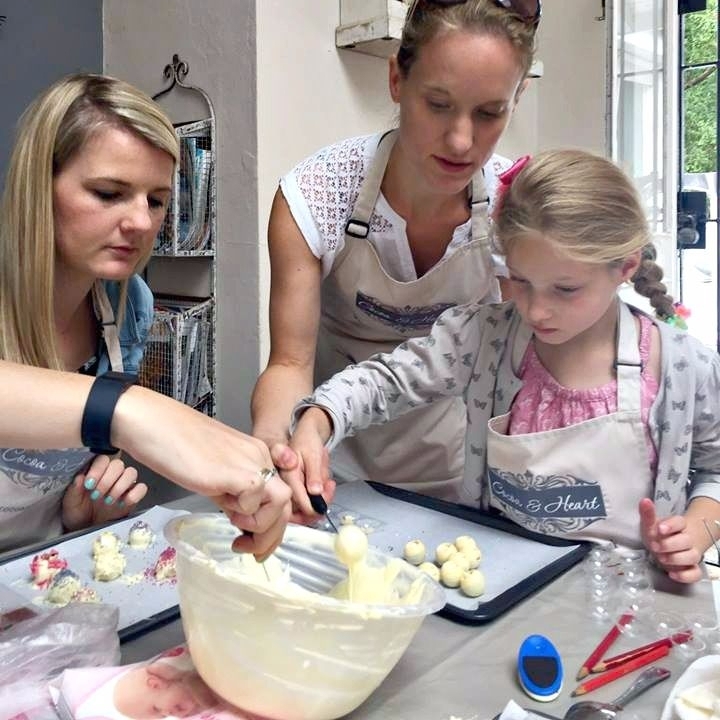 Our children chocolate parties are designed for children age 7 and above. We'll work with you to make the best chocolate party ever - choosing your own flavours, toppings and chocolate you'd like to make.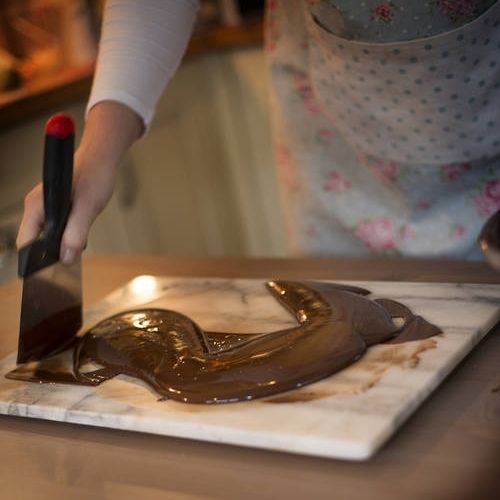 Perfect for large groups, social clubs and corporate events. Chocolate demonstration, tasting and talk completely tailored to your requirements.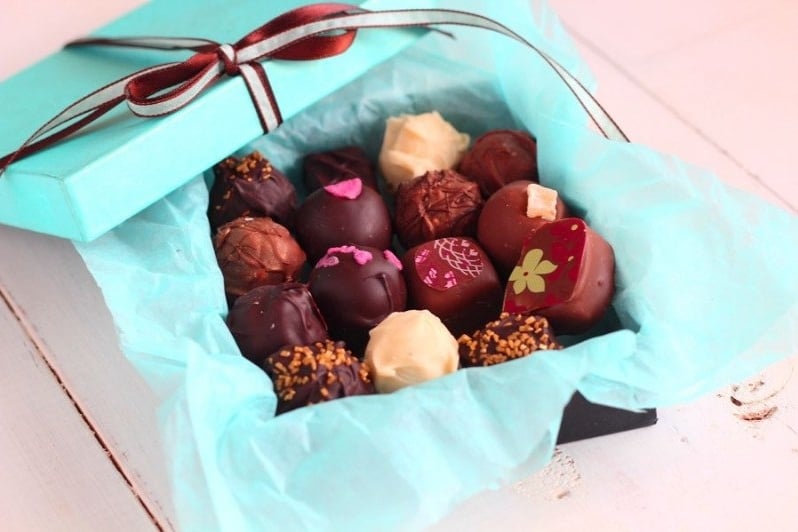 WHAT MAKES US DIFFERENT?
We are very happy to tailor made our chocolate party to your requirements. You can choose your flavours, type of chocolate you'll work with, theme and colour for your packaging. We will do everything we can to make your party a trully special one!
But what makes us really different? Well, we've been making our chocolate truffles and other sweet treats for well over 17 years for our family, friends and our customers.
We actually work with chocolate on pretty much daily basis, which allows us to develop new flavours, taste new types of chocolates and much more!
OUR CHOCOLATE IS PRETTY SPECIAL
We use great quality Belqium, French and German type of chocolate with no added sugar, no extra fat, e-numbers or any other nasty things that shouldn't be in a reall chocolate.
We also work with Origin Chocolates - the finest selection of chocolates directly from individual cocoa farms and countries.
We are very happy to cater for dairy free diets, gluten free and our chocolate can be made suitable for vegetarians and vegans. Saying that, we do work in kitchen, where we regularly handle gluten, nuts or dairy, so please do let us know if you have any severe alergies and we will do our best to cater for you.
Just contact us by e-mail - hello (at) cocoaandheart (dot) co (dot) uk - through our website contact form below or by phone 0208 3060168 and we will help you to plan your perfect chocolate party.
To book simply contact us with your prefered day in mind, your group size, location and your party theme and we will send you all the details. To hold your prefered date we take £50 deposit (which is payable via our website here) with balance payable closer to the day. If your party day is less than 2 weeks ahead, we will require full payment.
Jo and all our friends had such a wonderful time thanks to your chocolate party! We haven't seen each others for so long, so it was great to catch up whilst creating our own chocolate truffles. The Coffee & Baileys ones are definitelly my favourite ones and my brother loved the Orange & Whiskey ones! Thank you again for such an amazing time!

Melanie, Lewis, East Sussex
I'm so glad that my chief bridesmaid didn't book the paintballing session, which she was joking about she would! I love chocolate and to be able to learn how to make my own chocolate truffles was an amazing experience. Thank you for being so patient with us all and showing us how best to make chocolate treats. We had a fabulous time

Alexandra, Sidcup, London
I've been to other chocolate parties before and I have to admit yours was the most amazing one! I loved how you helped me to plan the party and thoughfully suggested using the bride's favourite colour and Madagascar chocolate as it's the country of their honemoon destination

Sophia, Bromley, London
Thank you so much for making our hen party such a success. We wanted to do something different for our hen night and this was perfect! Everyone enjoyed the workshop, tasting the chocolates, learning about the differnt types of cocoa beans and of course taking home such a bounty of chocolate treats!

Emily, Sevenoaks, Kent
Do you have a minimum booking?
Yes, we do:
Chocolate workshops at Cocoa & Heart HQ (Bexleyheath, Kent) - groups of 3
Adult and Hen chocolate parties - minimum booking 6 or 8 depending on the package
Children chocolate parties - minimum booking is 6
We can run parties for less then the minimum group number, but the charge/cost would remain the same as for the minimum booking.
How much shall I budget for my chocolate party?
We cost each party separately based on the group size, type of chocolate party you like and the lenght you like and the distance to the venue. As a guide our chocolate parties for children start from £25 per person and our Hen parties from £35. We don't tend to charge milleage for local parties (Bexley Borough - South East London).
This is just a guide and we are very happy to work with your budget and tailor made the chocolate party for your group.
What locations do you cover?
We cover mainly South East London, Central London, Kent, East Sussex and Essex.
We are happy to travel further field, but we might need to charge extra for milleage.
Can we come to your venue?
We are only able to cater for very small groups (3-4) and you are welcome to book on any of our chocolate workshops. If you are thinking of booking as a group, we are able to tailor made the workshop to your taste and you can pick any date that suits you.
For large groups, we can arrange a local venue (at extra cost). The majority of our chocolate parties is held at customer's own homes, hired venues (church halls or tearooms or hotels).
How far in advance I book my chocolate party?
We are happy to take booking for up to 12 months in advance. We only need £50 deposit to reserve your date with balance payable about 2 weeks before the party.
What date can I book my chocolate party for?
You are welcome to book for any day of the week. We are happy to run your chocolate making party on any date that we have available, including weekends, bank holidays and children school holiday. Weekends (both Saturday and Sunday) are always the most popular dates, so book well in advance to avoid disapointment.
Who will run my chocolate making party?
Each party is run by Magdalena - the Cocoa & Heart owner, who has been making chocolate on regular basis since 2000. She is very knowleable, so ask her any chocolate related question you like.
We want to make sure that your party runs smoothly, so appart from Magdalena, you will also meet Nick. Nick is normally in charge of running our chocolate stall at markets and craft fairs, so he knows his chocolate! He's also been helping with running chocolate parties for the last 5 years or so.
Do I take anything home with me at the end of my chocolate party?
Yes, of course!
Depending on the party package you choose, you'll work on your own set of chocolate (whether these are chocolate truffles, chocolate bars, fruit & nut medions etc), which you'll wrapp in a beautiful chocolate packaging and take home in a party bag together with our recipe on how to make simple chocolate truffles at home.
Do I get to taste some chocolate?
How could we possibly run chocolate parties and not get you to taste some delicious chocolate. Depending on which party package you choose, we have flavoured chocolate, belgium chocolate or different types of Origin chocolates to share with you. For our luxury chocolate parties, we also bring our own chocolate truffle samples and other chocolate treats that we are just working on.