Corporate Chocolate Workshops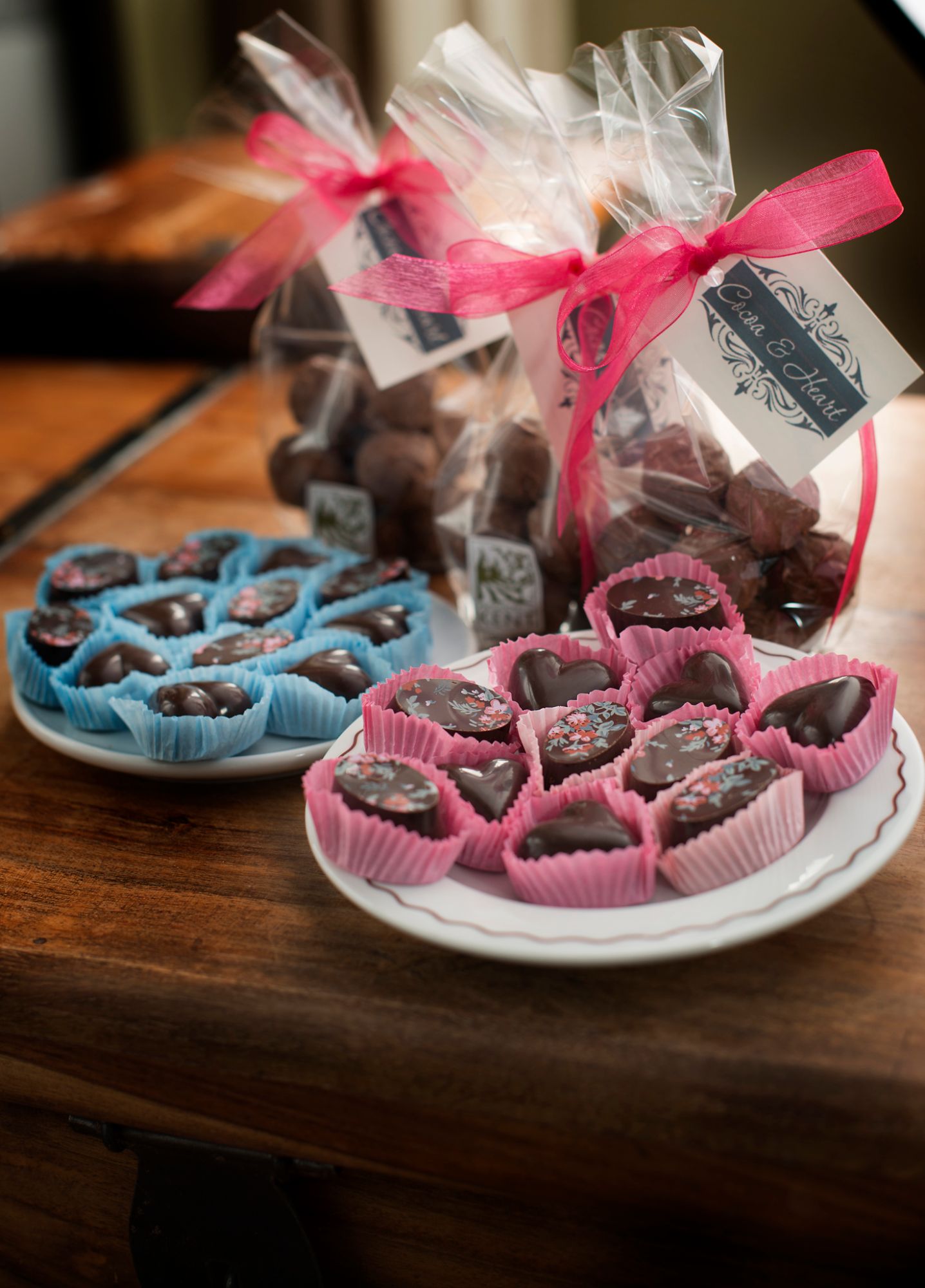 Our corporate chocolate workshops can be tailored to your specific requirements - whether this is just a fun way of introducing a chocolate activity into your company event or a full chocolate making workshop.
Our corporate chocolate workshops can last anything from 1 hr to 3 hrs.
We focus on smaller staff groups where we can run the session as a mini chocolate workshop with professional equipment, tools and techniques.

We are very happy to run separate sessions for your staff group, which means you don't always have to cover your staff when they are away from their workplace.
For large groups we can combine chocolate making demonstration with chocolate tasting, brief overview of how chocolate is being made and chocolate treats for everyone to take away. This works well if you don't have the space or time for everyone to join at the chocolate workshop.
All our corporate chocolate workshops and chocolate tasting are run by Magdalena Marsden - owner of Cocoa & Heart, who is an experienced chocolatier.

We cover South East London, Kent, East Sussex, Surrey and Essex.

What our previous customers say...
Thank you so much for running your chocolate workshop as part of our business planning day. It's been great fun and everyone had a great time.
We've never done anything like this before, but it's been a great hit with all the staff - so thank you!

Theresa
REX Retail

On behalf of the team, I just wanted to thank you and Nick again for a wonderful chocolate tasting! Everybody truly enjoyed it, especially the samples and the goody bags.
I hope that we will have the opportunity to work together again in the future.

Marie
WPM Education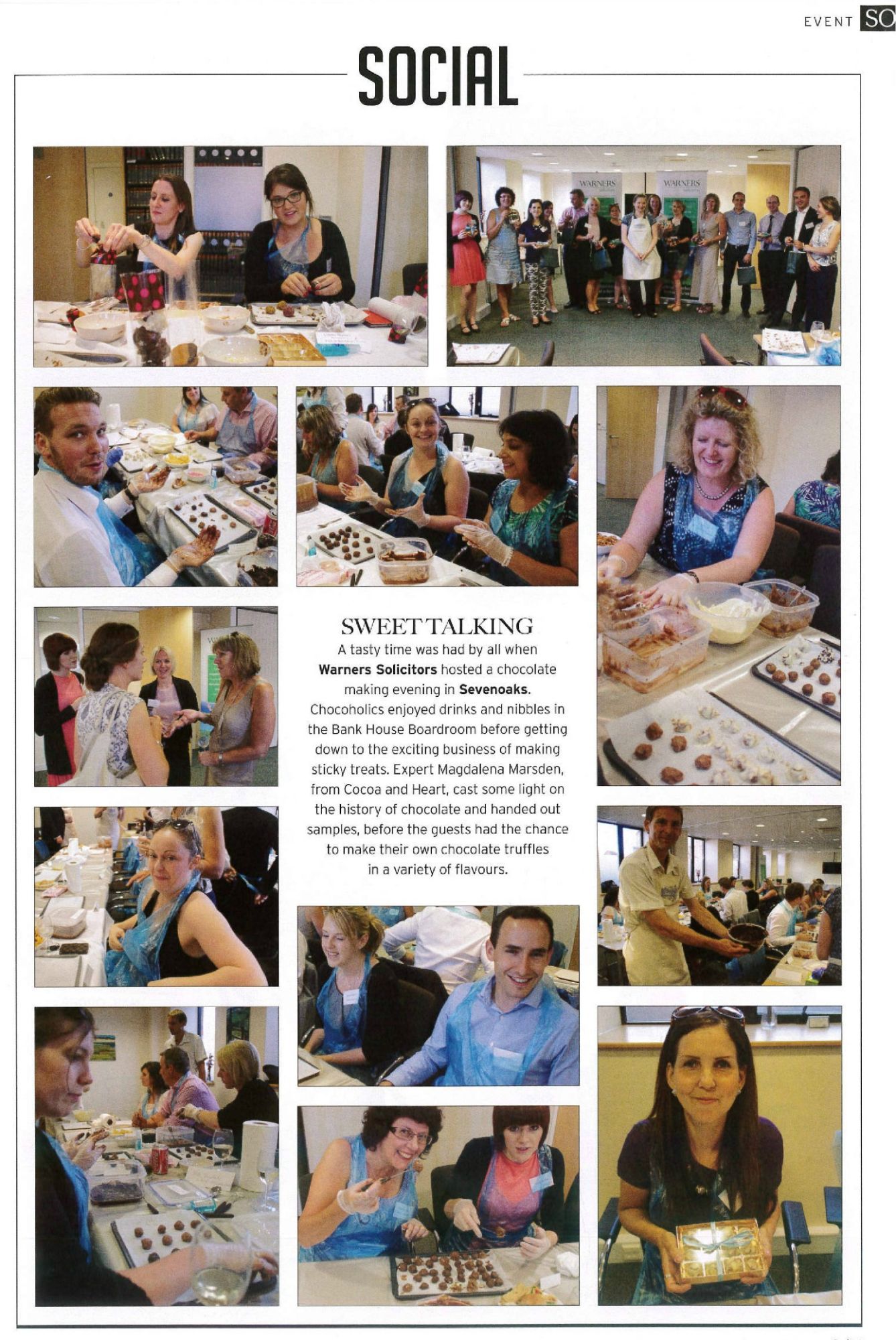 WHAT IS INCLUDED
Professional chocolatier and assistants
All ingredients, utensils, microwaves, aprons
Packaging, boxes and ribbons
Recipe card

Chocolate tasting
WHAT WE NEED
Enough table space for everyone to work comfortably & chairs for everyone to sit

2 additional tables for ingredients and our equipment

Electrical points
A cool room – ideally air-conditioned
Access to fridge
Hand washing facilities near to the room
45 min set up time (this depends on group size)
What we offer
A typical corporate chocolate workshop can include...
Chocolate Workshop
'Hands on' session

Great for smaller groups, timing can be flexible, shorter version can be 90 minutes

Learn about chocolate making
Create your own chocolate filling
Use professional chocolate equipment to create your own chocolate truffles (including dipping and decorating)

Taste chocolates from around the world
Finish off with extra treats dipped in a chocolate
Pack your own chocolates to take home

Chocolate Tasting & Demonstration
'Interactive - watch & learn session'

Perfect for a large group, timing can be flexible, shorter version can be 45-60 minutes

Watch a skilled chocolatier to make chocolate filling and use professional chocolate moulds to create chocolate truffles.
Learn about chocolate tempering - including tempering on marble slab
Taste chocolates from around the world
Taste chocolate truffles made during the session
Take home chocolate goodie bags prepared for you in advance by Cocoa & Heart