Feedback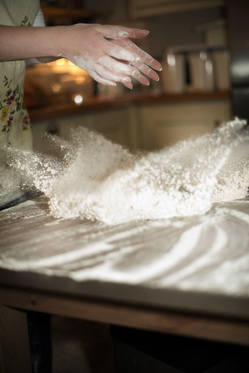 "We had attended the Chocolate truffle making course in much excitement and anticipation.

The atmosphere was calm and we felt right at home, warm and cosy.The organisation and one-on-one attention exceeded all our expectations and led to a great experience where we had the choice to achieve our own personalised truffles.

The end product not only beamed a professional sheen but tasted absolutely divine.Thank you from us all for a delightful experience!"

Aisha, Sham and Zaibun, Bexleyheath, London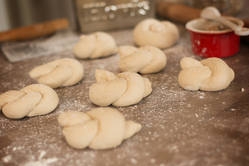 'I just wanted to write and say a big thank you for the course you did for me on Monday and Tuesday.

I thoroughly enjoyed it and learnt so much from it. I had a go yesterday at doing some more lattice work and various other things which worked beautifully, its amazing what you can do when you temper the chocolate correctly!
I did manage to temper the chocolate on my Aga without using the microwave which was great as well. So again thank you so much.

Caroline, Kent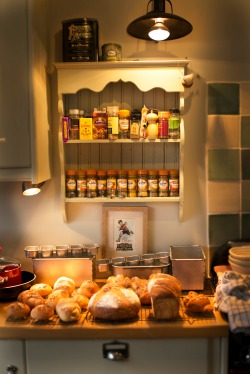 'Thank you for a really thoroughly enjoyable day last Monday !
I know Andy was delighted with his 'present' and we both got so much out of the day. So far, we had the ciabatta and one of the seaded loaves that Andy made - delicious !

Have also just finished the chocolates WOW !I was lucky enough to get the Raspberry one and it was just AMAZING!
Jane & Andy, London

I have always liked good bread and had been meaning to try out a bread making course for some years but never got round to it.
I really enjoyed the day - the attention to detail, the nice kitchen, the hospitality and the bread. Suffice it to say that it was the best money I spent this year.
And it works! I can now bake bread!

Why did I ever think that kneading was difficult? Its simple...if you know how. I have been trying different combinations: white, brown, half and half, with seeds. Its great!
For anyone out there who is thinking of doing your course I say - Just do it. If you like good bread this will change your life!

I have my eye on that Sourdough course for the New Year.
Mary, London

'Thanks Magda, really enjoyed the Bread making course along with the bread at the end. Very good venue - the kitchen feels really homely, but it's also practical.'
Liam, Ealing, London

'Thanks for the other day I really enjoyed it and have learnt so much. Everyone thought the cakes were amazing. I'm really looking forward to making more'.
Bola, Bexley

'Thanks for the excellent course. I enjoyed the warm bread and will be baking from now on...it's so easy!'
Sammy, London