Vegan Sourdough Pancakes Recipe
Posted on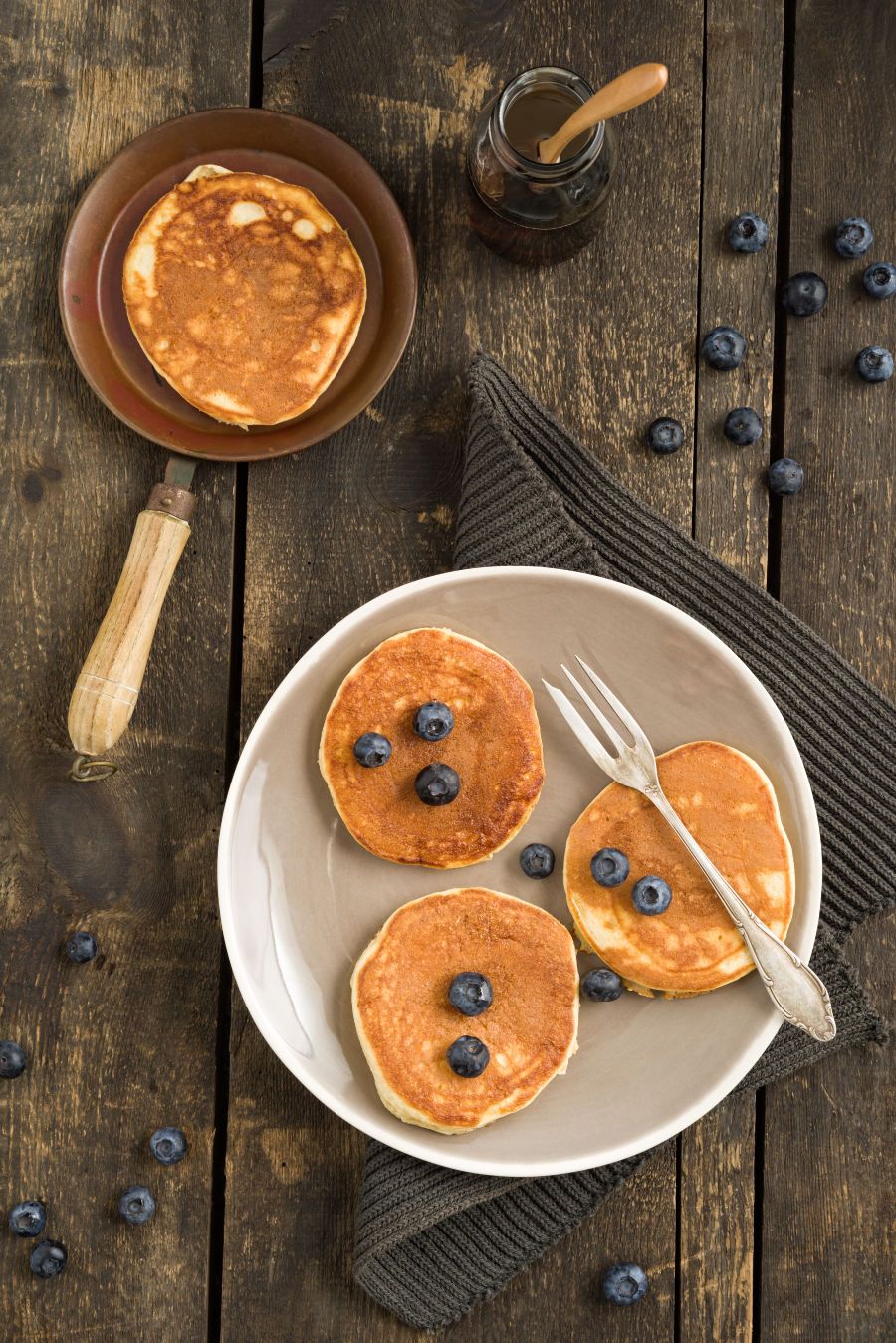 This vegan sourdough pancakes recipe is very easy to make and delicious to eat. The best thing is that you can play around with the recipe depending on what you currently have in your kitchen cupboard. I remember when we didn't have a lot of money, we used to make pancakes with just water, baking soda, sugar and flour - a perfect vegan & cheap version of the traditional pancake recipe.
With this recipe, you can use a leftover sourdough starter (unfed sourdough starter) or an active one, if you want. The only difference is going to be the lightness and fluffiness of your pancakes - the more your sourdough starter is active, the more your pancakes rise. But, since this recipe is intended for your leftover sourdough starter (the bit that you normally discard), I always use an unfed sourdough starter with this recipe.
You can make this recipe the day before you want to make your pancakes and leave it in room temperature to bubble up. If you want to use this recipe straightaway, increase the amount of baking soda by another 1/4 of a teaspoon. You can also warm up the mixture a little (no more than 25-30 degrees) and leave in room temperature for a few hours.
Vegan Sourdough Pancakes Recipe
Ingredients
1/2 cup sourdough starter
1 cups of wholemeal flour (cake flour or low gluten flour such as spelt)
1 cups of non - dairy milk (almond, soy, coconut, oats milk)
1 tbsp maple syrup or coconut sugar
1/4 tsp baking soda
1/4 tsp sea salt or pink Himalayan salt
1 tbsp flaxmeal
To serve
Maple syrup
1 cups blueberries or other berries
Juice of 1/2 lemon (optional)
Instructions
The night before you make your pancakes, mix the non-dairy milk with the sourdough starter, flour, and maple syrup or sugar. Cover with plastic wrap and keep it in room temperature overnight or for a few hours (not in a fridge).

After a few hours, your pancake batter will be bubbly, and it should have risen - the longer you leave it, the more your dough becomes bubbly.

When you are ready to make your pancakes, mix in the salt, baking soda and flaxmeal.

Heat a frying pan to medium heat and add a little sunflower or coconut oil.

Pour the sourdough pancake batter on the frying pan using about one small ladle as a measure for each pancake.

Cook until the sides are dry and bubbles appear in the centre, then flip and continue to cook on the other side until cooked.

Serve hot with maple syrup and fresh blueberries or other berries.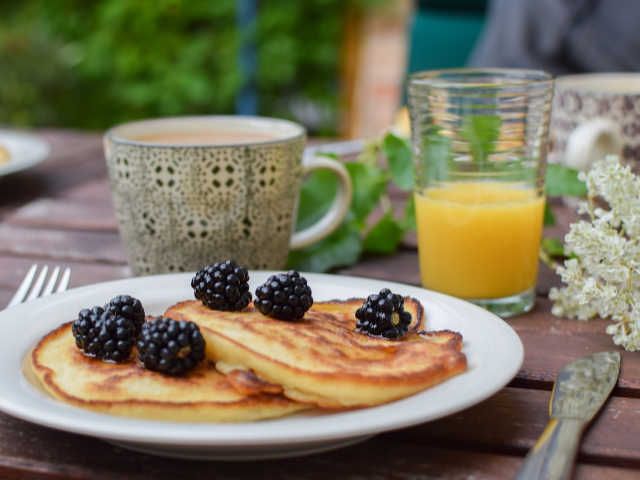 SOURDOUGH BREAD BAKING RESOURCES
How to make sourdough starter >>
What to do with discarded sourdough >>
Quick Sourdough Bread without Sourdough Starter >>
Vegan Sourdough Pancakes Tips & Frequently asked questions
What are vegan pancakes made of?
You can use any cake or low gluten flour, salt, baking powder or a baking soda, a little sugar, some oil and non-dairy milk.
Do you have to use milk to make pancakes?
You can make amazing tasting pancakes without milk. The reason why you'd use milk in pancake recipe is to dissolve the flour and sugar, which means almost any liquid can be used. If you are on the budget or don't have time to go shopping, just use tap water instead of milk.
What can you substitute for eggs in pancakes?
Applesauce
Use a quarter cup of unsweetened applesauce in place of one egg in most pancake recipes. If you like you can mix the applesauce with half a teaspoon of baking powder to give the whole pancake batter extra lift.
Banana
Just mash up 1/2 a banana in place of one egg in your pancake recipe.
Other egg replacements
Ground Flaxseeds or Chia Seeds
Commercial Egg Replacer suitable for vegan diets
Silken Tofu
Vinegar and Baking Soda mixed together.
Yoghurt or Buttermilk
Arrowroot Powder
Extra tip - leave the egg or egg replacement out altogether. You'll still end up with lovely soft pancakes, and you'll probably not even notice that there is something missing.
What can I use instead of milk in pancakes?
You can use any non-dairy milk, such as soy milk, almond milk, rice milk, light coconut milk. You can also replace the milk in your pancake recipe with tap water.
For a fruity pancake flavour, why not use apple juice or white grape juice instead of milk.
What type of flour should I use for my vegan sourdough pancakes?
The great thing is that you can use any plain or low gluten flour you have in your kitchen cupboard. Depending on what type of flour you use, you'll end up with a slightly different pancake flavour, which is great for a variation. I find that wholemeal plain flour adds texture and it's pretty healthy too.
You can also use spelt, rye, einkorn or simply plain cake flour. Ideally, you don't want to use strong bread flour with high gluten content, as we are not prooving our pancakes and they might end up being quite rubbery if you use too much gluten in.
You can also use a mixture of different flours, which is great if you have leftovers of different flours.