How to bake bread at home
Posted on
For the last year or so I have been thinking of writing a book - a bread baking book that is. And after several months spend in front of computer screen and testing new recipes, I'm really pleased to say, that I'm nearly there!
The book is now being proofread, formatted and I'm finishing setting up all the technical stuff behind the scenes. Did you know how many things you need to work out and connect if you just want to download a pdf?
There is so much that goes into creating a cookery book. I've worked with a local photographer who created all the photos for the book, publishing editor who helped me to proof read the book and format it.
But publishing the bread book is just the beginning! Now, comes the exciting time to promote the book, share it with my friends and my students, organise book blog tours and market it to a wider baking audience.
To give you a flavour what the book is about, I wanted to share with you the introduction my book and what inspired me to create it.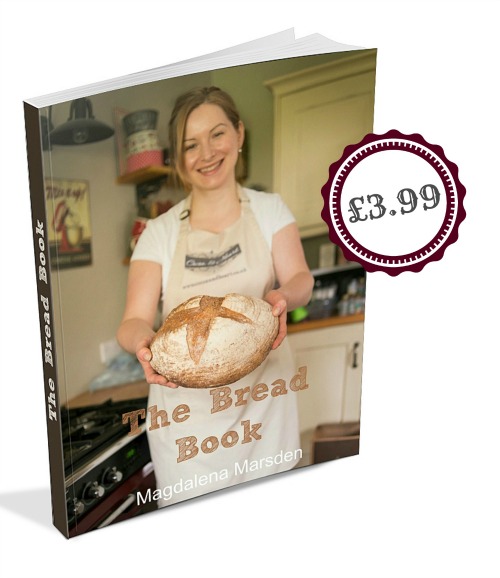 The good news is that The Bread Book has arrived and is available as immediate download in pdf form and as Kindle version.
How did I get in to bread baking?
'I can clearly remember when I baked my first bread. I was on my own at home and thought I would bake something more useful than just another cake. Don't get me wrong, cakes are good, but a bit tricky to use as packed lunches for work. (Now, there's a thought!)
I had been living in the UK for about a year or so and, even though I was trying to get used to the new environment and food, I was not particularly keen on supermarket bread. In those days, there were no artisan bakeries – certainly not in the part of London where we lived.
I was missing our Czech traditional bread – which is based on rye flour and is made with caraway seeds and sourdough starter. The taste is very earthy, slightly tangy and the bread smells absolutely delicious. I wanted to be reminded of my home in Czech Republic.
So on that, rainy afternoon, I tried to recreate a bread recipe that I cut out from a magazine. It was a basic recipe and there weren't many instructions, nor did it have any pictures. I had no idea how long I was supposed to knead the bread or how long I should leave it to prove and I didn't quite understand how to shape the bread either!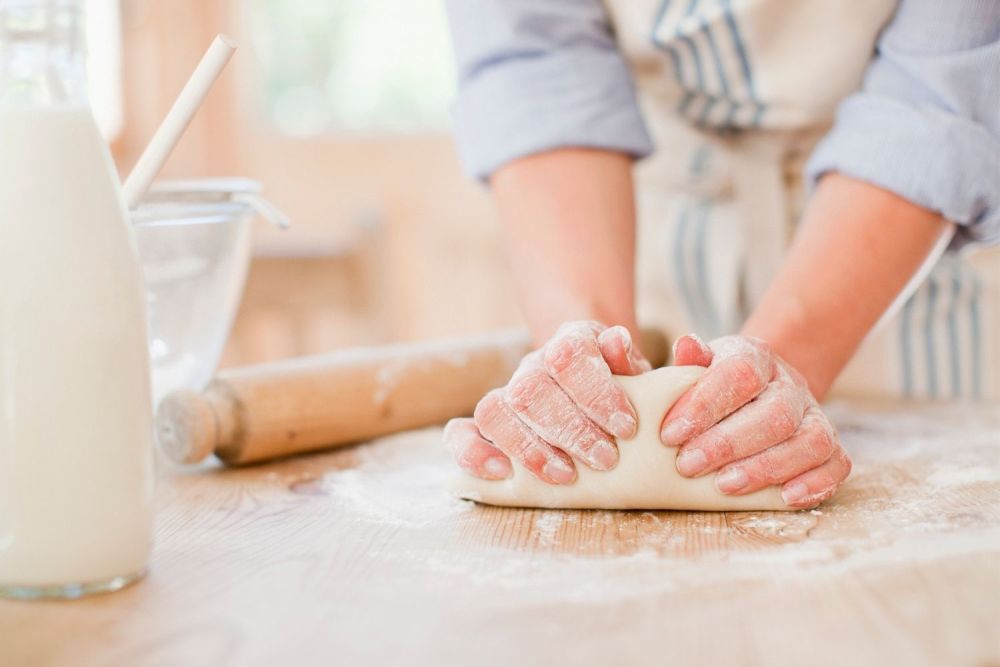 Well, I'm not going to keep you in suspense – it was a disaster!
The bread was dense with no crust, no lift and no crumbly texture, and whilst it was burnt on the outside, it was still soggy in the middle. The bread was hard like a rock, but the taste was fine and, in the end we actually ate it – partly as a protest for not being defeated by a humble bread and also because I do hate to waste food!
But what this bread disaster meant was that I became even more determined to get it right next time. Fast forward 16 years and I'm really proud to say that, since that disastrous bread day, I have not bought bread in a supermarket!
I took it as a personal challenge never to run out of bread. Even when I came home from a day's work, I would get stuck in and knead a few loaves, enjoying the freshly baked bread later on.
Why I wrote my own bread baking book
Although I like cookery books, I find them equally frustrating because, apart from a few exceptions out there, they don't actually explain why you do things.
If you're anything like me, unless somebody explains to me why I should knead my bread for 10 minutes, I tend to just mix it and stick it in the oven (incidentally that's exactly what I did all those years ago with my first bread). I need to understand why!
So, after running my bread baking workshops for over 3 years, I decided to pull together everything that I wished I had known when I started to bake bread – and I hope you find it useful too!
Happy baking!
Magdalena
P.S. The main purpose of this book is to share with you all of my knowledge and bread baking techniques, the tricks of the home baking trade and, first and foremost, to give you the understanding of 'WHY'.
Once you have this understanding, you'll be able to pick any bread baking recipe and follow it with a success. If the recipe is not right, you will understand why and be confident to follow your instinct as a baker, correct it and make it work for you.
Because of that you won't find that many recipes in this book. I have included about 35 of my favourites, but they are really not that important in the overall scheme of this book. What is important though, is that you learn the techniques – and then you will be able to bake any recipe that you already have at home successfully.
As you read through the first few pages, you might perhaps think that I'm approaching bread baking very seriously, but as you will find out, there is a lot of leeway with bread baking, so just have a fun with it.
What's the worst thing that can happen, anyway? Even my bread didn't end up in a bin all those years ago!
And finally I'd love to know how you get on, so feel free connect with me on social media, post a picture of your latest bread bake or just to ask any questions. You will find all my contact details at the end of the book'
Any good? I hope so and I promise the rest of the book will live up to your expectations. You can already find the The Bread Book in our shop and I'll be letting everyone know when it's out!